You are here
NGOs urge world community to remain engaged in Syrian refugee plight
By Khetam Malkawi - Jan 22,2017 - Last updated at Jan 22,2017
AMMAN — As the one-year mark of the London conference approaches, a report issued on Friday urged the international community and host countries to make good on their long-term commitments made last year to deal with the impact of the Syrian crisis.
Released ahead of the "Supporting Syrians and the Region Conference" in Helsinki, slated for January 24, the "Stand and Deliver: Urgent action needed on commitments made at the London conference one year on" report said refugees face similar challenges across Syria's neighbouring countries, warning that long-term efforts are still needed by the international community and host governments.
The report, compiled by 28 humanitarian NGOs, said important steps have been taken to improve the provision of education and livelihoods in Syria's neighbours: Jordan, Lebanon and Turkey.
However, "much more remains unaccomplished", the report said, warning that without technical assistance and further efforts to implement the wide-reaching policy framework agreed in London, there is a risk that the funding disbursed will fail to have a measurable and sustainable impact on people's lives.
In Jordan, and in commitment to pledges made at the London conference, according to the report, the recently adopted EU-Jordan Compact provides an opportunity to fulfil shared priorities for refugees and host communities in the area of peace, prosperity and stability, and must be followed up on.
"Despite these positive developments, there is still much more to be done," the report said, adding that the vast majority of Syrians in Jordan continue to be highly vulnerable, with 87 per cent living below the national poverty line.
It added that the average debt for refugee households outside the camps rose to JD715 ($1,000) each in 2016. In addition, 26 per cent of households reported being dependent on income from family members holding socially degrading, exploitative, high risk or illegal temporary jobs in order to meet their basic food needs.
A recent survey in the urban areas of Amman, Irbid and Mafraq found that 10 per cent of Syrian refugee families surveyed had taken their children out of school to save educational expenses, 6 per cent sent their children to work and 3 per cent had their daughters married at a young age to cope with economic pressures and protection concerns.
As for providing Syrian children with access to education, the report said as a result of an increase in school spaces opened for Syrian refugees and relaxed barriers to registration, approximately 170,000 Syrian refugee children are enrolled in the school year 2016-2017.
Despite a commendable commitment to bringing all children to school, almost 91,000 Syrian children registered with UNHCR remain without formal education, the report indicated. In addressing the needs of out-of-school Syrians, the Ministry of Education's action plan set out a strategy for opening 102 additional double shift public schools — in addition to existing 98 double-shift schools — to accommodate 50,000 new spaces for Syrian refugee children in the 2016–2017 school year in host communities.
The plan also called for a "catch-up programme" to be developed to offer non-formal education to 25,000 Syrian refugee children aged 8–12 years, to be delivered only at public schools and by the education ministry teachers.
According to UNICEF, 1,000 Syrian children have enrolled in catch-up classes and 200 double-shift schools are now established and functioning
As for the right to work, Jordan pledged to issue 200,000 work permits for Syrians and has been issuing these free of charge to date, the report said, adding, however, that only 37,325 work permits have been issued as of early January, citing figures from the International Labour Organisation, while "some assessments have revealed a continued lack of clarity on the process to obtain a work permit and its benefits".
Thus, the report recommended that the government ensure legal stay for refugees in host communities, remove restrictions on specific sectors of employment, in particular on Syrian-owned businesses and support the development of micro-, small- and medium-sized businesses and implement measures to reach and enrol the most vulnerable and marginalised refugee children who are still out of education, address issues of Syrian scool dropouts, and ensure that quality and learning outcomes are the measure of success in education in both shifts.
"A continued lack of legal status and documentation means many refugees cannot access work and education. Moreover, the conflict in Syria continues unabated and without a tangible increase in international support for Syria's neighbours, including by sharing the responsibility for hosting refugees more equitably," the report said.
"We urge the international community to ensure that the generous commitments made last year mark a new era of collaboration, solidarity and responsibility sharing to respond to the needs of Syrian refugees, internally displaced and host communities," said Gerry Garvey, regional director for the Danish Refugee Council in Middle East and North Africa, one of the agencies that developed the report.
According to the authors, who looked into changes in the legal status, education and job conditions of Syrians in Turkey, Jordan and Lebanon one year after the London conference, almost 5 million refugees from Syria, including an entire generation of children, currently face an uncertain future. "If the international community fails to remain engaged and share responsibility for refugees, the consequences could be disastrous for refugee families and countries in the region."
At the London conference, donors pledged $6 billion for 2016 and a further $6.1 billion for 2017-2020.
Although over $6.3 billion had been committed in grants for 2016, exceeding pledges by 5 per cent by September 2016, the UN reported that appeals for the refugee response and the humanitarian response inside Syria were 60 per cent and 49 per cent funded, respectively.
Related Articles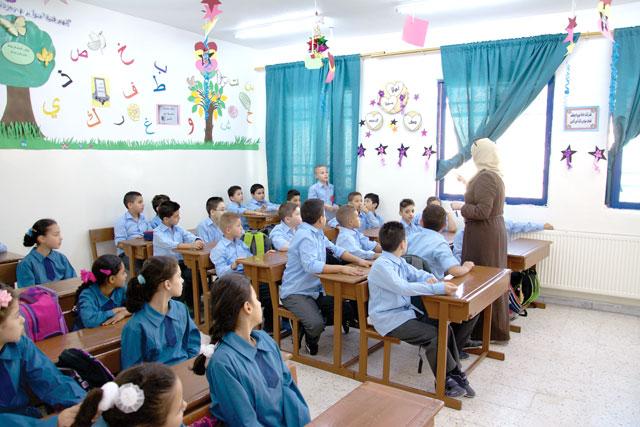 Sep 20,2017
AMMAN — Over 16.6 million school days have been missed in Jordan since the Leaders' Summit on Refugees and the UN General Assembly held in 2
Aug 14,2016
AMMAN — Jordan and Germany on Sunday signed a grant agreement worth 20 million euros (around JD16 million) to be extended by the German Deve
Aug 17,2016
AMMAN — Jordan has provided unrivalled support for the education of Syrian children, the government said on Tuesday, after Human Rights Watc