You are here
Syrian refugee children still miss 'alarming number' of school days — report
By Camille Dupire - Sep 20,2017 - Last updated at Sep 20,2017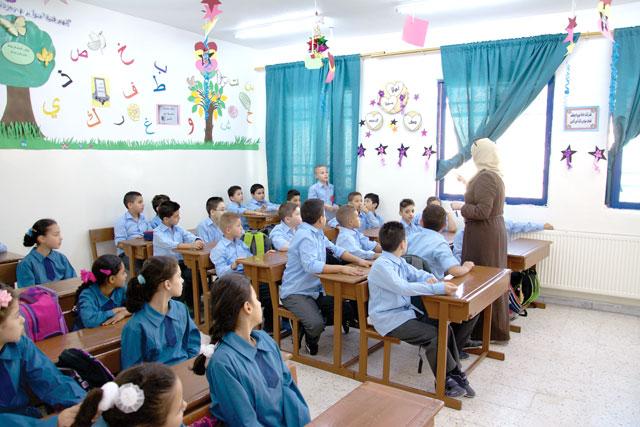 Thirty-six per cent of officially registered Syrian refugees in Jordan are school-aged, according to a Save the Children report (Photo by Amjad Ghsoun)
AMMAN — Over 16.6 million school days have been missed in Jordan since the Leaders' Summit on Refugees and the UN General Assembly held in 2016, which pledged to ensure that all refugee children have access to education within a few months of displacement, a Save the Children (STC) report released Tuesday found.
One year after the international community's commitment for the implementation of comprehensive refugee response plans in refugee hosting countries, STC provided an overview of the reality shared by 3.5 million out-of-school refugee children worldwide.
Building its analysis on the number of school days missed since the Leaders' Summit, STC based its report on estimates of the school-age population and existing data on out of school rates, combined with the assumption that a school year consists of approximately 200 school days.
With some 1.4 million Syrian refugees in the Kingdom, Jordan bears one of the heaviest burdens of the neighbouring crisis, the report noted, with 36 per cent of the officially registered Syrian refugees in Jordan being school-aged.
Despite an increase in international funding and the implementation of the Jordan Compact, the education sector remains one of the most hardly-hit.
Prior to the Syrian conflict, Jordan had a net school enrolment rate of 91 per cent in primary education and a 94 per cent gross enrolment rate in lower secondary, leaving 83,000 children out-of-school, the report showed.
With renewed pressure on the Jordanian education system and competition for services coupled with limited resources, vulnerable Jordanian children became increasingly at risk to be out of school or to drop out compared to before the crisis.
However, Syrian refugee children are still the most vulnerable, being five times less likely to attend school than other children. And, for those who can access education, the quality is often poorer than the national average, STC stated.
During the 2016-2017 academic year, around 170,000 Syrian refugee children were enrolled in public schools in refugee camps and host communities, while around 90,000 children remained out of formal education.
"When children are out of school, their learning is not only no longer advancing but is also likely to regress. In fact, the longer children are out of school the more they lose skills and knowledge they have already acquired," the report warned.
"When the war in Syria is over, these children will need to be the doctors, teachers and engineers who will help rebuild their country. But this will only be possible if we can get them back into school," Rania Malki, CEO of Save the Children Jordan, told The Jordan Times.
Globally, only 34 per cent of out-of-school children are likely to re-enrol in education, with the figure reaching its highest in the Arab region (38 per cent).
A study by UNHCR and STC showed that, in the poorest communities, a child who has not gone to school for more than a year is likely to never return to the classroom, with boys between the ages of 12 and 17 being the least likely group to reattend school, especially in the Syrian community.
The report cited child labour and child marriage as ways to cope with the lack of sustainable livelihoods, coupled with schools' locations to account for that trend.
Other reasons included weaknesses in the education system including lack of teacher training to cater for the specific needs of refugees, a different curriculum, lack of school infrastructure, crowded classrooms, and lack of psychosocial support.
This is particularly prevalent among children who have been out of school for multiple years and are struggling to catch up during the four hours of daily teaching they receive in the double-shift system implemented in Jordan to accommodate refugees.
This is a terrible trend as "schools provide a safe space to recover from the psychological distress that many who have fled extreme violence have experienced," Helle Thorning-Schmidt, CEO of STC International, was quoted in a statement as saying.
Legal status of unregistered refugees was also cited as another significant obstacle for children's education. At the beginning of the 2016-2017 academic year, many children were turned away by school principals due to their lack of documentation, the report claimed.
STC commended Jordan's efforts in absorbing the high influx of refugees despite the exhaustion of existing resources and shortfall in funding from the international community.
Highlighting the pledges made in support for Syria and its neighbouring countries, STC stressed that, according to Jordanian officials, only a portion of what was promised has been translated into real disbursements.
According to the 2017-2019 Jordan Refugee Plan, the education sector requires a total of $1.18 billion of which $420 million is for refugee response and $763 million is for resilience response, including host communities affected by crisis, the report stated.
"To mean anything, the commitments must provide the basis for a renewed focus on ensuring the provision of refugee education, not as a peripheral, stand-alone, optional activity but as a core component of the services, protection and durable solutions to which refugees are entitled," the report stated.
"If nothing is done, millions of refugee children across the world will continue to see their futures evaporate as they spend another year out of education. These children have had their future stolen twice; once when they fled the war and again when they are denied the right to learn," Thorning-Schmidt said.
Related Articles
Feb 27,2017
AMMAN — The Ministry of Education continues to accept new students this second semester, therefore enabling thousands of out-of-school child
Aug 04,2015
AMMAN — The Ministry of Education and the Norwegian Refugee Council (NRC) have embarked on developing a special education programme that tar
Aug 30,2018
AMMAN — Four million refugee children across the world remain out of school today, according to a new report issued by the UN Refugee