You are here
Jordan, Turkey to lead Arab-Islamic pro-Jerusalem action
Erdogan to convene Islamic meeting in Istanbul next week as Amman orchestrates pan-Arab response
By JT - Dec 07,2017 - Last updated at Dec 07,2017
His Majesty King Abdullah holds talks with Turkish President Recep Tayyip Erdogan in Ankara on Wednesday (Photo courtesy of Royal Court)
AMMAN — As Jordan making contacts to summon an emergency Arab League Council meeting, Turkey will next week host an Islamic gathering to respond to the decision by the US to recognise Jerusalem as the capital of Israel and, subsequently, move its embassy to the city.
Trump officially announced the decision later in the day (Click to see separate story).
During talks in Ankara with Turkish President Recep Tayyip Erdogan on Wednesday, His Majesty said in a press statement that followed expanded talks between the two sides that current regional developments require close coordination and consultations. He thanked President Erdogan for supporting Jordan on Jerusalem and for working closely to overcome the challenges facing the Muslim nation and the region.
The King had a day earlier received a phone call from US President Donald Trump informing him of his intention to relocate the embassy.
"As we both agree, the Palestinian cause continues to be the region's central issue. There is no alternative to the two-state solution, and Jerusalem is key to any peace agreement. And it is key to the stability of the entire region," His Majesty said.
He added: "I did re-emphasise to the US president yesterday our concerns on the decision to move the US embassy to Jerusalem. Therefore, it is imperative now to work fast to reach a final status solution and a peace agreement between Palestinians and Israelis. And this must allow Palestinians to establish their independent state, side by side with Israel and its capital in East Jerusalem," the King noted.
"Ignoring the Palestinian, Muslim and Christian rights in Jerusalem will only fuel further extremism, and undermine the war against terrorism," His Majesty warned.
"We in Jordan, as the Custodian of Islamic and Christian holy sites, we will persist in undertaking our religious and historical responsibilities towards Al Aqsa Mosque and Al Haram Al Sharif, and uphold our role in protecting Muslim and Christian holy sites in Jerusalem," the King affirmed.
"As [President Erdogan] has mentioned, we are both in full agreement on the need for holding an OIC summit on Jerusalem next week that will bring together Arabs and Muslim leaders," His Majesty added.
His Majesty noted that Jordan and Turkey "stand shoulder to shoulder to face the challenges that lie ahead".
On bilateral ties , His Majesty noted the visit to Ankara follows President Erdogan's successful visit to Jordan earlier this year "and comes at a very timely moment".
Affirming the deep-rooted ties that the two countries share, as they mark 70 years of diplomatic relations, the King said Jordan and Turkey look forward to expanding their ongoing political, economic and security cooperation.
There is vast potential to increase trade and investment levels, His Majesty added, voicing hope that ministers on both sides will take Jordanian-Turkish ties into a new phase.
Turning to Syria, the King said: "Efforts at this stage should be directed to building on the Astana talks to realise a political solution according to the Geneva process, and ensuring Syria's unity, stability and safety for its people."
In his remarks to the press, Erdogan said that Turkey and Jordan share the same sentiments and are determined to safeguard the sanctity and status quo of the city, praising the Kingdom's role as a the custodian of holy sites in Jerusalem.
Jerusalem is the most important city for Muslims across the world, the president stressed, stressing that any attempt or intention that ignores this fact would fail.
As president of the Organisation of Islamic Cooperation (OIC), he called for an extraordinary summit meeting on December 13 in Istanbul, where foreign ministers will convene one day before the leaders' meeting to discuss and agree on decisions to be taken in the summit and deliver a message to the entire world.
The status quo of Jerusalem is based on several UN resolutions, and should not be touched or altered, Erdogan said, adding that no one has the right to manipulate the fate of billions to achieve personal gains.
On bilateral ties, Erdogan noted that trade exchange between Jordan and Turkey has reached some $1 billion, expecting the figure to increase with more investments and mega projects.
He added that the trade agreement, investment promotion, the agreement on investment protection and visa exemptions that went into effect some five to six years ago, all contributed to boosting ties between the two countries.
The president announced that his country would receive 50 Jordanian students to pursue their higher studies in Turkey.
The expanded talks, attended by HRH Prince Ghazi, the King's special adviser for religious and cultural affairs and the personal envoy of His Majesty, addressed means to improve trade terms between Jordan and Turkey and increase Jordanian exports to Turkey.
The Turkish side voiced its interest in benefiting from Aqaba as a logistic and tourist centre and increasing the number of Turkish tourists to the Kingdom.
The discussions also reviewed partnership projects between both countries' private and public sectors, especially in the infrastructure and transport fields.
Erdogan underlined his country's plan to support Jordan's vocational education through establishing a vocational school and expanding cooperation in the higher education field.
The president and his spouse hosted a lunch banquet in honour of King Abdullah and Her Majesty Queen Rania.
Later in the day, His Majesty returned to the Kingdom.
Related Articles
Aug 21,2017
AMMAN — His Majesty King Abdullah on Monday met with the Turkish President Recep Tayyip Erdogan over bilateral ties and regional development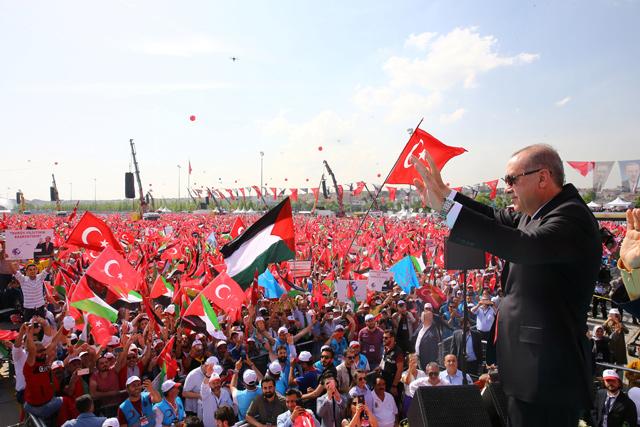 May 22,2018
ISTANBUL, Turkey — President Recep Tayyip Erdogan has hinted that Turkey might consider imposing a ban on imports of some Israeli goods over
Aug 20,2017
AMMAN — Turkish President Recep Tayyip Erdogan will pay an official visit to the Kingdom Monday, the Jordan News Agency, Petra, reported.Erd
Newsletter
Get top stories and blog posts emailed to you each day.