You are here
Jordan-US ties will remain strong after Trump win — pundits
Washington expected to support anti-terror efforts, push for political solution in Syria under new Republican president
By Mohammad Ghazal - Nov 09,2016 - Last updated at Nov 09,2016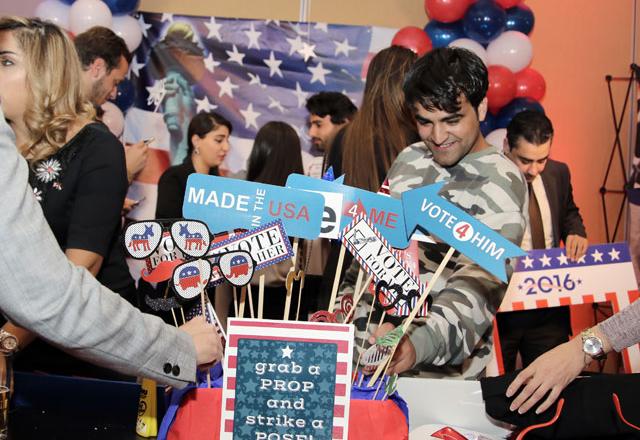 Attendees are seen at a reception held by the US embassy in Amman on Tuesday night on the occasion of the presidential election (Photo by Osama Aqarbeh)
AMMAN — Donald Trump's win in the US presidential election, although surprising, will help strengthen Jordan's key alliance with the US in pushing for political solutions to regional issues and fostering the fight against terrorism, pundits said on Wednesday.
Ties between the US and Jordan, which were established in 1949, are likely to witness increased cooperation, as Trump has been stressing that fighting terrorism and a political solution to the Syrian crisis are essential and a priority, which is something that the Kingdom — on the frontline in fighting terrorism — has been calling for.
Although Trump will focus on internal US affairs, the opinion leaders said they expect Washington's foreign policy in the Middle East to shift towards pushing for a political solution in Syria in particular, but the Palestinian issue will not be among the new administration's top priorities.
They stressed that US ties with Jordan are solid and built on strategic interests that do not change with the change of presidents in the White House.
Oraib Rantawi, head of Al Quds Centre for Political Studies, said Jordan is one of the "very few" countries that are not worried about who is the US president, as the Kingdom has maintained "a very stable and wise relationship" with the US administration regardless of who has been in the Oval Office.
"The US is a great nation and it does not shift its policies overnight," Rantawi told The Jordan Times.
"Jordan is one of the least worried Arab states, while some Arab countries like in the Gulf are worried after Trump's win," he added, noting that although Trump is "unpredictable", Jordan's cooperation with the US is not based on individuals.
Rantawi said regimes in Egypt, Syria and Iraq are "happy" with Trump's win.
Mohammad Al Tal, chief editor of Ad-Dustour daily, said that although the Republican real estate mogul's win was an upset, it does not hold any surprises to the ties between Jordan and the US.
"The US alliance with Jordan is solid and does not fluctuate with change of presidents in the White House," Tal said in a phone interview.
"The US is fully aware that Jordan is a key player in the regional stability and in the fight against Daesh and terrorism," he added.
"Bolstering the stability, security and ability of Jordan to fend off any threat is part of the US strategy to fight terrorism and push for peace in the region," said Tal.
"With Trump in office, I expect increased support for Jordan, whose policies are in line with those of the US in the region."
In his first foreign policy speech as the Republican nominee, Trump pledged to cooperate with Egyptian President Abdel Fattah Al Sisi and His Majesty King Abdullah to combat terrorism
"We will partner with King Abdullah of Jordan and President Sisi of Egypt, and all others who recognise [that] this ideology of death… must be extinguished," Trump said in the speech he delivered in Ohio as he said the US will work side by side with friends in the Middle East.
Jamal Al Shalabi, a professor of political science at the Hashemite University, said Jordan is a "genuine partner" with the US in the fight against terrorism and in pushing for peace in the Middle East via political solutions, which falls in line with Trump's announced policies.
"Like Jordan, Trump has been stressing the need for a political solution in Syria, and I believe there will be a close understanding with the Russians over this issue," said Shalabi.
"Jordan and the US see eye to eye on regional issues and that will not change," he added.
For Fahd Khitan, a political analyst and Al Ghad columnist, the president-elect's policies will become more rational in the upcoming period.
"Trump as president will not be Trump as a candidate; his political approach and policies will be more rational after being elected president. He will be more balanced and logical," Khitan argued.
US policy on Syria in particular will shift towards pushing for a political solution, which is likely to make ties with the Gulf countries tense, he said.
"Trump does not have any negative attitudes towards Jordan, and the Republicans are aware of the Kingdom's importance for stability in the region," the analyst added.
Related Articles
Nov 10,2016
AMMAN — As political analysts and average people expect no negative changes in Jordan-US ties after Donald Trump won presidential election o
Mar 19,2017
AMMAN — As eyes turn towards the Arab summit, taking place in Jordan at the end of this month, pundits believe that some positive, yet not m
Apr 08,2017
AMMAN — His Majesty King Abdullah's recent summit meeting with US President Donald Trump has given momentum to the two-state solution as the
Newsletter
Get top stories and blog posts emailed to you each day.