You are here
Jordanians 'surprised' at Trump's win, but expect no drastic policy changes
Jordan is 'the least worried about newcomer to White House'
By JT - Nov 10,2016 - Last updated at Nov 10,2016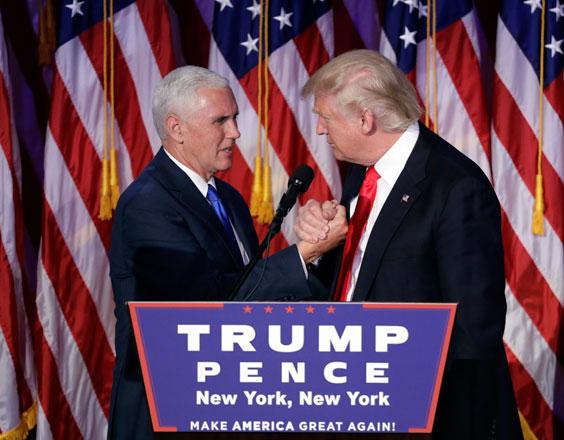 US President-elect Donald Trump shakes hands with Vice President-elect Mike Pence as he gives his acceptance speech during his election night rally on Wednesday in New York (AP photo by John Locher)
AMMAN — As political analysts and average people expect no negative changes in Jordan-US ties after Donald Trump won presidential election on Wednesday, some economists voiced concerns over expected drop in American aid to Jordan.
Yet, they all agreed that the election's result came as a surprise.
Political commentators said that although Trump is expected to focus on internal US affairs, Washington's foreign policy in the Middle East might shift towards pushing for a political solution in Syria in particular. However, the Palestinian issue will not be among the new administration's top priorities.
They stressed that US ties with Jordan are solid and built on strategic interests that do not change with the change of presidents in the White House.
Oraib Rantawi, head of Al Quds Centre for Political Studies, said Jordan is one of the "very few" countries that are not worried about who the US president is, as the Kingdom has maintained "a very stable and wise relationship" with the US administration regardless of who has been in the Oval Office.
Mohammad Al Tal, chief editor of Ad-Dustour daily, said that although the Republican real estate mogul's win was an upset, it does not hold any surprises to the ties between Jordan and the US.
"The US is fully aware that Jordan is a key player in regional stability and in the fight against Daesh and terrorism," he added.
For Fahd Khitan, a political analyst and Al Ghad columnist, the president-elect's policies will become more rational in the upcoming period.
"Trump as president will not be Trump as a candidate; his political approach and policies will be more rational after being elected president. He will be more balanced and logical," Khitan argued.
Meanwhile, economists were split over the impact of the impending Trump's presidency on the US support to Jordan, especially since he ran his campaign on calls to limit Washington's involvement in international affairs.
Economic expert Hussam Ayesh said that Trump would go as far as pulling the US from the World Trade Organisation in his quest to focus on the internal economic issues of his country.
"I believe there would be radical changes to the world economy now that Trump is in power. This marks the end of the economic openness policy the US has been following for decades," he told The Jordan Times on Wednesday.
Economist Zayyan Zawaneh said: "We should not forget that the US policy is not only shaped by the president, although he is a key influencer, but there are other major parties that determine the way files are handled," he noted.
The economist underlined that entities like the CIA and the US state and defence departments acknowledge the importance of Jordan's role and thus, Washington is unlikely to shift its support to the Kingdom.
"But on the other hand, I think it is time for Jordan to take serious measures to rely on itself instead of designing its plans based on support from the US or Gulf countries," Zawaneh said.
At the popular level, average Jordanians expressed "shock" over Donald Trump's win in the US presidential elections.
In separate phone interviews on Wednesday, some citizens expressed "uncertainty" over the "Trump doctrine", while others were sure things would not change drastically.
Intisar Shaabi expressed concern over the future of Arab students and those living in the US.
"I hope electing Trump does not incite hatred or violence against Muslims and Arabs in America," she said.
On the other hand, Mohammad Sahouri, a 58-year-old garment trader, said he does not think the results of the US presidential elections will affect him or his close community.
Trump's "unexpected" win triggered some jokes over social media outlets, including ones about his "inexperience" in politics and others on Jordanian's "intense" interest in the US presidential elections.
Related Articles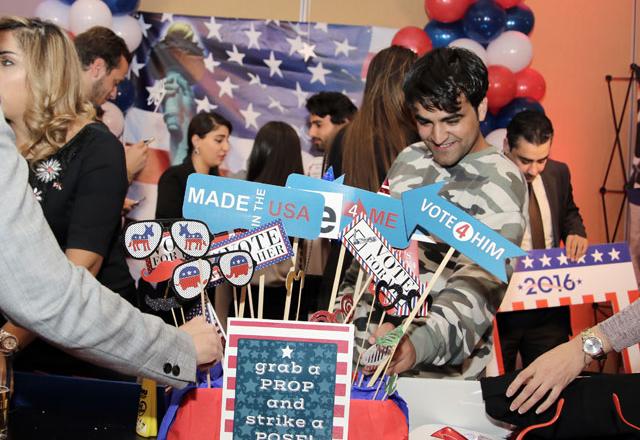 Nov 09,2016
AMMAN — Donald Trump's win in the US presidential election, although surprising, will help strengthen Jordan's key alliance with the US in p
Nov 09,2016
AMMAN — While Jordanians expressed "shock" over Donald Trump's win in the US presidential election, they doubted that a Hilary Clinton admin
Nov 09,2016
AMMAN — Economists are split over the impact of the impending Donald Trump presidency on the US support to Jordan, especially since he ran h
Newsletter
Get top stories and blog posts emailed to you each day.