You are here
Jordan welcomes a bigger Chinese role in Middle East
Foreign minister highlights strong ties with China in bilateral meeting
By JT - Jul 11,2018 - Last updated at Jul 11,2018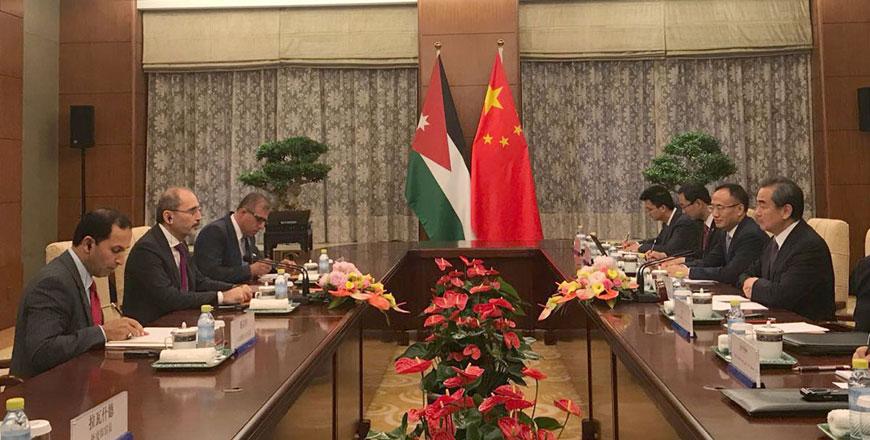 Foreign Minister Ayman Safadi and his Chinese counterpart Wang Yi hold talks in Beijing on Tuesday (Petra photo)
AMMAN — Foreign Minister Ayman Safadi and his Chinese counterpart Wang Yi, who is also State Councillor, discussed means to enhance bilateral relations and find new fields of cooperation on Tuesday.
Both ministers stressed the two countries' keenness to cooperate on economic, trade, investment and cultural matters, and increase political coordination to reach solutions to regional crises and restore security and stability, according to a Foreign Ministry statement.
China is the second largest commercial partner to Jordan; the trade exchange volume between the two countries stood at some $3 billion in 2017. Chinese investments in the Kingdom's energy and mining sectors have also increased, the statement said.
The top diplomats reviewed means to increase Chinese investments in the Kingdom in the energy and infrastructure sectors, with Safadi noting that Chinese investments can rely on the efficiency of qualified Jordanian human resources and on exports from the Kingdom to large markets, through free trade agreements into which Amman has entered with major world economies.
They also highlighted the importance of increasing security and defence cooperation, joint actions in the fight against terrorism, addressing regional crises, primarily the Palestinian issue and the Syrian crisis, and efforts to restore security and stability in the Middle East.
Safadi voiced Jordan's support for the Chinese "Belt and Road" initiative, welcoming a bigger economic, political and cultural Chinese role in the region and expressing the Kingdom's support of the One-China policy.
The Chinese minister said that Amman-Beijing relations rely on a strong base of relations and respect between His Majesty King Abdullah and Chinese President Xi Jinping, adding that transforming these relations into practical steps is the mission of both countries' officials.
Safadi expressed appreciation for his counterpart over the extra support of $15 million announced by the Chinese president to help Jordan meet refugees' needs, commending the Chinese decision to provide 475 scholarships for vocational training students.
The Chinese top diplomat also commended the humane model of Jordan in hosting more than 1.3 million Syrian refugees.
Safadi congratulated his counterpart over the successful organisation of the China-Arab States Cooperation Forum (CASCF) and agreed to cooperate to prepare for the next meeting of the forum in Jordan in 2020.
Safadi also took part in the CASCF's eighth ministerial meeting on Tuesday, where he stressed that Arab-Chinese cooperation will lead to economic, commercial and cultural achievements that will positively reflect on both sides, according to a Foreign Ministry statement.
The minister added that such cooperation would contribute to ending conflicts, overcoming crises, achieving development and prosperity and building regional and international peace and stability.
During the meeting, which was inaugurated by Chinese President Xi Jinping and Kuwaiti Emir Sheikh Sabah Al Ahmad Al Jaber Al Sabah, the minister said that the conference is an important step to build a future of Arab-Sino cooperation that can further enhance "historical ties" between China and the Arab World.
Safadi expressed the Kingdom's aspiration for increased cooperation with China in efforts targeting an end to the Palestinian-Israeli conflict, and said that Beijing's support of the two-state solution is a support to the comprehensive peace that calls for establishing an independent Palestinian state with East Jerusalem as its capital, on based pre-1967 borders.
The minister added that Israel's building of new colonies, land confiscation and unilateral procedures in Jerusalem undermine peace opportunities.
He also stressed Jordan's eagerness to work with China to reach a political solution to the Syrian crisis that is causing killing, destruction and suffering, which has to be stopped.
Safadi said that the Syrian crisis must end through a political solution that is accepted by the Syrian people — one that maintains its unity, restores stability and allows refugees to return to their homeland.
On the sidelines of the meeting, Safadi held talks with his counterparts Sameh Shoukry of Egypt Adel Jubair of Saudi Arabia, Bahrain's Sheikh Khalid Bin Ahmed Al Khalifa, Palestine's Riyad Al Malki and Emirati Minister of State Sultan Jaber.
Related Articles
Sep 27,2017
AMMAN — Minister of Foreign and Affairs Expatriates Ayman Safadi met in Beijing on Wednesday with Chinese State Councilor Yang Jiechi and Fo
Jul 04,2020
AMMAN — Foreign Minister Ayman Safadi and his Chinese counterpart Wang Yi on Saturday reviewed preparations for the ninth ministerial meetin
Jul 06,2020
AMMAN — The convening of the ninth ministerial meeting of the China-Arab States Cooperation Forum (CASCF) is a sign of the commitment of Ara