You are here
Jordan working to become major filming destination amidst regional unrest, huge competition — RFC
By Muath Freij - Jun 10,2015 - Last updated at Jun 10,2015
A film crew shoots for the British feature 'Kajaki' near the Kafrein Dam last year (Photo courtesy of RFC)
AMMAN — Although the government offers several financial incentives to encourage international filmmakers to shoot their projects in Jordan, more work and support are needed from the public and private sectors, according to the Royal Film Commission (RFC).
In an interview with The Jordan Times, RFC General Manager George David said the instability in the region has affected the industry, as insurance companies have been reluctant to issue the required "completion bonds" for films to be shot in Jordan.
"We lost several projects in the past months; however, we had huge major projects in Jordan such as the Ridley Scott's film 'The Martian'," he said at his office in Amman earlier this week.
Starring Matt Damon and Jessica Chastain, the film will be released in the US in November this year.
David said Jordan launched its incentives last year covering basically value-added tax and customs exemptions, in addition to an exemption on income tax for foreign crew members.
"We are working and rallying support from the government for bigger incentives because the competition is huge from Morocco, the UAE, Malta, Spain, South Africa, Tunisia and Lebanon. The return of investment is much larger," he added.
David explained that having a movie filmed in Jordan is hugely important for the country and its tourism, culture and economy.
"When a film comes to Jordan, they spend an average of a JD100,000 a day. From 2007 until today, over JD130 million has been spent in the country through film production, so money comes in from production services that are hired through the filming, whether it is cars, hotels or plane tickets."
He noted that the most important positive impact is job creation.
"A film crew employs between 200 to 300 employees on a film set in many different fields including artistic and scientific fields. You have lighting people, camera people you have makeup, hair, sound, locations production; even a doctor and a lawyer have a place on a film set."
According to David, the average salary is also very high.
"Fortunately, and I'm very proud to say that as of last year, 98 per cent Jordanians are on a film crew. This is beneficial for us of course and to them [film producers] because it helps them save money," he said.
David added that many Jordanians were inspired to join the film industry following their participation in a film shoot in the Kingdom.
"When Jordanian crew members spend time with experts in all fields, it inspires the Jordanian artists to put him or her on a movie career. We have seen it happen, people started as a production assistant and ended up making their own movie or features."
He noted that tourism is one of the sectors that is hugely and positively affected when a movie is shot in Jordan.
"You have millions of people watching a location in a country through the big screen and on their TV screens or even on their mobiles and it encourages the viewer to come visit the country.
"A very good example... was that few years ago we had a Brazilian soap opera filmed in different locations in Jordan. When the show was released in Brazil, after one month, tourism in Jordan increased 40 per cent from Brazil," he said, adding that efforts are under way to promote Jordan to filmmakers despite the regional unrest.
"We market through the Internet, we attend festivals and trade shows around the world, and Jordan had a big presence this year at the Cannes Film Festival, and we had partners with us like the Jordan Tourism Board, Royal Jordanian and several production companies as we had the Jordanian booth at Cannes."
David said the RFC, which has been working for around 12 years, connects producers who are reluctant to come to Jordan with producers who have been to the Kingdom so that they can encourage them to visit the country.
"We have many producers who filmed in Jordan [and] came again because they appreciate the human resources of Jordan, and we are very proud of that. Jordanian movies are a brilliant way to promote Jordan not only as a location but also as a culture," David added.
He said the US, Canada, the UK and India are among the top countries that chose Jordan as a film destination.
"Wadi Rum, Zizia [an area near the airport road], downtown Amman and Salt are among the favourite locations for filmmakers. Petra is not a place where filmmakers head to because there is a limited number of stories that you can do there," he added.
"It is important for us and the tourism sector that we do not give up and continue increasing our efforts to promote the country."
List of movies shot in Jordan in last five years
2015
"Karbala" — Krzysztof Lukaszewicz (Poland)
"Curse of Mesopotamia" — Lauand Omar (Iraq)
"The Martian" — Ridley Scott (US)
"The War" — Tobias Lindholm (Denmark)
2014
"Hyena Road" — Paul Gross (Canada)
"Rattle the Cage" — Majid Al Ansari (UAE)
"Cooking Cats" — Isabelle Stever (Germany)
"Tiger Raid" — Simon Dickson (Ireland)
"Queen of the Desert" — Werner Herzog (US)
"Kajaki" — Paul Katis (UK)
"Blessed Benefit" — Mahmoud Massad (Jordan)
"From A to B" — Ali Mostafa (UAE)
"3000 Nights" — Mai Masri (Palestine/Jordan)
2013
"Monsters: Dark Continent" — Tom Green (UK)
"Rosewater" — Jon Stewart (US)
"Locked Up Abroad" — Dov Freedman (UK)
"The Cut" — Fatih Akin (Germany)
"The Curve" — Rifqi Assaf (Jordan)
"Children of War" — Josh Veselka (US)
"A Dark Reflection" — Tristan Loraine (UK)
"Good Morning Kabul" — Barbara Eder (Austria)
"Medina" — Omar Shargawi (Denmark)
2012
"45 minutes to Ramallah" — Ali Samadi Ahadi (Germany)
"Zero Dark Thirty" — Kathryn Bigelow (US)
"Shatru" — Raj Chakraborty (India)
"Theeb" — Naji Abu Nowar (Jordan)
"A Facebook Romance" — Mohy Quandour (Jordan)
"Krrish 3" — Rakesh Rochan (India)
"Savior" — Robert Savo (Belgium)
"Over-Sized Coat" — Nawras Abu Saleh (Jordan)
"Last Days on Mars" — Ruairi Robinson (UK)
"Similar Differences" post-production — Mohamed Lutfi (Jordan)
"My Love Awaits Me by the Sea" post-production — Mais Darwazeh (Jordan)
"When Time Becomes a Woman" — Ahmad Alyaseer (Jordan)
"May in the Summer" — Cherien Daibes (Jordan)
2011
"The United" — Amin Matalqa (US)
"The Viral Factor" — Dante Lam (China)
"Hamilton: In The Interest of the Nation" — Katherine Windfeld (Sweden)
"Lamma Shoftak" — Annemarie Jacir (Palestine)
"Power Struggle: Season 2" — Al Jazeera Children's Channel (UK)
"Prometheus" — Ridley Scott (US)
"When Monaliza Smiled" — Fadi Haddad (Jordan)
"Line of Sight" — Aseel Mansour (Jordan)
"InchAllah" — Anais Barbean-Lavalette (Canada)
"Viswaroopam" — Chandra Haasan (India)
2010
"7 Hour Difference" — Deema Amr (Jordan)
"Bedouin" — Igor Voloshi (Russia)
"The Devil's Double" — Warren Lee Tamahori (Belgium)
"The Killer Elite" — Gary McKendry (Australia)
"Peace After Marriage" — Bandar Albuliwi and Ghazi Albuliwi (USA)
"The Last Friday" — Yahya Al Abdallah (Jordan)
"Power Struggle" — Al Jazeera Children's Channel (UK)
"Transit Cities" — Mohamed Hushki (Jordan)
"Fish Above Sea Level" — Hazim Bitar (Jordan)
Source: Royal Film Commission (film.jo)
Related Articles
Apr 10,2017
AMMAN — The Royal Film Commission (RFC) on Saturday night received the "Outstanding Film Commission" Award, at the 4th Annual Location Manag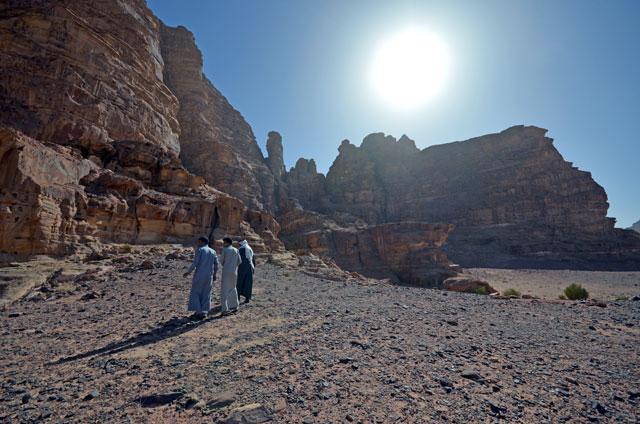 Feb 27,2016
AMMAN — Film tourism is emerging globally as an industry in itself, and Jordan has great potential in this regard, with a history dating bac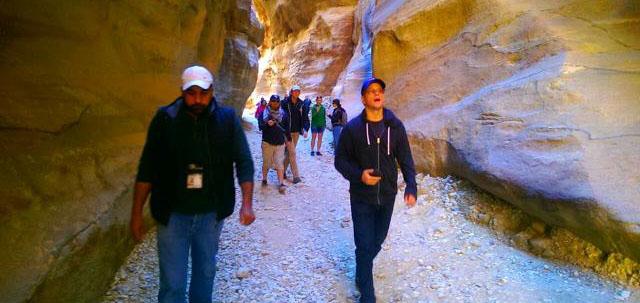 Mar 16,2015
Two major film productions have just wrapped their shoots in Jordan: British Science-Fiction "The Martian" and Palestinian drama "Arab Idol", the Royal Film Commission (RFC) said Monday. 
Newsletter
Get top stories and blog posts emailed to you each day.