You are here
King chairs National Policies Council meeting
'Israeli PM required to honour his responsibilities, take legal measures to ensure killer is tried, justice is served; rather than exhibit political showmanship in dealing with this crime to score personal political points'
By JT - Jul 28,2017 - Last updated at Jul 28,2017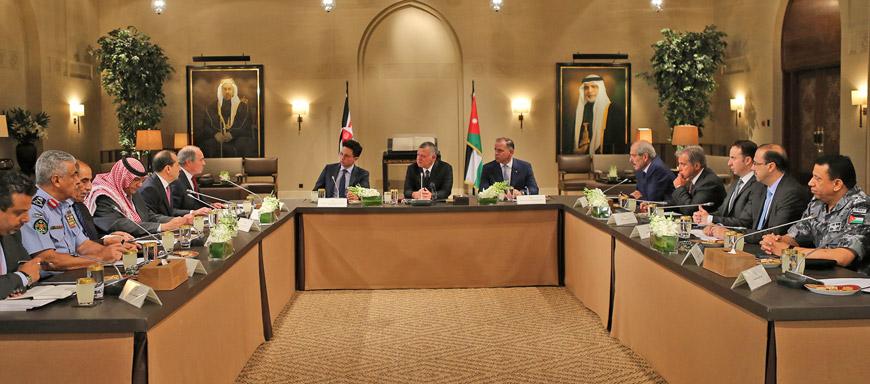 His Majesty King Abdullah chairs a National Policies Council meeting at Al Husseiniya Palace on Thursday (Photo courtesy of Royal Court)
Amman — His Majesty King Abdullah, upon his return to Jordan on Thursday, chaired a National Policies Council (NPC) meeting at Al Husseiniya Palace.
"A staff member at the Israeli embassy in Amman has shot two of our sons. We will dedicate all the efforts and resources of the Jordanian state to ensure that justice takes its course," King Abdullah said during the meeting, attended by Their Royal Highnesses Crown Prince Hussein and Prince Feisal, adviser to His Majesty and NPC chairman, as well as a number of senior officials and officers.
His Majesty affirmed: "The Israeli prime minister is required to honour his responsibilities and take the necessary legal measures to ensure that the killer is tried and justice is served, rather than exhibiting political showmanship in dealing with this crime to score personal political points. Such conduct is utterly rejected and provocative. It angers us all, threatens regional security, and fuels extremism. It is absolutely unacceptable."
"I extend my condolences to the families of the victims, and pray that God have mercy on their souls and grant their families, and all Jordanians, patience and fortitude. I hereby affirm that we will not relinquish any of their rights or the rights of our citizens; and Israel's handling of the case at the embassy, the killing of Judge Raed Zuaiter, and other cases will have a direct impact on our relations," the King said.
During the meeting, His Majesty stressed that Jordan is a state that honours its international legal obligations, and respects international law and diplomatic norms, which guarantees our rights and the rights of our citizens.
With regards to the crisis at Al Aqsa Mosque/Al Haram Al Sharif, the King said: "We have managed the crisis at Al Aqsa Mosque/Al Haram Al Sharif after continuous efforts — throughout the period since its start on July 14 — to contain its ramifications and reopen the mosque in its entirety through our common stand with our Palestinian brethren. It is important to stress the need to ensure full respect of the historical and legal status quo at Al Haram Al Sharif to prevent the recurrence of such crises."
Prime Minister Hani Mulki, Royal Hashemite Court Chief Fayez Tarawneh, General Intelligence Department Director Maj. Gen. Adnan Jundi, Director of the Office of His Majesty Jafar Hassan, King's Adviser for Tribal Affairs Sharif Fawwaz Zaben Abdullah, Adviser to His Majesty and National Policies Council Rapporteur Abdullah Wreikat, Interior Minister Ghaleb Zu'bi, Minister of State for Media Affairs Mohammad Momani, Public Security department Director Maj. Gen. Ahmad Sarhan Faqih, and General Directorate of Gendarmerie Director Maj. Gen. Hussein Hawatmeh attended the meeting.
up
101 users have voted, including you.
Related Articles
Jul 29,2017
AMMAN — His Majesty King Abdullah on Friday discussed with US President Donald Trump over the phone the latest developments related to Al Aq
Feb 10,2015
Chairman of the Joint Chiefs-of-Staff Gen. Mashal Al Zaben, who is also His Majesty King Abdullah's military adviser, on Tuesday received a British military delegation headed by Maj. Gen. Nick Welch.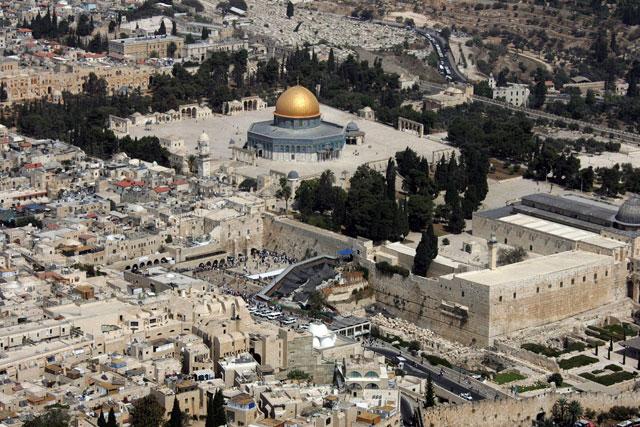 Oct 14,2016
AMMAN — UNESCO on Thursday adopted a decision that calls on Israel to allow the restoration of the historic status quo of Al Aqsa Mosque/Al
Newsletter
Get top stories and blog posts emailed to you each day.