You are here
King sees off Tunisian president as he concludes visit
By JT - Oct 21,2015 - Last updated at Oct 21,2015
His Majesty King Abdullah sees off Tunisian President Beji Caid Essebsi at the conclusion of his two-day visit on Wednesday (Photo courtesy of Royal Court)
AMMAN — His Majesty King Abdullah on Wednesday saw off Tunisian President Beji Caid Essebsi, who left the Kingdom after a two-day state visit during which the two leaders held discussions that focused on bilateral relations and the latest developments in the Middle East.
Essebsi held several meetings with senior officials, according to a Royal Court statement.
During the visit, Jordan and Tunisia signed a cooperation agreement in civil protection and civil defence, and another on cooperation in the security field, which were signed by Interior Minister Salameh Hammad and Tunisian Minister of Foreign Affairs Taieb Baccouche.
Another agreement in the military field was signed by King's Military Adviser and Chairman of the Joint Chiefs-of-Staff Gen. Mashal Al Zaben and Baccouche.
His Majesty also bestowed the Order of Al Nahda, the Kingdom's highest-ranking medal, upon Essebsi for his contributions to "enhancing brotherly ties and distinguished relations between the two countries".
Before his departure, Essebsi met with Senate President Abdur-Ra'uf S. Rawabdeh and discussed with him means to enhance bilateral cooperation between Jordan and Tunisia, especially at the parliamentary level, the Jordan News Agency, Petra, reported.
Rawabdeh reviewed milestones in the Kingdom's reform push, including amending one-third of the Constitution and establishing the Constitutional Court and Independent Elections Commission, in addition to enacting a package of reform-oriented laws.
Essebsi expressed his appreciation for the reception he was given during the first visit of a Tunisian president to the Kingdom since president Habib Bourguiba's visit in 1965.
He highlighted shared views between the two countries on regional issues and mutual keenness to enhance stability in the region, stressing the importance of developing closer ties through drawing a bilateral plan for cooperation in several fields.
Lower House Speaker Atef Tarawneh also met with Essebsi and discussed the recurrent Israeli attacks on Palestine, especially the dangerous Israeli escalation in the West Bank and Jerusalem's Al Haram Al Sharif, in addition to tackling the repercussions of regional circumstances, especially the Syrian crisis.
The meeting also stressed the significance of joining international efforts to combat all forms of extremism, terrorism and violence, according to Petra.
Essebsi reviewed Tunisia's democratic, political and partisan reform experiment and the challenges facing his country, which, he said, has made strides in the fields of education, labour and women rights.
Also on Wednesday, Amman Mayor Aqel Biltaji handed the golden key of Amman to Essebsi during a visit to the Greater Amman Municipality and the "See Amman" Exhibition, Petra reported.
Related Articles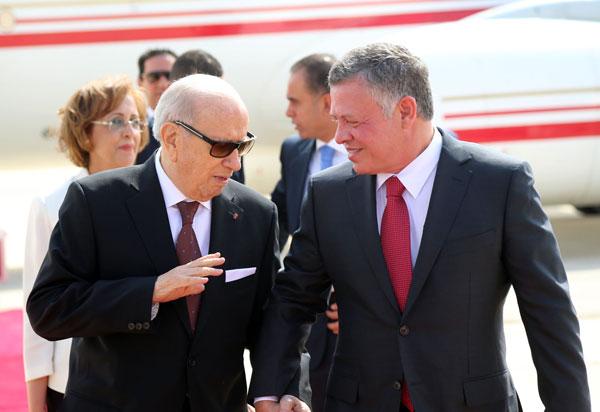 Oct 21,2015
AMMAN — His Majesty King Abdullah and Tunisian President Beji Caid Essebsi on Tuesday stressed their desire to enhance cooperation in politi
Feb 13,2016
AMMAN — Amman Chamber of Commerce (ACC) President Issa Murad is scheduled to head a delegation to conduct a business visit to Tunisia on Mon
Apr 09,2017
AMMAN — Tunisian President Beji Caid Essebsi on Thursday received Interior Minister Ghaleb Zu'bi at the Presidential Palace on the sidelines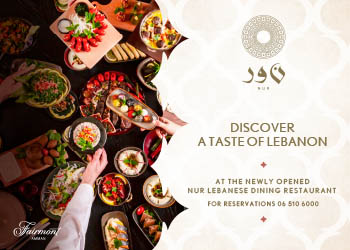 Newsletter
Get top stories and blog posts emailed to you each day.