You are here
King warns of grave implications of relocating US embassy to Jerusalem
King receives call from Trump, calls Abbas to renew full support for Palestinians
By JT , Agencies - Dec 06,2017 - Last updated at Dec 10,2017
A general view shows part of Jerusalem's Old City and the Dome of the Rock on Tuesday (Reuters photo by Ammar Awad)
AMMAN — His Majesty King Abdullah on Tuesday received a phone call from US President Donald Trump, who indicated his desire to move the US' embassy from Tel Aviv to Jerusalem.
During the phone call, King Abdullah warned of preempting a comprehensive solution that leads to the establishment of a Palestinian state, with East Jerusalem as its capital.
His Majesty emphasised that Jerusalem is key to achieving peace and stability in the region and the world.
The King affirmed that the decision will have serious implications that will undermine efforts to resume the peace process and will provoke Muslims and Christians alike.
His Majesty also spoke to Palestinian President Mahmoud Abbas over the phone.
In the phone call, the King reaffirmed Jordan's full support for the Palestinians in their efforts to preserve their historical rights in Jerusalem.
The King called for working jointly to deal with the ramifications of this decision and to counter any action that undermines the Palestinian people's aspirations for their own independent state, with East Jerusalem as its capital.
President Trump had already on Tuesday told Abbas that he intends to move the US embassy in Israel to Jerusalem, a Palestinian spokesman said, amid a growing outcry across the Middle East against any unilateral US decision on the ancient city.
Senior US officials have said Trump is likely on Wednesday to recognise Jerusalem as Israel's capital while delaying relocating the embassy from Tel Aviv for another six months, though he is expected to order his aides to begin planning such a move immediately. The officials said, however, that no final decisions have been made.
US endorsement of Israel's claim to all of Jerusalem as its capital would break with decades of US policy that the city's status must be decided in negotiations with the Palestinians, who want East Jerusalem as the capital of their future state. The international community does not recognise Israeli sovereignty over the entire city.
Abbas joined a mounting chorus of voices saying the US move could unleash turmoil.
"President Mahmoud Abbas received a telephone call from US President Donald Trump in which he notified the president of his intention to move the American embassy from Tel Aviv to Jerusalem," Abbas spokesman Nabil Abu Rudaina said.
Meanwhile, Jordan continued its diplomatic efforts to forge a collective response to the US move.
Foreign Minister Ayman Safadi on Tuesday continued contacts with counterparts and a number of officials to discuss the expected US decision to recognise Jerusalem as the capital of Israel.
Safadi made phone calls with his counterparts of Turkey, Ahmet Davutoğlu, Algeria, Abdul Qader Musahel and Morocco, Nasser Bourita.
He also contacted Secretary of the Executive Committee of the Palestine Liberation Organisation Saeb Erekat to draft an action plan to deal with repercussions of prospective decision, which, he said, would increase tension in the region and undermine peace efforts.
During the conversations, Safadi stressed that the fate of Jerusalem must be decided in line with international conventions based on the outcome of the final status negotiations.
He said that all unilateral Israeli measures are groundless, according to Petra.
Meanwhile, the Kingdom will call for emergency meetings to be held at the Arab League on Saturday and the Organisation of Islamic Cooperation on Sunday.
Jordan's Ambassador to Egypt and Permanent Representative to the Arab League Ali Ayed said the US decision to recognise Jerusalem as the capital of Israel — if taken — would have disastrous repercussions not only on Palestine, but also at the level of Arab and Islamic worlds.
in his remarks during an extraordinary Arab League Council meeting at the level of permanent representatives called for by Palestine, Ayed noted that such a decision would have major ramifications on the peace process as a whole, and would adversely affect all efforts to achieve a just and comprehensive peace in the Middle East based on international legitimacy resolutions, including those related to Jerusalem.
Also on Tuesday, Lower House Speaker Atef Tarawneh called for an emergency meeting to be held on Wednesday noon to discuss Trump's intention to move the embassy to Jerusalem, according to Petra.
In a statement carried by Petra, Tarawneh said that he will address the parliaments of Arab, Islamic and other states to urge them stand against the decision.
Related Articles
Jan 22,2017
WASHINGTON — The White House said on Sunday that it is in the early stages of talks to fulfill President Donald Trump's pledge to move the U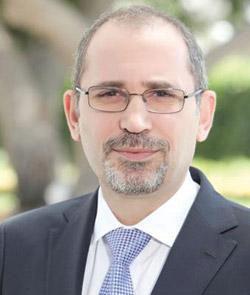 Dec 10,2017
AMMAN — Minister of Foreign Affairs Ayman Safadi announced on Saturday that Jordan would host an "extraordinary" Arab summit as the chair of
Jan 23,2017
OCCUPIED JERUSALEM/WASHINGTON — During the presidential campaign, Donald Trump's team spoke often about moving the US embassy in Israel from
Newsletter
Get top stories and blog posts emailed to you each day.