You are here
Korean culture celebrated at Jordan University
By Andrea López-Tomàs - Nov 30,2017 - Last updated at Nov 30,2017
AMMAN — More than 1,000 students from Jordan University (UJ) on Wednesday attended the third edition of the "Korea in a day" festival, aimed at acquainting Jordanians with Korean culture.
Organised by students from the UJ English-Korean programme, the event was supported by the Korea International Cooperation Agency (KOICA) and displayed dances, traditional clothes and melodies performed by Jordanian students.
"Korea in a day" also included the presentation of four Korean fairytales and a cooking book translated into Arabic by the students from the university's Korean department.
A wide variety of Korean dishes were also offered for the attendees to get to know the culture through their taste buds.
"Learning the Korean language opens a lot of doors," said Ward Ahmed Dawleh, a student who graduated from a double Major in English and Korean last year and is now working with KOICA, adding "the Korean culture gets more interesting as soon as you start learning about it."
Currently, there are more than 187 students enrolled in the UJ Korean-English programme.
"I want to open a Korean cultural centre in Jordan to provide locals with more knowledge about the culture," Malak Izraqi told The Jordan Times.
The third-year student is planning to do her Masters in America or Korea to improve her language skills.
"I have to confess that, when I started my degree, I was so interested in Korean that my English skills diminished," she recalled.
"What I like most about Koreans is their commitment," Dawleh told The Jordan Times, adding "their strength and ability to build a country like South Korea in just 50 years is impressive to me".
The Korean language professors are volunteers from KOICA's programme, titled "World Friend Korea", who share their interest and passion for the Korean culture to the students. Since 2006, 15 professors have been teaching the language at UJ.
Professor Kim Mi-ae was alarmed by the lack of Korean literature available in Arabic and decided to create a Book Club to address the issue.
"My students don't read Korean books even if that's what they are studying because they aren't available. So I decided to use the students' passion and enthusiasm to solve this issue," Mi-ae said.
The students from the Book Club translated the books from Korean to English, and then to Arabic. They also handled the translation of the four Korean fairytales and the cooking book showcased at the event.
"This will be a great opportunity for our students once they finish their education: having their names in a book will help them get a good job once they graduate," said Byun Sook-jin, the country director of KOICA Jordan.
"What I like most about the Korean culture is how polite they are and how they value people," said second-year student Ameera Zorba.
She said learning Korean is "not that difficult" and, after two years of study, she considers herself 60 to 70 per cent fluent.
Sook-jin stated that people interested in learning the language do not have to be UJ students, stressing that anyone can contact the Foreign Languages Department and start learning.
"Culture is a bridge that connects people," concluded the dean of the Faculty of Foreign Languages Mahmoud Al Shetawi.
Related Articles
Nov 13,2016
AMMAN — Through personal, everyday interactions, the Korea International Cooperation Agency (KOICA) is helping foster the relationship betwe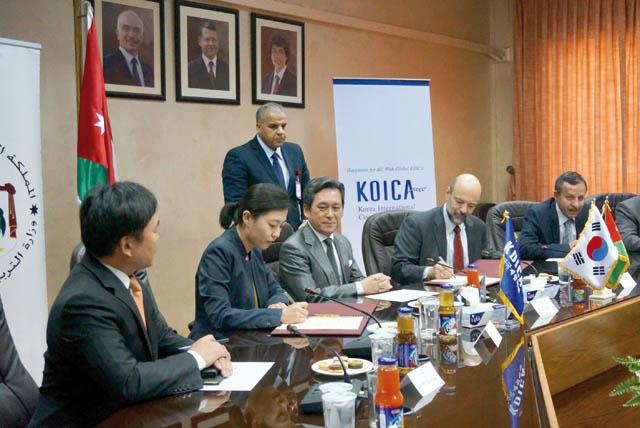 May 10,2017
AMMAN — Three new schools in Irbid, Mafraq and Zarqa will be established this year funded by a donation from South Korea.The schools' projec
Aug 20,2016
AMMAN — Mariana Nimri, a teacher at Jabal Luweibdeh's Al Amal Secondary School for deaf students is always thinking of ways to improve the c
Newsletter
Get top stories and blog posts emailed to you each day.