You are here
Korean volunteer programme marks decade of social, cultural interaction with Jordan
By Laila Azzeh - Nov 13,2016 - Last updated at Nov 13,2016
Minister of Planning and International Cooperation Imad Fakhoury attends the annual Korea International Cooperation Agency volunteer programme workshop in Amman on Sunday (Photo courtesy of Ministry of Planning and International Cooperation)
AMMAN — Through personal, everyday interactions, the Korea International Cooperation Agency (KOICA) is helping foster the relationship between Jordan and Korea.
Under the Overseas Volunteers Programme, one of KOICA's main projects, Koreans from different fields of knowledge are coming to the Kingdom, eyeing an opportunity to make a difference.
"This year marks the 10th anniversary of the KOICA volunteer programme in Jordan… Since 2006, KOICA Jordan office has dispatched hundreds of volunteers to various organisations in Jordan in the fields of special education, health, energy, IT, art, physical education and so on," said Byun Sook-jin, KOICA country director in Jordan.
Addressing the annual KOICA volunteer programme workshop, which was held on Sunday, she noted that each volunteer stays in the Kingdom from two to three years.
"During their stay, they carry out voluntary work in different sectors, not only for organisations, but also for the local communities, particularly in remote areas in Jordan," she added.
Sook-jin cited the "Cinema Paradise" project, which brings mobile theatres and other artistic activities to places such as the Zaatari Refugee Camp, orphanages and schools around the Kingdom.
While underlining that the volunteers who choose to come to Jordan are experts in their fields, she noted that they come to a "remote area from their home because they know the joy of giving and sharing".
"They come, despite the fact that they cannot earn money from this, despite the fact that their efforts are not recognised very well. I think they came to be friends with Jordanians, defying difficulties due to [the] language barrier and lack of understanding of [a] different culture," Sook-jin highlighted.
Minister of Planning and International Cooperation Imad Fakhoury, who attended the opening of the workshop, said Jordan gives significant interest to its relationship with Korea, which dates back to 1977 when the first economic cooperation agreement was signed.
He thanked the Korean government for its financial support to the Kingdom, whether in the form of soft loan, grants or technical support.
"This assistance has had a great impact on building national capabilities in several vital sectors," Fakhoury said.
Korean Ambassador to Jordan Lee Bom-yon said that there are currently 17 volunteers and two advisers working at local institutions in Jordan.
"During the past 10 years, KOICA has dispatched more than 200 long-term and short-term volunteers and six advisers to Jordan's 52 institutions, including hospitals, schools, universities, vocational training centres and ministries," he said.
In addition to the volunteer programme, KOICA is working on building three healthcare centres in Amman and its surrounding regions, and building a school for deaf students in Marka.
"Next year, KOICA is going to launch two projects; one to establish a vocational training school for industrial education in Zarqa and the second to establish four schools for disadvantaged youth in Irbid, Marka, Zarqa and Amman," the diplomat highlighted.
Delivering her presentation in Arabic, Kim Goeun, or Hiba, as she is known among the Ajloun community, said she has been serving as a social service worker in Ajloun, 70km northwest of Amman, for almost a year-and-a half, during which she has been teaching children with disabilities at a local centre.
Using simple materials to develop their mental and emotional skills, Hiba's efforts have contributed to the overall well-being of the students.
"I love my students and I love the Jordanian cuisine," she said.
Related Articles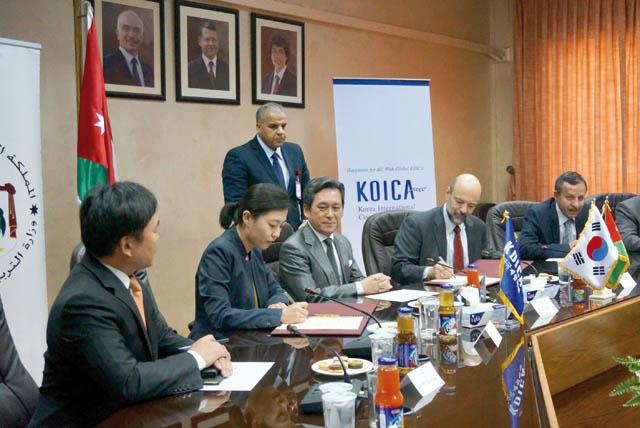 May 10,2017
AMMAN — Three new schools in Irbid, Mafraq and Zarqa will be established this year funded by a donation from South Korea.The schools' projec
Nov 30,2017
AMMAN — More than 1,000 students from Jordan University (UJ) on Wednesday attended the third edition of the "Korea in a day" festival, aimed
Nov 15,2017
AMMAN — The Korea International Cooperation Agency (KOICA) on Wednesday held a workshop to discuss ways of improving the World Friends Korea
Newsletter
Get top stories and blog posts emailed to you each day.