You are here
MP Amamreh, seven others, including family members, die in car accident on Desert Highway
By Rana Husseini - Apr 21,2018 - Last updated at Apr 21,2018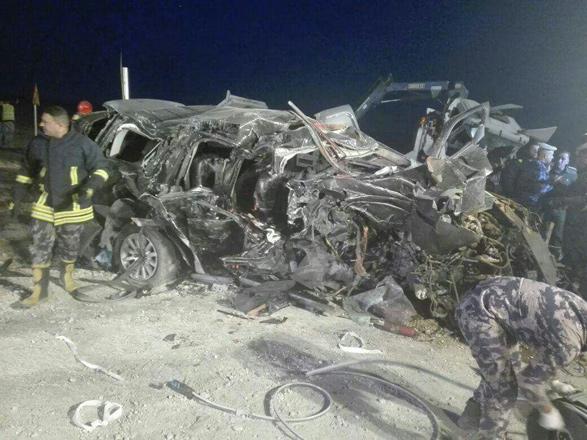 A Civil Defence Department officer stands next to the wreckage of Deputy Mohammad Amamreh's vehicle which was completely destroyed following an accident that also involved a winch truck on the Desert Highway on Saturday evening (Photo courtesy of Traffic Department)
AMMAN — Eight people, including Deputy Mohammad Amamreh and six of his family members, were killed in a road accident on the Desert Highway on Saturday evening, official sources said.
Deputy Amamreh's (South Badia) vehicle collided with a winch truck, with the "strong impact" causing the immediate death of the MP, his wife and their five children, according to a Civil Defence Department (CDD) report.
A passenger in the winch truck died shortly after being admitted to hospital and a second was listed in critical condition, the CDD said.
A senior traffic official told The Jordan Times that the cause of the accident was still being investigated.
"We have formed a committee to investigate the cause of this unfortunate accident and we will inform the public once we reach a conclusion," the senior traffic officials said.
Facebook users said that those who died in the accident also included Amamreh's driver. It was not possible to verify these statements by press time on Saturday.
Karak Deputy Mesleh Tarawneh expressed grief on his Facebook page over the passing of Amamreh, saying, "Amamreh was another victim of the Desert Highway".
Tarawneh has often been criticising the government over the deteriorating condition of the Desert Highway, which he and other people have described as "road of death".
Lower House Speaker Atef Tarawneh expressed condolences over the passing of Amamreh, according to Petra.
He also decided to postpone the House's two sessions which were scheduled for Sunday. According to the Jordan News Agency, Petra, the decision comes to allow House members to offer condolences to Amamreh's family.
Related Articles
Apr 24,2018
AMMAN — Deputising for His Majesty King Abdullah, King's Adviser for Tribal Affairs Sharif Fawwaz Zaben Abdullah on Tuesday visited the hous
Apr 22,2018
AMMAN — Traffic officials on Sunday said a defect in one of the tyres of the vehicle belonging to the late MP Mohammad Amamreh caused the de
Apr 29,2018
AMMAN — Saleh Abu Tayeh was sworn in before the Lower House on Sunday as the Southern Badia District's MP, succeeding Mohammad Ama
Newsletter
Get top stories and blog posts emailed to you each day.