You are here
'Muslims integral part of Poland'
By Mohammad Ghazal - Oct 12,2017 - Last updated at Oct 12,2017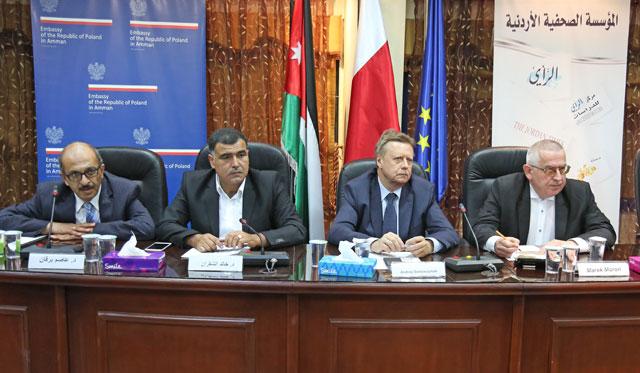 Al Rai Centre for Studies, in partnership with the Polish embassy in Amman, on Tuesday organised a lecture titled 'Islam in Poland... six centuries' (Photo by Khaled Al Odat)
AMMAN — Muslims have been living in Poland for more than six centuries and are well integrated into society, while effectively contributing to the growth of the country, according to Marek Moron, a lecturer from the Polish University of Jagiellonian.
Muslims have been in Poland for more than 620 years and the first wave of Muslims was the Muslim Tatars, Moron said during a lecture on Tuesday titled "Islam in Poland ... six centuries" held by Al Rai Centre for Studies, in partnership with the Polish embassy in Amman.
"Muslims in Poland, since their presence in the country, defended the country and fought against its enemies… The history of Poland is full of battles and major events, and the Muslims soldiers were key cornerstones to the achievements made," Moron said.
Although they are small in numbers, their achievements and contributions are big, he added.
There are currently around 45,000 Muslims coming from all backgrounds and sects.
He said that since the Muslims had been given equal rights and served with the Polish kings, they were an integral part of Poland's history.
"Muslims were not forced to abandon their faith…They were actively participating in strengthening Poland… They were integrated into society since the beginning," he added.
According to Moron, the Congress of Muslims in Poland was established in 1925."This information is not even known in Poland and the media have a great role in spreading such knowledge and raising awareness."
In his address at the lecture, Polish Ambassador in Amman Andrzej Swiezaczynski stressed that the idea behind organising the lecture was a "natural consequence" of the dynamically developing Polish-Jordanian bilateral relations, which was established over 50 years ago based on friendship, understanding and mutual support.
"Poland and Jordan work together internationally. I would like to mention thanks to the vote of Jordan, Poland has been elected as a non-permanent member of the UNSC for 2018-2019. Thank you for your support," he said.
"The friendly political climate encourages us to seek new areas of cooperation with Jordan. We recognise the potential of developing cooperation in science and culture. In November you will have the opportunity to get acquainted with Polish film, listen to a concert of Polish music," the ambassador added.
Khaled Shogran, president of the centre, stressed Jordan's eagerness for increased collaboration with Poland.
He added that Poland is hub to major industries from across the world, highlighting the need for boosting economic ties, among other areas.
Related Articles
Oct 10,2017
AMMAN — Al Rai Centre for Studies, in partnership with the Polish embassy in Amman, will organise a lecture titled "Islam in Poland...
Aug 28,2016
AMMAN — Poland's Ambassador to Jordan Krzysztof Bojko on Sunday inaugurated a computer laboratory at the Princess Basma Primary School in Aq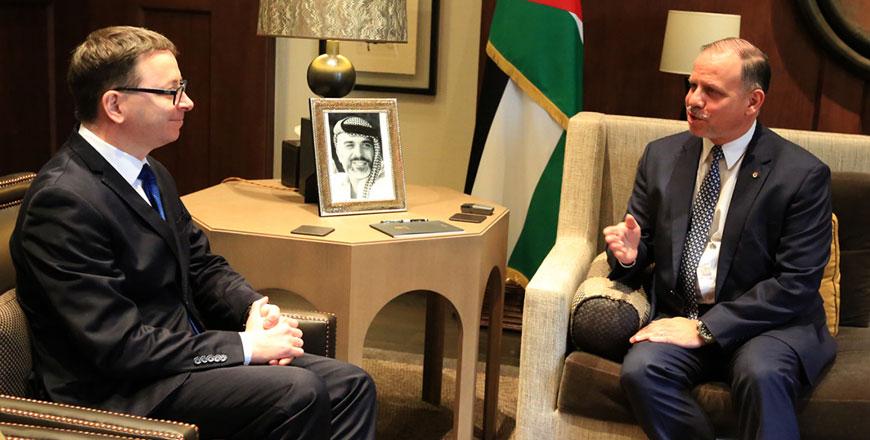 Dec 28,2016
AMMAN — HRH Prince Feisal, the Regent, on Wednesday received the deputy head of Poland's National Security Bureau, Dariusz Gwizdala, and dis
Newsletter
Get top stories and blog posts emailed to you each day.