You are here
National culture centre launched as regional hub for UNFPA theatre-based training
By Muath Freij - May 12,2015 - Last updated at May 12,2015
AMMAN — For Abdul Jaleel Naser from Yemen, theatre is the best way to deliver a specific message.
Naser came to Jordan to take part in training conducted by the National Centre for Culture and Arts (NCCA) on employing theatre techniques to raise social awareness about issues such as reproductive health and youth development.
He was among several people from around the region who attended the official launch of the NCCA as a Y-PEER international centre for youth development.
"This is a great initiative. It is a step forward in expanding our activities globally and it is an honour for Jordan to have been selected from around 60 countries, which are members of the Y-PEER network," NCCA Regional Director Lina Attel told The Jordan Times in an interview during the opening ceremony.
HRH Princess Iman, deputising for Her Majesty Queen Noor, attended Monday's ceremony.
In 2013, UNFPA designated the NCCA to act as the global centre of excellence for theatre-based PEER education training.
"Since 2013, we have held more than six regional trainings for the Y-PEER network that were very successful," Attel added.
Y-PEER is ayouth-to-youth education initiative pioneered by UNFPA and launched in 2001 in Eastern Europe in response to the HIV/AIDS epidemic among young people in the region and the lack of sexual and reproductive health education, and youth-friendly sexual and reproductive health services.
"We will be enhancing the database of the Y-PEER network and we will work on training all youths globally on the UNFPA manuals that are about healthy lifestyles, reproductive health and civic engagement, so it is not only theatre-based; it will entail other aspects to empower young people to be active participants in their communities," Attel said.
"We will hold a theatre-based training course in June. The number of beneficiaries at the NCCA has reached 200 since 2013 and there are beneficiaries who started training other people at schools," she added.
Naser said he joined the Y-PEER training because he wanted to share what he learns in Yemen after calm is restored.
Elene Sonya Chumburidze, an international trainer and coordinator of Y-PEER who is in charge of media and communications, highlighted the significance of having a new centre open, especially in the Arab region.
"It is important that we now have kind of a sub-regional headquarters — a hub where everybody can communicate," Chumburidze, who is from Georgia, told The Jordan Times during the opening ceremony.
For Naser, the cultural exchange during the training was an added benefit.
"The good thing about the training is that I sensed a peace in Jordan that I could not feel at home. It is also good to meet many Arab participants."
Related Articles
Aug 04,2014
For Mohammad Mahjoub, receiving training at the National Centre for Culture and Arts (NCCA) was not only a chance to learn more about ways to utilise theatre to raise awareness on key issues, but also an opportunity to meet new friends.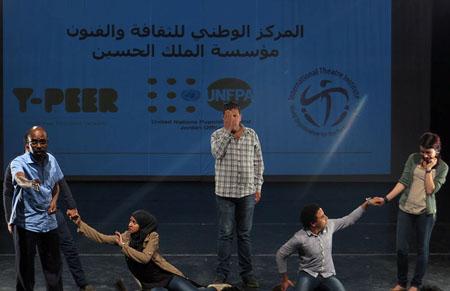 May 31,2014
The National Centre for Culture and Arts (NCCA) has recently concluded the second Regional Theatre Based Y-PEER Training of Trainers titled "Performing Arts for Action" in cooperation with the UNFPA.
Oct 16,2016
AMMAN — At a workshop in Amman, 22-year-old Najlaa Ali hopes to use theatre to highlight the problem of early marriage in Syria. "This
Newsletter
Get top stories and blog posts emailed to you each day.