You are here
Regional training uses theatre to raise awareness on reproductive health
By JT - May 31,2014 - Last updated at May 31,2014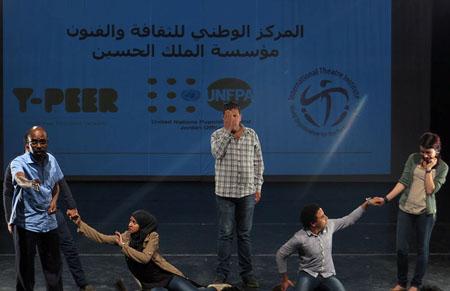 AMMAN — The National Centre for Culture and Arts (NCCA) has recently concluded the second Regional Theatre Based Y-PEER Training of Trainers titled "Performing Arts for Action" in cooperation with the UNFPA.
The training utilised theatre skills and participatory drama methodology to raise awareness on healthy lifestyles, reproductive health and civic engagement, according to an NCCA statement.
Twenty-five Y-Peers between the ages of 19 and 30, and from 14 Arab countries attended the 40-hour training, led by NCCA trainers.
The course — accredited and certified by the International Theatre Institute, a UNESCO partner — was a new experience for Anas Mohammad Khalil, a Y-Peer from Libya.
"This training course is different... due to this excellent practical combination of theatre skills and social issues, [which] is creative and has an impact on the audience," the statement quoted him as saying.
Y-PEER, the Youth Peer Education Network, is a youth-to-youth initiative pioneered by the UNFPA. Jordan joined in late 2008.
The initiative includes a network of nonprofit organisations and government institutions with the membership of thousands of young people who work in areas related to adolescent reproductive health.
The Y-PEER network aims to encourage young people to promote healthy lifestyles through peer-to-peer approaches to empower them to make responsible decisions about their lives and lifestyle through interactive youth-friendly methods and tools.
In 2013, the UNFPA named the NCCA as the Regional Centre of Excellence for Theatre Based Peer Education, working in partnership with the UN agency and the Y-PEER Network to use interactive theatre-based techniques in training young people to raise awareness on reproductive health.
During the course's closing ceremony, which was held last week, participants presented four sketches as the outcome of the training, depicting issues related to the adversities of early marriage, puberty and sex education.
"Using theatre techniques as a method improved my theatre skills and the trainers were more than wonderful," said Yemeni activist Sara Abdul Latif, adding that she learned "a lot about various cultures and traditions".
Sudanese activist Musab Hassouna said the course was beyond his expectations.
"I have acquired new skills using my voice and body language as mediums of creative expression, and applying interactive theatre techniques to bring awareness on key messages to young people," the statement quoted him as saying.
"Being trained by professionals in the field was the biggest added value," Hassouna noted.
Syrian activist Sara Al Maliki said she was also happy to have taken part in the NCCA-led training.
"The learning process led by this inspiring team of trainers was exciting and fun… it's one of the best workshops I have attended, and I will work on using and spreading this method," she said.
Related Articles
May 12,2015
For Abdul Jaleel Naser from Yemen, theatre is the best way to deliver a specific message.
Aug 04,2014
For Mohammad Mahjoub, receiving training at the National Centre for Culture and Arts (NCCA) was not only a chance to learn more about ways to utilise theatre to raise awareness on key issues, but also an opportunity to meet new friends. 
Oct 16,2016
AMMAN — At a workshop in Amman, 22-year-old Najlaa Ali hopes to use theatre to highlight the problem of early marriage in Syria. "This
Newsletter
Get top stories and blog posts emailed to you each day.