You are here
NATO foreign ministers start meeting
By Mohammad Ghazal - Dec 06,2017 - Last updated at Dec 06,2017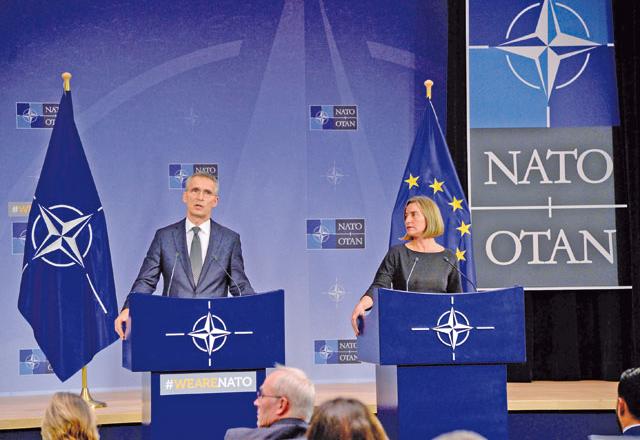 NATO Secretary General Jens Stoltenberg (left) talks to the media with European Union High Representative for Foreign Affairs and Security Policy Federica Mogherini during a NATO Foreign Affairs Ministers' meeting held at NATO headquarters in Brussels on Tuesday (AFP photo)
BRUSSELS — NATO will assess its training and capacity building support for partners like Iraq and Jordan at the alliance's foreign ministers meeting, NATO Secretary General Jens Stoltenberg said Tuesday.
Discussions by the 29-NATO Foreign Affairs Ministers' meeting, which started Tuesday, covered the bloc's support to the Global Coalition to Defeat Daesh, including the airborne warning and control system aircraft (AWACS).
The coalition has made significant progress as more than 95 per cent of the territory once held by Daesh in Iraq and Syria has been liberated, he said, "but this does not mean an end to the threat," he told reporters in Brussels.
"So as the coalition moves from combat operations to stabilisation, we will consider how NATO's contribution should evolve," said Stoltenberg.
Jordan, which is part of the international coalition, is one of five "enhanced opportunities" partners with NATO along with Australia, Finland, Georgia and Sweden under the alliance's Partnership Interoperability Initiative.
A Jordanian official told The Jordan Times Tuesday that ties between the Kingdom and NATO were "great", adding that the two sides cooperate in various areas including counter terrorism, cyber security and training.
According to the NATO official, the foreign ministers will also take decisions to prepare for Brussels Summit next July.
NATO's partnership with the European Union was also discussed during the meeting.
"I expect we will agree to take NATO-EU cooperation to a new level. Our forces must be able to move more quickly and easily. So NATO and the EU will aim to make military mobility a flagship and a priority for our cooperation," Stoltenberg said. "Terrorism is a concern to all our citizens. So we will agree to share more information to counter terrorist threats, he added".
On Yemen, he voiced the alliance's concern about the situation "because we have seen many people killed, we have seen a conflict which has lasted for a long time".
"NATO is not involved in that conflict, and we are not present. So what we do is that we support all international efforts to find a peaceful, negotiated solution to the conflict, to end the violence and to find a negotiated, peaceful solution," he said.
Issues to be discussed at the NATO foreign ministers' meeting include the nuclear threats from North Korea and enhancing the defence capabilities of allies and partners.
Related Articles
Dec 05,2017
BRUSSELS — As NATO foreign ministers convene on Tuesday to discuss the fight against terrorism, among other challenges, the alliance said it
Jul 10,2016
AMMAN/WARSAW — NATO allies agreed on Saturday to increase cooperation with Jordan as part of a plan to boost the alliance's support fo
May 03,2016
AMMAN — NATO has accredited Jordan's embassy in Brussels as the Kingdom's official representative at the North Atlantic alliance, the Jordan
Newsletter
Get top stories and blog posts emailed to you each day.