You are here
New government sworn in
By JT - Jun 14,2018 - Last updated at Jun 14,2018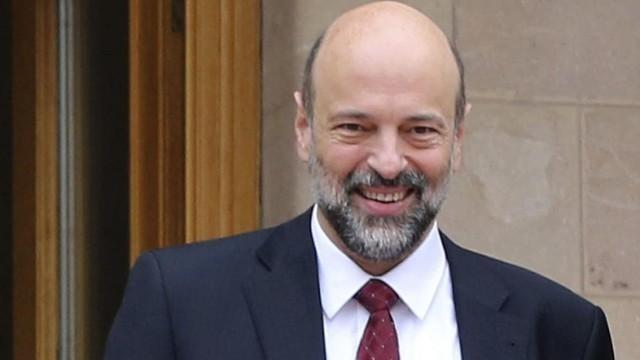 AMMAN — Prime Minister Omar Razzaz and members of his Cabinet were sworn in on Thursday before His Majesty King Abdullah.
In addition to Razzaz, who was designated by King Abdullah on June 5th to form a new government, the Cabinet includes 28 ministers.
This is the first government to be formed by Razzaz, who holds a PhD from Harvard University in planning with a minor in economics, and a post-doctorate from Harvard Law School.
The newcomers included Rajai Muasher who was appointed as deputy prime minister and minister of state.
Other members of the team also included Ezzeddine Kanakrieh as finance minister, Ayman Safadi as minister of foreign affairs, Jumana Ghneimat as minister of state for media affairs, Hala Zawati as energy minister, Samir Mubaidin as interior minister, Abdul Nasser Abul Basal as awqaf and Islamic affairs minister, Nayef Fayez as minister of environment.
The Cabinet includes seven women ministers.
Following is the list of Prime Minister Omar Razzaz' Cabinet members:
Omar Razzaz: Prime Minister and Minister of Defence
Rajai Muasher: Deputy Prime Minister and Minister of State
Ayman Safadi: Minister of Foreign Affairs and Expatriates
Adel Tweisi: Minister of Higher Education and Scientific Research
Hala Lattouf: Minister of Social Development
Musa Maaytah: Minister of Political and Parliamentary Affairs
Samir Murad: Minister of Labour
Mahmoud Sheyyab: Minister of Health
Yahya Kisbi: Minister of Public Works and Housing
Nayef Fayez: Minister of Environment
Walid Masri: Minister of Transport and Minister of Municipal Affairs
Majd Shweikeh: Minister of Public Sector Development
Lina Annab: Minister of Tourism and Antiquities
Khaled Hneifat: Minister of Agriculture
Awad Abu Jarad: Minister of Justice
Muhannad Shehadeh: Minister of State for Investment Affairs
Samir Mubaidin: Minister of Interior
Abdul Nasser Abul Bassal: Minister of Awqaf and Islamic Affairs
Izzidine Kanakrieh: Minister of Finance
Munir Owais: Minister of Water and Irrigation
Azmi Mahafzah: Minister of Education
Makram Qaisi: Minister of Youth
Mubarak Abu Yamin: Minister of State for Legal Affairs
Tareq Hammouri: Minister of Industry, Trade and Supply
Jumana Ghunaimat: Minister of State for Media Affairs
Hala Zawati: Minister of Energy and Mineral Resources
Mary Qawar: Minister of Planning and International Cooperation
Basmah Nsour: Minister of Culture
Muthana Gharaibeh: Minister of ICT
Newsletter
Get top stories and blog posts emailed to you each day.