You are here
New ministers sworn in as PM reshuffles team
By JT - Jun 19,2017 - Last updated at Jun 19,2017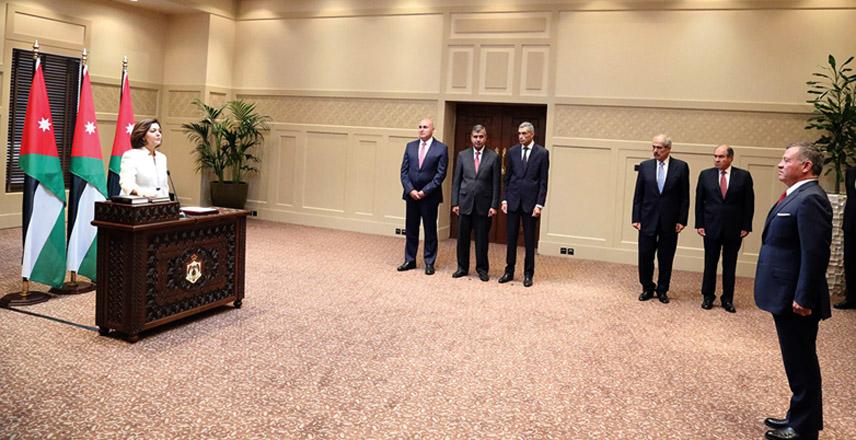 New ministers take the oath of office before His Majesty King Abdullah in Amman on Sunday (Photo courtesy of Royal Court)
AMMAN — A Royal Decree was issued on Sunday approving a reshuffle in Prime Minister Hani Mulki's government.
The newcomers included Hala Lattouf for the social development portfolio, Jamil Ali Salim Mujahed as transport minister, Muhannad Shehadeh as minister of state for investment affairs and head of the Jordan Investment Commission (JIC), and Saleh Kharabsheh as minister of energy and mineral resources.
Appointed upon Mulki's recommendation, they replaced three outgoing ministers of social development, Wajih Azaizeh, energy and mineral resources, Ibrahim Saif, and transport, Hussein Al Souob.
Shehadeh replaced Thabet Al Wir, who also resigned last week as JIC chief.
A Royal decree was issued last week accepting the ministers' resignation.
The ministers were sworn in before His Majesty King Abdullah at Al Husseiniya Palace in the presence of Mulki and Royal Court Chief Fayez Tarawneh.
On January 15, Prime Minister Hani Mulki carried out a major reshuffle of his second government that saw five ministers joining the team, and seven out.
Mulki was first designated as prime minister in May 2016 and following the September election in of the same year, he was asked to form a new government, which won the confidence of the newly elected House.
The resignation of the three ministers was linked to their performance amid efforts led by the King to reform the public sector.
His Majesty has recently held a series of meetings with concerned officials to follow up on the progress of government plans in the fields of renewable energy, transportation and human resources development, among others.
His Majesty has also made an unannounced visit to a training centre for people with disabilities recently, where he issued directives to improve the quality of services offered to this segment of citizens.
Profiles of new ministers
Minister of Social Development
Hala Lattouf
Born 1965 in Amman, Lattouf holds an MSc in financial management. She previously served as minister of social development and women's affairs for three terms, from 2009 to 2011, and worked in Her Majesty Queen Rania's Office.
Minister of State for Investment Affairs and head of the Jordan Investment Commission
Muhannad Shehadeh
Holding an MSc in business management and bachelor's in computer sciences, Shehadeh worked for 14 years in the financial sectors in Jordan, Lebanon, Egypt and the West Bank. He was head of personal services at the HSBC bank, chairman of the board of directors of the Military Credit Fund and worked at the economic department of the Royal Court.
Minister of Energy and Mineral Resources
Saleh Kharabsheh
Kharabsheh holds a PhD from the University of Florida, an MSc in engineering from the University of Jordan and a bachelor's degree in mechanical engineering from India. He previously served as the secretary general of the planning and international cooperation ministry, a member of the board of directors of the National Centre for Developing Human Resources, the Jordanian Foundation for Developing Projects, the National Fund for Supporting Projects, the Natural Resources Commission and the Agricultural Credit Fund. He also worked as professor at the Hashemite University and a consultant at the UNDP.
Minister of Transport
Jamil Mujahed
Mujahed is a transportation expert, a columnist who writes about the sector and a former director of the Land Transport Regulatory Commission. He is also a former secretary general of the Ministry of Transport.
Related Articles
Jun 23,2017
AMMAN — A Royal Decree was issued on Thursday approving the resignation of Hala Lattouf from the Senate as of June 18, 2017, the Jordan News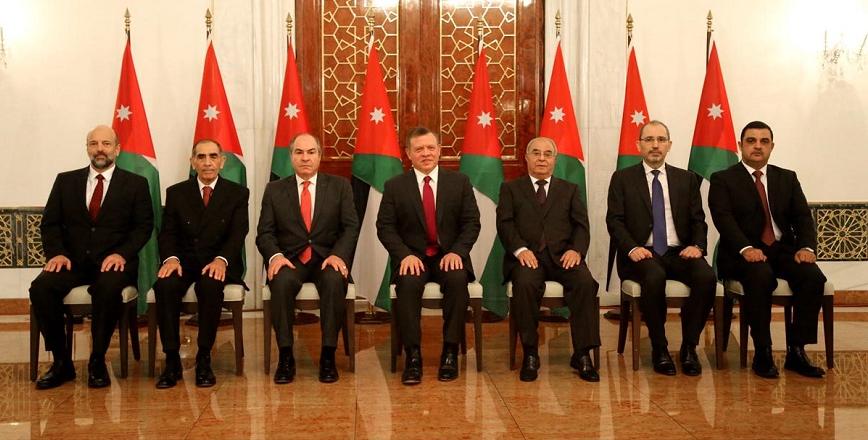 Jan 15,2017
AMMAN — A Royal Decree was issued on Sunday approving a reshuffle in Prime Minister Hani Mulki's government. The Royal Decree, upon Mul
Jun 16,2017
AMMAN — A Royal Decree was issued on Thursday tasking three incumbent ministers to be in charge of portfolios left vacant after three collea
Newsletter
Get top stories and blog posts emailed to you each day.