You are here
Painter honours Palestinian resistance through existence in new exhibition
By Suzanna Goussous - Aug 29,2018 - Last updated at Aug 29,2018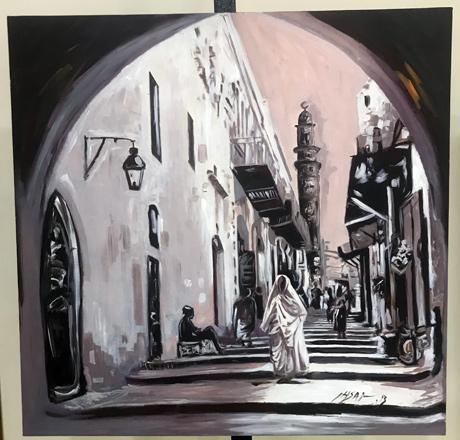 Visual artist Ihsan Bandak focuses on sites that recite historical stories of natives of Palestine (Photo by Suzanna Goussous)
AMMAN — Art is a way to achieve resistance and self-determination, to fight back injustice and apartheid, said Amman-based visual artist Ihsan Bandak on Tuesday as he inaugurated his new "Palestine: History and Civilisation" exhibition.
Aiming to shed light on the concept of "existence through resistance", Bandak portrayed sites that recite historical stories of natives of the land.
"Art is a constant reminder that there is a cause that we must fight for; that we exist. I highlighted the aspects of beauty in the Palestinian culture through the human figure and the buildings," he explained, adding: "The heritage, culture and history narrate the story of the original inhabitants of the land; all these wear out the political statements that deny Palestinians their right of return… In contrast to politics, we use peace and love to convey our message."
The two-day exhibition, held at the Orthodox Club, includes some pieces representing human figures in neighbourhoods across Palestine.
"Humans are the base of everything; of life, existence, continuity, and resistance. The presence of the Arab culture is obvious in every corner, every stone," Bandak stressed.
In one of the artworks, the artist demonstrated the city of Jerusalem with Arabic letters engraved around the city's buildings. For him, it was a way to "emphasise the Arab identity of the city and celebrate the Arabic language".
He also portrayed the "reverse immigration" chapter through a piece titled "travelling back", where he sees those who were forced to flee their homes returning to their homelands and being reunited with their families and loved ones.
"It represents nostalgia — it is always there when one resides abroad, away from their homes. Wherever life leads them, nostalgia always guides them back home," Bandak commented.
In other pieces, the artist used black and white acrylic to depict buildings in Palestinian cities, with a few coloured elements. "While painting the city of Lod in Palestine, where most of the Arab inhabitants were forced to flee their homes, I chose black and grey shades for all the elements in the painting except for a few houses painted in blue; to embody hope and life that will one day return to the inhabitants of the city. Hope never dies," the artist explained.
He advised aspiring artists to stand up for a cause and believe in it to succeed and achieve consistency in their artworks. "Stick to a specific idea and find ways to show it to the people. It depends on your view and vision," Bandak concluded.
Related Articles
Feb 24,2015
Arguing that public interest in art "in the old days" was minimal at best, artist Ihsan Bandak said times are now different, observing a "bloom" in Jordan's art scene and its expansion internationally despite regional turbulence.
Mar 22,2022
AMMAN — An art exhibition titled "Nostalgic Heart 2", which explores Palestinian cities, villages and nature, opened on Monday at the Foresi
Oct 13,2023
AMMAN — Unleashing their full artistic potential, Arab artists unite in support of Palestine amid escalating Israel-Hamas conflict.Jordanian