You are here
Palestinian refugee camps, political parties mark Land Day
By JT - Mar 29,2014 - Last updated at Mar 29,2014
AMMAN — Representatives of various popular movements at Palestinian refugee camps participated in a ceremony marking Land Day at Wihdat camp on Friday.
Land Day commemorates the events of March 30, 1976 when a general strike and marches were organised in Arab towns from the Galilee to the Negev after the Israeli government announced a plan to expropriate thousands of dunums of Palestinian land.
In ensuing confrontations with the Israeli army and police, six Arabs were killed and about 100 were wounded, while hundreds of others were arrested.
At Friday's event, several speakers called for safeguarding Palestinians' rights, especially the right of refugees to return. They also called for the establishment of a Palestinian state with Jerusalem as its capital, the Jordan News Agency, Petra, reported.
Deputy Raed Kouz (Amman, 2nd District) commended the Jordanian position led by His Majesty King Abdullah in this regard, asserting the role of the Hashemites as custodians of Islamic and Christian sites in Palestine.
Moreover, the Jordanian People's Democratic Party (Hashed), the Coalition of Leftist and Pan-Arab Parties and the Muslim Brotherhood movement called on the Palestinian leadership not to succumb to US pressure and to end the state of division.
In separate statements issued on Saturday to mark Land Day, they stressed the importance of confronting the Israeli occupation and its crimes, calling for activating Palestine's membership at all UN institutions and safeguarding Palestinians' rights.
The coalition expressed its solidarity with the Palestinian people in their drive to achieve their rights and establish their independent state with East Jerusalem as its capital, while the Muslim Brotherhood called for unifying all efforts to defend the Palestinian cause.
The movement's statement was issued after an emergency session held by its shura council on Thursday, during which Islamists stressed the importance of empowering people and giving them the freedom to exercise their rights to ensure a better life for the coming generations.
Also on Friday, the "Popular forum for protecting Jordan and Palestine" held a rally in front of Al Husseini Mosque in downtown Amman, calling for confronting schemes seeking to sideline the Palestinian cause and expressing their rejection of US Secretary of State John Kerry's plan.
They also called for releasing Ahmad Daqamseh, who is serving a life sentence for killing seven Israeli schoolgirls in 1997, Petra reported.
In addition, the protesters called for political and economic reform and for holding the corrupt accountable.
Related Articles
May 15,2014
Representatives of professional associations, leftists political parties and popular movements on Thursday formed a human chain in front of the UN headquarters in Amman, marking the 66th anniversary of the Nakbeh (day of catastrophe), when Israel was created on Palestinian land in 1948.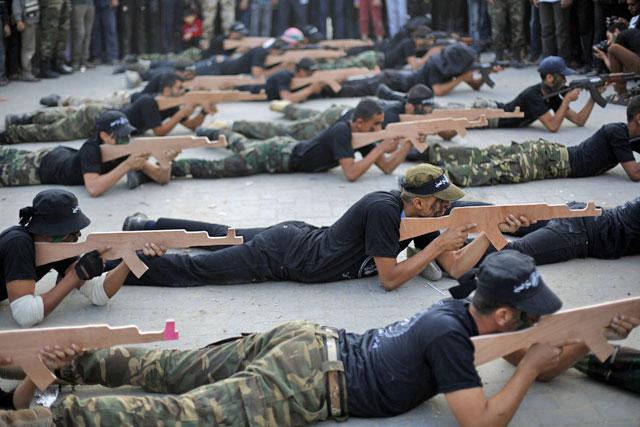 Nov 08,2014
Hamas announced the creation of a "popular army" in the Gaza Strip on Friday, saying it was ready for any future conflict with Israel, particularly over the flashpoint Al Aqsa Mosque compound.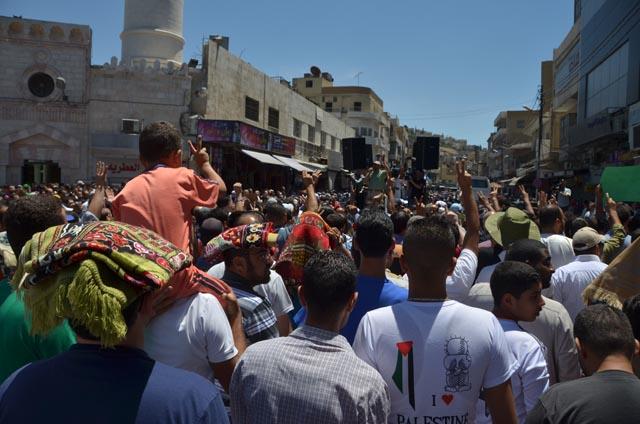 Jul 19,2014
Some 600 protesters marched in downtown Amman on Friday in an expression of solidarity with Gazans.
Newsletter
Get top stories and blog posts emailed to you each day.