You are here
Protesters around Jordan express solidarity with Gaza
By Muath Freij - Jul 19,2014 - Last updated at Jul 19,2014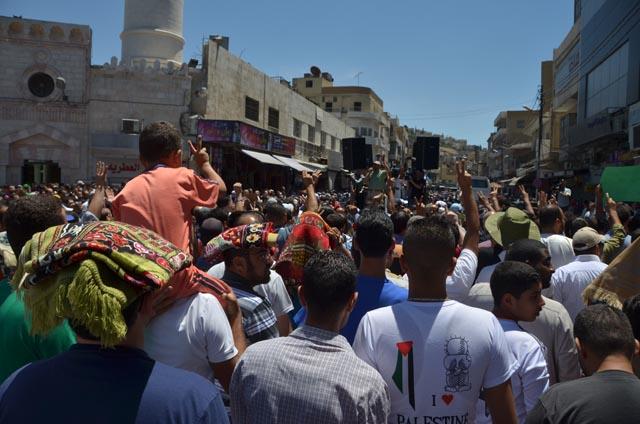 AMMAN – Some 600 protesters marched in downtown Amman on Friday in an expression of solidarity with Gazans.
Before the beginning of the rally, organised by the Muslim Brotherhood in cooperation with youth movements and political parties, protesters listened to the Friday sermon and performed noon prayers at Al Husseini Mosque.
Demonstrators chanted slogans denouncing Israeli aggression on Gaza, expressing support for Hamas, the coastal enclave's rulers, and criticising the Egyptian regime for closing the country's border with Gaza.
They also called for the liberation of Palestine and closing the Israeli embassy in Amman.
The rally was held amidst tight security.
Mohammad Bader, one of the participants, called on Jordan to show a firm stance against the assault on Gaza.
"I also demand that Hamas reject the truce sponsored by Egypt because it will make the Palestinian people surrender to the enemy," he told The Jordan Times at the protest, criticising the "Arab silence" over the situation in Gaza.
Ahmad Najjar, another protester, said he took part in the march on Friday to express his support for the Gazans.
"I wish I could fight with them right now," he said, demanding the expulsion of the Israeli ambassador to Jordan.
University student Omar Bilbeisi, one of the demonstrators, demanded that Arab leaders denounce the Israeli aggression against the Gaza Strip.
He stressed the importance of showing solidarity through rallies and protests.
"Such events help make many people aware of the issue of Gaza and help support Gazans as well," Bilbeisi added.
Islamists, popular movements and leftists parties organised similar protests on Friday in the Zarqa, Madaba and Irbid governorates, as well as in Karak's Southern Mazar District and in Wihdat in Amman, the Jordan News Agency, Petra, reported.
Protesters denounced the Israeli assault on Gaza, expressing their support for the Palestinian resistance and commending Jordan's medical assistance to Gaza.
They urged the Arab and international community to put an end to Israel's "barbaric aggression" and to support the steadfastness of Palestinians, according to Petra.
Fresh Israeli air strikes killed at least 11 people in Gaza on Saturday, hiking the death toll above 300, Agence France-Presse reported, as Israel's campaign against the besieged Palestinian territory entered day 12.
Related Articles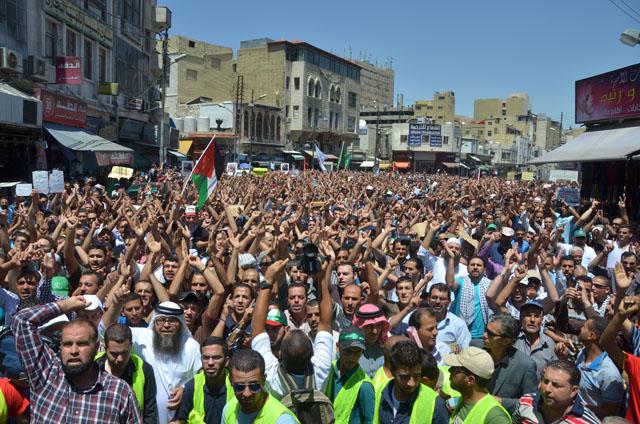 Aug 02,2014
Thousands of Jordanians took to the streets of the capital on Friday in protest against the Israeli aggression on Gaza and in solidarity with the strip's residents. 
Aug 16,2014
Around 200 Jordanians rallied in downtown Amman on Friday in solidarity with Gaza. 
Aug 03,2014
Around 70 Jordanians gathered outside the US embassy in the capital's upscale Abdoun neighbourhood on Sunday in protest against the US stance towards the Israeli war on Gaza.
Newsletter
Get top stories and blog posts emailed to you each day.