You are here
Parents struggle as back-to-school costs pile up
By Rayya Al Muheisen - Sep 01,2022 - Last updated at Sep 01,2022
 Stationery, transportation and uniform costs add to parents' financial burdens at the beginning of every academic year (Photo by Osama Aqarbeh)
AMMAN — Stationery, transportation and uniform costs add to parents' financial burdens at the beginning of every academic year.
Student fees and school supply requirements continue to pile up, straining the budgets of household providers, say parents.
However, Sharaf Hayajneh, stationery sector representative at the Jordan Chamber of Commerce (JCC) told The Jordan Times that he is very optimistic over this season's sales.
"Although cash liquidity among parents is limited, the demand for stationery is pretty good," Hayajneh said.
He stated that charities and NGOs are buying large quantities of school supplies from retailers to provide materials to low-income students.
Marwa Abed, a mother of three, expressed her concern about the additional financial pressure of the start of the school year.
"Setting aside the children's school fees that every parent has to pay, necessary items such as books, stationery and uniforms add to the financial burden," said Abed.
Abed stated that all the parents she knows have spent almost half of their August income on "back-to-school costs", which includes registration fees and the first payment of school tuition, which generally costs up to 30 per cent of the annual fees.
"September is certainly the toughest month financially for all parents," she added.
"The bill for equipping a child for the first day of school now averages between JD50-JD200 a child, when clothing and equipment are included," Abdallah Al Daoud, a father of two, told The Jordan Times.
Daoud added that the cost climbs further every year.
"Education should never equate to how much money a parent is willing to invest," said Daoud.
"School uniforms were created to disguise family earnings between students, not create a financial burden for parents," said Um Faisal, a mother of two.
She added that costs are rising as schools become more demanding.
"Not only do school fees increase, but so do children's demands as they grow older," she said.
"School uniforms are an expensive, unnecessary purchase which puts an added financial burden on low-income families," noted Rawan Hyasat, a mother of two.
Hyasat added that this isn't an argument against school uniforms; it is an argument against making the parents pay for them.
"There is nothing wrong with mandatory school uniform policies," Hyasat added.
However, Hyasat believes that uniforms should be subsidised or paid for by the school, rather than the parents, to avoid placing an additional financial burden on families.
Related Articles
Feb 05,2023
AMMAN — The beginning of the second semester coincides with nationwide weather depression, exacerbating parents' financial concerns. &n
Aug 16,2022
AMMAN — Financial burdens are forcing many families to transfer their children from private to public schools, say parents.Monther Al Souran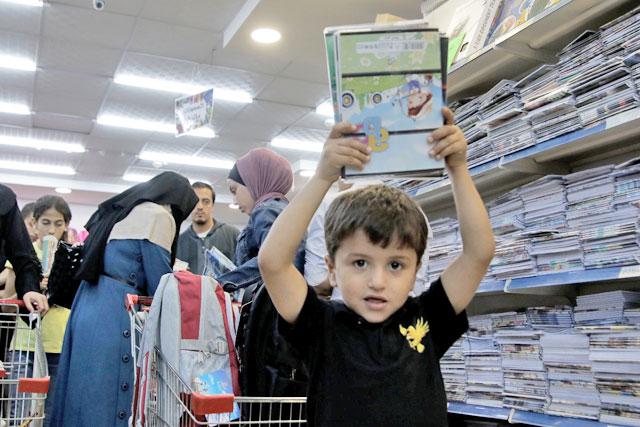 Sep 01,2018
AMMAN — With Eid Al Adha vacation swallowing their salaries, parents said that preparing their children for school is just a "nightmare".The