You are here
PM discusses Atarat project with YTL Corporation executive chairman
By JT - Sep 20,2017 - Last updated at Sep 20,2017
AMMAN — Prime Minister Hani Mulki on Tuesday met with Tan Sri Yeoh Tiong, executive chairman of YTL Corporation Berhad, the Jordan News Agency, Petra, reported.
The group is a member of the Sino-Estonian-Malaysian Consortium "Atarat" that is implementing a project in Jordan to produce electricity from oil shale.
During the meeting, attended by Energy Minister Saleh Kharabsheh and Bassam Qaqish, the project director, Mulki was briefed on the project's progress, which is being implemented in Atarat region in the Kingdom's Southeast.
Mulki stressed the importance of the strategic project, which will contribute to increasing dependence on local resources to produce energy through burning oil shale.
He called on stakeholders to accomplish the project before the deadline in 2020.
The premier referred to the attractive investment environment in Jordan, a safe and stable country, which can function as a gateway to YTL's investments in the region, Petra said.
For his part, the chairperson of YTL said that the project is the first investment for the group in the Middle East, and that it is looking to expand its investments in the region in the fields of infrastructure, water, roads, telecommunications, tourism and industry.
He noted that the group has initiated construction works to build on oil-shale power station that aims to generate 470 mega watts annually, which will account for 15 per cent of total energy generation in the Kingdom with a total investment value of $2.1 billion.
The chairman also stressed his group's commitment to the environmental standards.
He noted that the project will provide "thousands" of jobs during the mine constructing period, with 70 per cent reserved for Jordanians, in addition to 1,000 permanent jobs once the project is completed.
Related Articles
May 08,2016
AMMAN — Estonia's Eesti Energia signed an agreement to sell the majority of its stake in Jordan's first $2.2 billion power plant to be fuell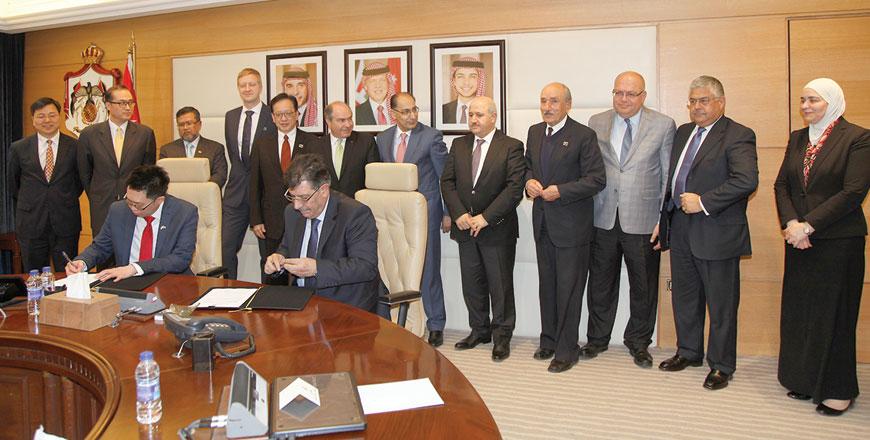 Mar 16,2017
AMMAN — Construction on a 554-megawatt, oil shale-fired power plant will start following securing necessary finance for the project, va
Oct 01,2014
Jordan's first shale oil-fuelled power plant will be operational at the end of 2018, officials said.
Newsletter
Get top stories and blog posts emailed to you each day.