You are here
Police capture suspect in second Amman bank robbery
By Rana Husseini - Jan 22,2019 - Last updated at Jan 22,2019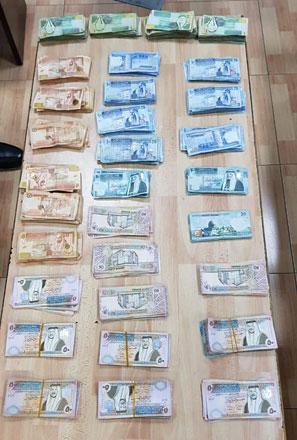 Money reportedly stolen from a bank in the Amman neighbourhood of Sahab on Tuesday is seen in this photo. The bank robbery was the second to take place within a week (Photo courtesy of the Public Security Department)
AMMAN — Police said on Tuesday that they had arrested a suspect accused of committing a robbery earlier in the day, a senior official source told The Jordan Times.
The source said that the suspect reportedly confessed to the robbery, which took place in east Amman earlier in the day and was the second bank robbery to take place within a week.
The suspect, who covered his face with a scarf and wore a hoodie and baseball cap, reportedly entered Al Ahli Bank branch in Sahab early in the morning and stole cash, Police Spokesperson Lt. Col. Amer Sartawi said.
"The suspect fled the scene and no one was injured in the incident," Sartawi told The Jordan Times.
The bank issued a statement saying that they were robbed at gunpoint and that JD14,200 in cash was stolen, the Jordan News Agency, Petra, reported.
"No one was injured in the incident and the authorities were immediately notified," the bank's statement said, adding that "the incident did not affect the bank's operations".
Video clips circulated on social media showed a man wearing a hoodie and a baseball cap with his face covered in a scarf, reportedly walking into the branch and waving a gun at the clients and the bank teller.
The suspect then pointed a gun at a male employee who handed him a dark bag shortly afterwards.
The man then looked around and noticed that some of the clients were attempting to flee from the bank, so he pointed the gun at them several times and then turned back around to face the teller.
The suspect is expected to be referred to the State Security Court prosecutor for questioning and indictment.
Tuesday's incident was the second robbery targeting a financial institution in the Kingdom this year.
On Sunday, a man entered a local bank in the Manara neighbourhood of Amman brandishing a fake gun. Police arrested a suspect in the robbery on Monday.
In 2018, a money exchange shop and eight banks were targeted in Jordan, with some cases involving armed robbers, while other robbers used fake weapons.
Seven of the nine robbers have been arrested so far, while two suspects, who escaped with over JD105,000 in cash from two banks in the Wihdat neighbourhood and in Irbid, remain at large.
Newsletter
Get top stories and blog posts emailed to you each day.