You are here
Prince Hassan urges int'l justice community to play active role in resolving Mideast conflicts
By JT - Sep 07,2014 - Last updated at Sep 07,2014
AMMAN — HRH Prince Hassan has called on the international justice community to play a more active role in helping resolve conflicts in the Middle East.
Delivering the keynote address at a high-level meeting of experts on Global Issues and Their Impact on the Future of Human Rights and International Criminal Justice in Siracusa, Italy last Thursday, the prince delved into specifics on rulings delivered by international bodies such as the UN Security Council and the International Court of Justice, according to a statement sent to The Jordan Times.
Examples included the targeting of civilians prohibited by the Fourth Geneva Convention; Resolution 242 that prohibits the building of settlements on occupied land; and articles 2 and 39 of the UN Charter that vest the Security Council as the only organisation with the power to rule on the legality of war.
"When we devote reels upon reels of newsprint and hours upon hours of television time to discussing conflicts such as Iraq and Gaza, how do we not even spend a few minutes discussing the illegality of the actions, and the layers of historic illegality that provide their context?" the statement quoted Prince Hassan as saying.
He also outlined a three-step plan for the international criminal justice community to help further long-term human security in the Middle East.
The first step is to prepare for the expected by building a "knowledge base to prepare for the end of conflict in countries like Syria by talking to refugees about pre-conflict access to justice, the non-state justice systems, and the land and property rights systems".
The second is to develop transitional justice mechanisms by recognising that "transitional justice is fraught with risk of escalating violence due to unresolved grievances. In this context, it is necessary to make decisions based on hard evidence, develop a clear and frank assessment of institutional capacity, and find solutions that incorporate an authentic regional voice."
The third step is to look beyond major international crimes by focusing "not just on the international crimes against humanity, but also on the day-to-day, like corruption, lack of access to justice and lack of access to basic human rights such as education, health and water. These crimes do not have high visibility, but as witnessed in the Arab Spring, are often precursors to major conflict," the statement said.
Ultimately, the international criminal justice system needs to focus on furthering human dignity, the prince said, pointing out that despite its limitations in being able to mete out punishment as is the case in domestic justice mechanisms, international criminal justice has worked by creating a culture of communication based on a common language of shared understanding.
This language has evolved not based on a narrow legal interpretation of human rights, but rather through a broader commitment to humanitarian rights.
Prince Hassan called for a renewed humanitarian focus and for the scope of international law to be broadened to include a law of peace, which would contain a set of laws directly related to human welfare.
"We spend a lot of our time and resources in discussing how to wage war," he said. "Now, more than ever, we need to talk about how we are going to wage peace."
Related Articles
Mar 24,2016
UN Secretary General Ban Ki-moon hailed the conviction on Thursday of former Bosnian Serb leader Radovan Karadzic of genocide as a "historic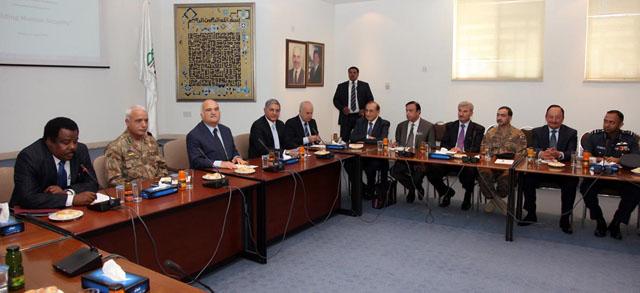 Apr 22,2014
The absence of justice and a lack of respect for human rights and dignity are the major challenges that threaten the security and stability of communities, HRH Prince Hassan, president of the Arab Thought Forum (ATF), said on Tuesday.
May 07,2017
AMMAN — HRH Prince Hassan, president of the Arab Thought Forum (ATF) on Sunday attended a lecture titled "Empowerment and Power Delegation f
Newsletter
Get top stories and blog posts emailed to you each day.