You are here
Prince Hassan visits New Zealand as victim families prepare funeral
Deputising for King, Prince meets with PM, conveys condolences
By JT - Mar 21,2019 - Last updated at Mar 21,2019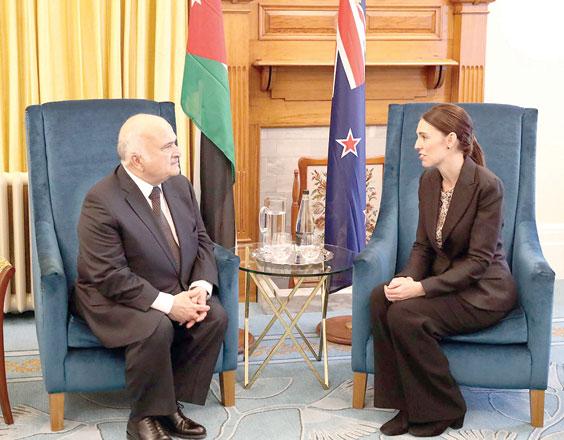 HRH Prince Hassan meets with New Zealand Prime Minister Jacinda Ardern at the government's headquarters in Wellington, New Zealand, on Thursday (Petra photo)
AMMAN — Deputising for His Majesty King Abdullah, HRH Prince Hassan on Thursday began a visit to New Zealand on the heels of the terrorist attack on two mosques in Christchurch last Friday that claimed the lives of dozens of people, including four Jordanians.
The diplomatic team dispatched by the Foreign Ministry to New Zealand, in coordination with the victims' families, was preparing on Thursday for the mass funeral of the Jordanian victims, who are scheduled to be laid to rest Friday, a ministry statement said.
Prince Hassan met with New Zealand Prime Minister Jacinda Ardern at the government's headquarters in Wellington.
The Prince conveyed King Abdullah's condolences over the victims of the terror attacks, and expressed Jordan's condemnation of such acts, which contradict basic human values, the Jordan News Agency, Petra, reported.
During the meeting, attended by HRH Princess Rahma and Foreign Ministry Secretary General Zaid Lozi, the Prince commended New Zealand's approach in dealing with the repercussions of the Christchurch terror attack.
Prince Hassan reviewed the Kingdom's efforts to defend Islam and its message, which calls for moderation and forgiveness, highlighting Jordan's initiatives to encourage interfaith dialogue, foster religious harmony and combat extremism.
He also drew attention to common human values which Prince Hassan said bolster cooperation, respect and coexistence, along with the importance of supporting humanitarian and democratic security based on the values of equality, justice, fraternity and citizenship.
Ardern said that the recent terrorist attack on two mosques in Christchurch targeted "all of New Zealand and not just the Muslim community", applauding Jordan's efforts to boost dialogue and human solidarity, according to Petra.
Meanwhile, Ahid Sweidat, the head of the diplomatic team tasked with following up on the massacre's victims and offering support to their families, received letters from New Zealand's authorities informing him that the bodies of the Jordanian victims are ready to be released and offering condolences and "deep sorrow" over the tragic deaths, according to the statement.
In accordance with the families' wishes, the Jordanian victims will be buried in New Zealand in a mass funeral, Foreign Ministry Spokesperson Sufian Qudah said.
The team also reported that the five Jordanians injured in the incident are on the path to recovery, noting that a four-year-old girl who was shot during the attack, along with her father, is now listed in stable condition and is receiving "the best medical treatment", according to Qudah.
The Foreign Ministry's operations centre has issued 14 travel visas to the Jordanian victims' bereaved families, most of whom have travelled to New Zealand to be with their relatives, Qudah said, adding that no new visa requests have been received by the ministry.
Newsletter
Get top stories and blog posts emailed to you each day.