You are here
Private school students interact with refugees their age, learn more about their lives
By Saeb Rawashdeh - Mar 04,2015 - Last updated at Mar 04,2015
AMMAN — Private school students in the capital recently had the chance to learn more about children their age who live as refugees in Jordan.
In two weeks of activities organised by the Collateral Repair Project (CRP) and the International Community School (ICS) in Amman, speakers told secondary and elementary school students about the daily lives and problems of urban Syrian and Iraqi refugee children.
ICS students also took part in activities designed to help them better understand how refugees try to become accustomed to a new country.
"We did activities with them such as planning a monthly budget that a refugee family might have to live off, so they would eliminate goods that weren't necessary and keep ones that were essential. It kind of put them in the shoes of the refugees," said Siran Samman, a community service assistant and teaching assistant.
"We're trying to develop students in primary school," said James Goodman, who is ICS community service coordinator and a teacher.
"We wanted to focus on charity and start with an actual charity in Amman as an example of how people are making things better. We wanted to try to ground it for our students."
Simon Oates, a primary school teacher, said refugees are part of the community but are often overlooked.
"These refugee children are members of our community that our students could just ignore. They are there, but they don't even think about them… but yet they live among our students in the same city and our students probably don't even know about it," he noted.
Of the some 620,000 registered Syrian refugees in Jordan, the majority are women and children, according to official figures.
The culmination of the two weeks of activities was a sports day organised late last week at the school that brought together students and refugee children, where senior ICS students organised games for all to participate in.
"It's been so much fun watching the children enjoy implementing the games they developed," noted Samman.
Despite some linguistic barriers, the children soon got excited about the games. The entire school yard was filled with children running around to different stations, grabbing snacks and throwing basketballs.
The sports day concluded with charitable gifts and smiling faces. In the end — they all won.
Related Articles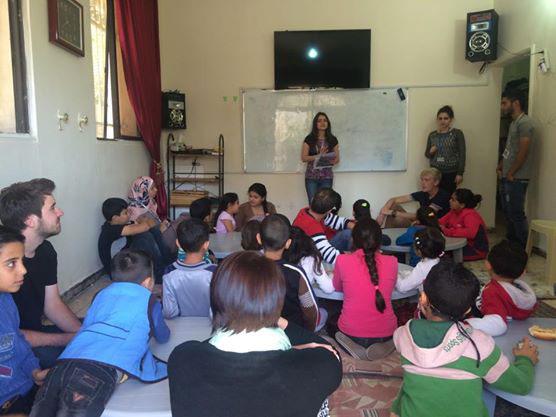 Jan 21,2015
Although it started with only two Americans almost a decade ago, an east Amman-based NGO has grown through the dedication of refugees, foreign volunteers and local interns to become a family that offers aid to whomever seeks it.
May 23,2015
AMMAN — High school students organised an open day on Friday to raise awareness about cancer and "draw a smile" on the faces of young cancer
Jun 23,2014
The end of the school term brought smiles to more than 10,000 Syrian children at the Zaatari Refugee Camp as they were awarded certificates on Monday for successfully completing the scholastic year, according to a UNICEF statement.