You are here
Grass-roots centre serves vulnerable communities through efforts of refugees, expats and local volunteers
By Saeb Rawashdeh - Jan 21,2015 - Last updated at Jan 21,2015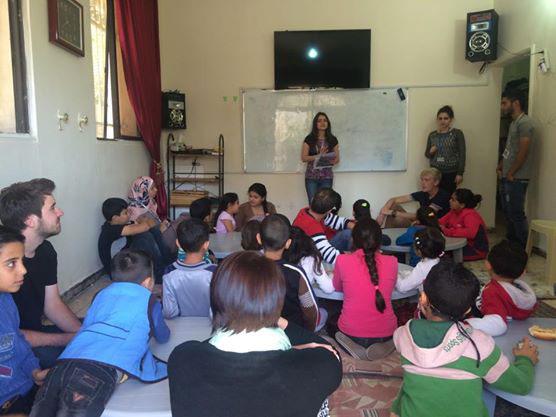 AMMAN — Although it started with only two Americans almost a decade ago, an east Amman-based NGO has grown through the dedication of refugees, foreign volunteers and local interns to become a family that offers aid to whomever seeks it.
"We don't see ourselves as an aid organisation as much as a family — a big community of people who love coming here every day to do what we can to help," says Amanda Lane, the executive director of Collateral Repair Project (CRP), which was originally launched by American volunteers Sasha Crow and Mary Madsen, who opposed the 2003 US invasion of Iraq.
Their NGO, based in east Amman's Hashemi Shamali neighbourhood, offered services to Iraqi refugees in the aftermath of the US invasion, but has since grown to serve Syrian refugees and underprivileged Jordanians as well, according to Lane, a US citizen married to a Jordanian.
CRP, she says, relies on the contribution of the local and foreign volunteers who offer their time, effort and expertise to ease the suffering of hundreds of thousands of displaced people.
"We have two staff members and a number of refugee, and foreign volunteers and interns… So many [of the] families we help — who came to us when they could not find assistance anywhere else… feel very grateful that we didn't turn them away and they give back, by volunteer teaching our computer courses, English classes and leading other activities at the centre," adds Lane, who took over CRP management recently.
CRP's community centre provides different activities such as yoga, English and computer classes, a children's reading club and self-defence training.
Adults and young people alike benefit from its services, including school dropouts and children suffering from post-traumatic stress disorder, according to the NGO.
One of the centre's volunteers, Jenny Hoffman, who is currently pursuing a master's degree in crisis management studies and seeks to "transition into a career in humanitarian work focused on refugees", says she chose to join CRP because of its "community-centred approach".
"Staff, volunteers, and beneficiaries all work side by side. Additionally, community members run a majority of the daily operations, including the teenage volunteers who lead activities for the younger kids," she notes.
"I appreciated how CRP genuinely focused on building relationships within the diverse refugee communities in Amman," Hoffman adds.
"One of my proudest days was when I was able to connect a young boy who needed surgery with an organisation that would be able to provide it free of cost."
But CRP's road is not without challenges, as it works on "a meagre budget" to meet the needs of a growing refugee community, according to Lane.
"There are many, many challenges — primarily since there are so many people who desperately need our assistance but we always lack the means to help everyone adequately, "she adds.
However, Lane and her team manage to raise funds abroad — mainly in Canada and the US — to buy food and other vital items for refugees.
CRP's beneficiaries are also pitching in, doing what they can to give back to society and aid those in similar circumstances, Lane says.
"Despite the fact that most people have experienced great trauma, they find a home at our centre and do as much as they can to contribute to helping those in our community."
Related Articles
Jun 07,2016
AMMAN — Stretching, bending, balancing and contorting his body, Iraqi refugee Jasim Janabi is following his yoga teacher's instruction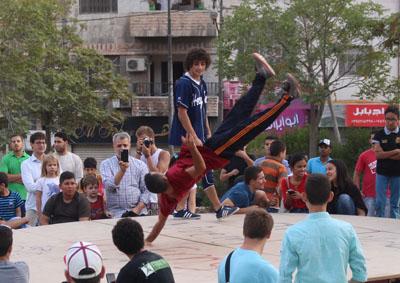 Oct 05,2015
AMMAN — Rappers, breakdancers and skateboarders gathered at 7Hills Skatepark in Amman's Jabal Luweibdeh neighbourhood on Friday for The Word
Apr 27,2017
AMMAN – A group of 16 volunteers from the UK is carrying out activities with several local organisations in a bid to influence societal chan
Newsletter
Get top stories and blog posts emailed to you each day.