You are here
Yoga relieves stress, trauma for refugees in Amman
By Muath Freij - Jun 07,2016 - Last updated at Jun 07,2016
Iraqi and Syrian refugees attend a yoga class in east Amman recently (Photo by Muath Freij )
AMMAN — Stretching, bending, balancing and contorting his body, Iraqi refugee Jasim Janabi is following his yoga teacher's instructions intently.
The father of three, who has been in Jordan for three years, said he decided to join yoga classes in Amman to simply calm himself down.
"I suffered in Iraq after the events I witnessed. Yoga enhanced my psychological wellbeing and boosted my fitness. The optimistic person who wants to feel good must practise it," the 51-year-old, who has been practising yoga for over a year, told The Jordan Times after a recent session.
But Janabi was not the only man in the room imitating his instructor with great enthusiasm. Another 19 Syrian and Iraqi refugees found comfort and relaxation in yoga, which they said helped drive away the stress they had encountered back home.
Bella Hancock, a yoga instructor from Ireland, said she noticed that men were more excited about the classes than women after they experienced its positive impact.
"We have been received by women and men with a lot of gratitude and openness, and the men actually enjoyed the classes a lot. Usually there are more [people] in the men's classes than in the women's classes. I think they knew they really needed it," Hancock said.
She is delivering the classes with her colleague Claire Osborne at the Collateral Repair Project (CRP), a refugee aid organisation that provides emergency assistance and community programmes to refugees of all nationalities.
"I wanted to do something to help and when I found there was a link for yoga at the CRP website, I contacted them and decided to help," Hancock recalled.
She saw that people really loved yoga, and said participants told her it helped them cope with their daily life.
"We came a year ago and held a workshop for people at the centre so that they can teach in the community. We came for three weeks and we worked with a group of 10 people," she said.
Hancock, who has been teaching yoga for 16 years, said this time they decided to train people who were already teaching yoga in Amman, so they could then offer classes at CPR as volunteers.
Amanda Lane, executive director of CRP, said the organisation started about three years ago to address issues of stress and trauma for refugees.
"We knew that people were having a lot of difficulties in their everyday lives so we began to introduce yoga at the centre and people loved it. They talked about the relaxation techniques and the breathing which made a huge difference to them," she told The Jordan Times at her office in Amman.
Lane said the centre offers yoga classes twice a week for men and women, with 20 participants in each class.
"We have reached hundreds of people through this programme. We are not going to any of the refugee camps because the reality is that the refugee camps are very well serviced and the refugee camps are holding fewer than 17 per cent of the entire Syrian refugee population," she added.
Mahmoud Barkat, a Syrian refugee who has been in Jordan for over four months, said the classes boosted his physical health.
"My back hurts and when I learned about the classes I decided to take part because I suffer from a torn ligament in my knee... I noticed an improvement since I started taking classes," added Barkat, who is from Damascus' Yarmouk camp.
Barkat, who has attended several classes, said yoga has boosted his morale.
"I used to be aggressive but now I'm much better than before. I walk quicker and better now after I used to struggle with walking," he said.
Related Articles
Jun 22,2015
AMMAN — Through the practice of yoga, individuals are able to better communicate with their souls and control their bodies, instructors and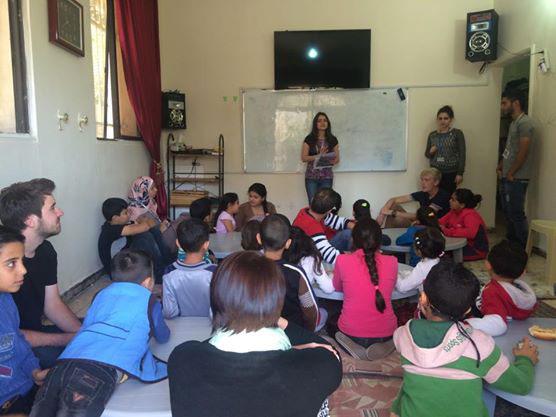 Jan 21,2015
Although it started with only two Americans almost a decade ago, an east Amman-based NGO has grown through the dedication of refugees, foreign volunteers and local interns to become a family that offers aid to whomever seeks it.
Jun 23,2017
AMMAN — Yogis and yoginis gathered at the Amman Citadel on Wednesday to celebrate the third International Day of Yoga, in an open-air yoga p
Newsletter
Get top stories and blog posts emailed to you each day.