You are here
Produce exports marked by 'tense trade atmosphere' since border openings with Syria, Iraq — association
Ministry refutes claim of shaky exports, points to recent trade agreements
By Maram Kayed - Feb 24,2019 - Last updated at Feb 25,2019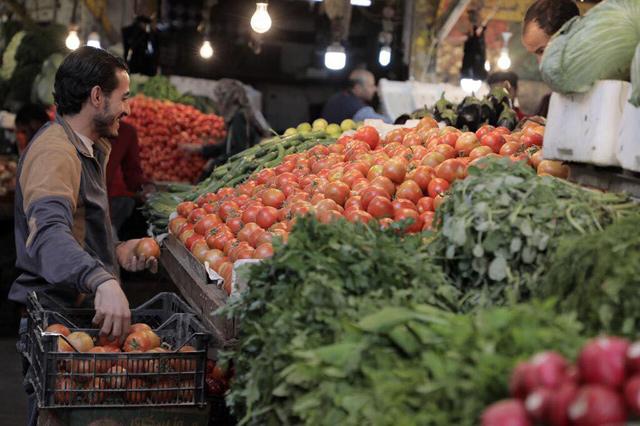 The Jordan Exporters and Producers Association for Fruit and Vegetables on Sunday said the recent border openings with Iraq and Syria have not helped produce exports. The Ministry of Industry, Trade and Supply refuted the claim (Photo by Osama Aqarbeh)
AMMAN — Some fruit and vegetable dealers on Sunday said that exports to Iraq and Syria are being affected by a "tense trade atmosphere"; a statement the Ministry of Industry, Trade and Supply rebuked.
The Jaber/Nasib border crossing with Syria was closed for three years due to the security situation in southern Syria, but it was reopened in October of last year.
The Karamah/Tureibil border crossing with Iraq was also closed in 2015, but was partially reopened in 2017. It is now set to undergo EU-funded rehabilitation so it can operate at its "full potential", senior Iraqi and Jordanian officials recently told The Jordan Times at a press conference.
However, President of the Jordan Exporters and Producers Association for Fruit and Vegetables Saadi Abu Hammad said his sector was still witnessing stagnant export rates after the reopening of both borders.
"The Iraqi side promised us they would be putting in large orders, and yet we have not sent one truck their way since we signed the agreement that exempted Jordanian goods from customs," he told The Jordan Times over the phone.
The sector, according to Abu Hammad, has not exported anything to Iraq in the last six months. "They say they have sufficiency, but that was not what they said when we first signed the agreement."
According to Abu Hammad, fruit and vegetable exports for February were down 70 per cent compared with the same month last year.
However, the President of the Jordan Exporters and Producers Society for Fruits and Vegetables Abdullah Zeben said: "There are no problems with Iraq. Even before the Karameh border reopened, we would send them certain vegetables through Basra. However, right now, their needs are met. It is not a matter of tensions or shaky relations."
The ministry echoed the same statement. Ministry Spokesperson Yanal Barmawi said that "the association's claims could not be further from the truth".
He further stated that "the traffic at the Iraqi border has picked up significantly. The recently-signed agreement to allow Jordanian trucks to enter Iraq and vice versa has had a very positive effect on all trade activity, including that of fruits and vegetables".
He reiterated that it is only a matter of supply and demand.
The association also claimed that, at the Jaber border crossing to the north, "not one kilogramme has been exported to Syria ever since it was opened. We [Jordanian dealers], on the other hand, have imported 5-6 tonnes since then", according to Abu Hammad.
Abu Hammad claimed that trade relations with Syria in his sector are "tense" after Syria turned to Pakistan to import most of its fruits and vegetables. Now Jordan, in turn, has replaced Syria with Egypt as its main importer of citrons.
Trade with Syria, however, was "never the aim behind reopening the border", said Zeben.
"Transporting our goods across to Turkey and Europe is the desired and lucrative use of the border. Trade with Syria does not generate much profit now, as the exchange rate is very disproportionate."
Currently, JD1 equals approximately 700 Syrian pounds. "Our dealers barely break even when they distribute in Syria," Zeben added.
"Regardless of the state of trade between our neighbouring countries, which is not in any way under threat, the dealers' abilities to market and sell our local products should be able to triumph over any challenge," concluded Barmawi.
Newsletter
Get top stories and blog posts emailed to you each day.