You are here
Protesters call for expulsion of Israeli ambassador
By Elisa Oddone - Jul 12,2014 - Last updated at Jul 12,2014
AMMAN — Protesters gathered in Amman on Friday calling on the government to expel the Israeli ambassador and shut down the country's embassy following days of Israeli airstrikes on Palestinians in Gaza.
Around 300 people picketed the sidewalk in front of the Kalouti Mosque in west Amman, a few blocks from the Israeli embassy, chanting slogans such as: "This is beyond our tolerance; we will never rest unless we lie in coffins," and "Jordanian government, stop hosting the embassy of the Zionists, this is your people's will."
They waved banners reading "We will die, but not kneel" and "Palestine is the destination of all the Arab community's free men."
"We do not accept what is happening in Palestine and, precisely, Gaza," Lebanese-Jordanian Mariam Jaajaa told The Jordan Times at the protest.
"This is a violation of any human standard and all international laws and we, in Jordan, stand completely with the Palestinians in Gaza," she said, adding that the international community was to blame for its silence as well as international media for their biased reporting.
Jordan has witnessed pro-Gaza activities in different parts of the country since Israel launched a campaign to arrest Hamas activists in the West Bank after the group was accused of kidnapping, and later killing, three teen settlers near Hebron.
Gendarmerie forces were deployed at the gathering to prevent demonstrators from reaching the Israeli diplomatic mission after protesters attempted to storm it during a protest earlier last week.
"I am here today to support the plight of children who are killed in Gaza every day," said Khalil Houri, 21, from Amman.
"Both Hamas and the Israeli government are participating in killing civilians. It is not only Israel but also Hamas. If you launch rockets without knowing whom they will strike, you are also committing a crime against civilians," Houri said, adding he wanted to leave the conflict-torn region and relocate to Europe.
The protest was organised by the Coalition of Leftist and Pan-Arab parties to show solidarity with their "Palestinian brothers" and send a "clear" message to the government.
"We want to remind people in Palestine that we have not left them alone in their fight. But to show true solidarity with the people in Gaza, our government should cut all ties with the Zionist entity and close their embassy in Amman," Khaled Ramadan, one of the organisers of the rally, told The Jordan Times.
"Our movement is not only here in front of Kalouti but in all cities and camps. Demonstrations in Jordan are taking place in... Karak, Irbid, Tafileh, Mafraq [and] Jerash," he said.
Similar protests were held on Friday in downtown Amman, Karak's Southern Mazar and Faqou districts, Zarqa and Ruseifa, the Jordan News Agency, Petra, reported.
Protesters expressed their solidarity with the Palestinians and condemned the "massacres" committed by Israel.
No incidents were reported during the rallies, according to Petra.
Agence France-Presse reported that 30 Palestinians were killed in Israeli airstrikes on the Gaza Strip on Saturday, quoting medics, bringing the death toll on the fifth day of violence to 135.
Related Articles
Jul 15,2014
Israel's escalatory measures, aggression and colonial activities will bring the Palestinian-Israeli conflict to a point of no return, HRH Prince Hassan warned on Tuesday.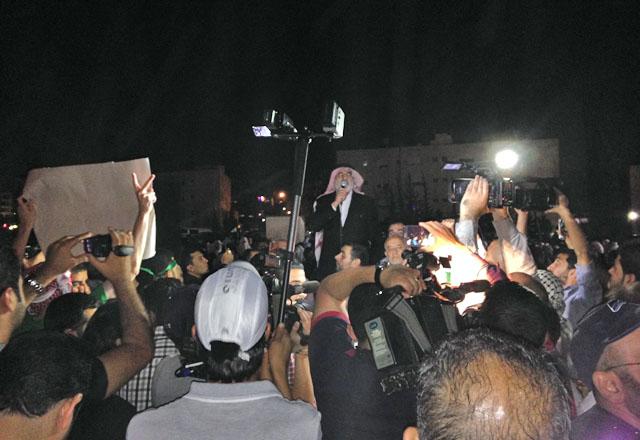 Jul 09,2014
Dozens of protesters gathered Wednesday night near the Israeli embassy in Amman to protest the ongoing Israeli onslaught on the Gaza Strip.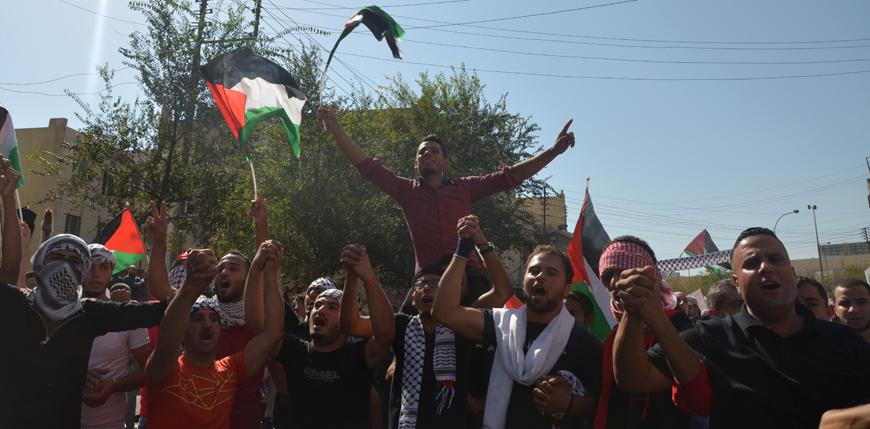 Oct 18,2015
AMMAN — Jordanians held demonstrations around the Kingdom on Friday in solidarity with the Palestinian resistance and to express support for
Newsletter
Get top stories and blog posts emailed to you each day.