You are here
Protesters attempt to storm Israeli embassy in Amman
By Muath Freij , Petra - Jul 09,2014 - Last updated at Jul 09,2014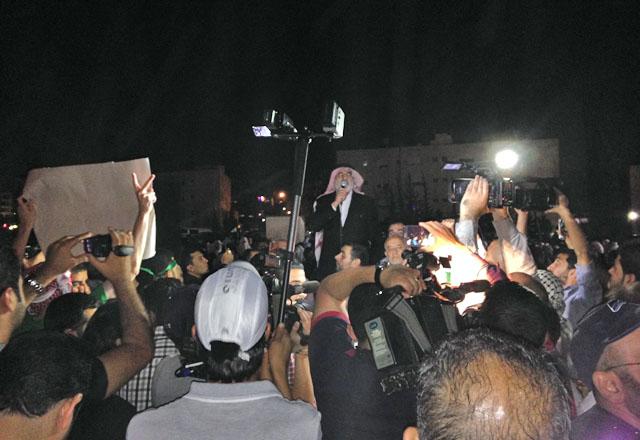 AMMAN — Dozens of protesters gathered Wednesday night near the Israeli embassy in Amman to protest the ongoing Israeli onslaught on the Gaza Strip.
Amid extensive police presence, some of the demonstrators tried to storm the embassy, but they were barred by security forces.
Through loudspeakers, the organisers of the protest, led by the Muslim Brotherhood, announced that six people were arrested half an hour into the protest, which started after the Ramadan special evening prayers (taraweeh), which were performed at the nearby Kalouti Mosque, which has become a fixture in all anti-Israel rallies held in the site.
The arrestees were later released.
Among protesters there were women and children.
The participants chanted slogans calling for closing the embassy and expelling the ambassador, which are customary demands since Jordan signed a peace treaty with Israel in 1994.
Jordan has witnessed pro-Gaza activities in different parts of the country since Israel launched a campaign to arrest Hamas activists in the West Bank and destroy their infrastructure after the group was accused of kidnapping, and later killing, of three teen settlers near Hebron.
Participants in the "Victory to Gaza" demonstration, which started from the Irbid Grand Mosque on Tuesday after taraweeh prayers, condemned the Israeli massacre of the Palestinians in Gaza.
The participants denounced Israel's crimes against Palestinians, which they said are considered crimes against humanity under international law, calling for a serious Arab move to stop the assaults.
Demonstrators called for solidarity with Palestinians to stand firm against Israeli aggression.
Related Articles
Jul 15,2014
Israel's escalatory measures, aggression and colonial activities will bring the Palestinian-Israeli conflict to a point of no return, HRH Prince Hassan warned on Tuesday.
Jul 12,2014
Protesters gathered in Amman on Friday calling on the government to expel the Israeli ambassador and shut down the country's embassy following days of Israeli airstrikes on Palestinians in Gaza.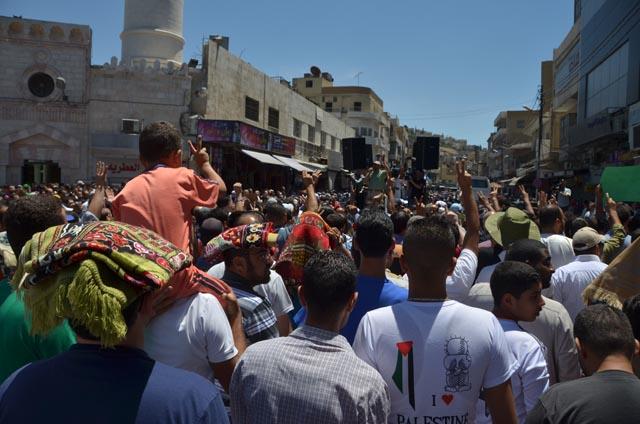 Jul 19,2014
Some 600 protesters marched in downtown Amman on Friday in an expression of solidarity with Gazans.
Newsletter
Get top stories and blog posts emailed to you each day.