You are here
Public sector reform key to development gains — expert
By Laila Azzeh - Feb 20,2016 - Last updated at Feb 20,2016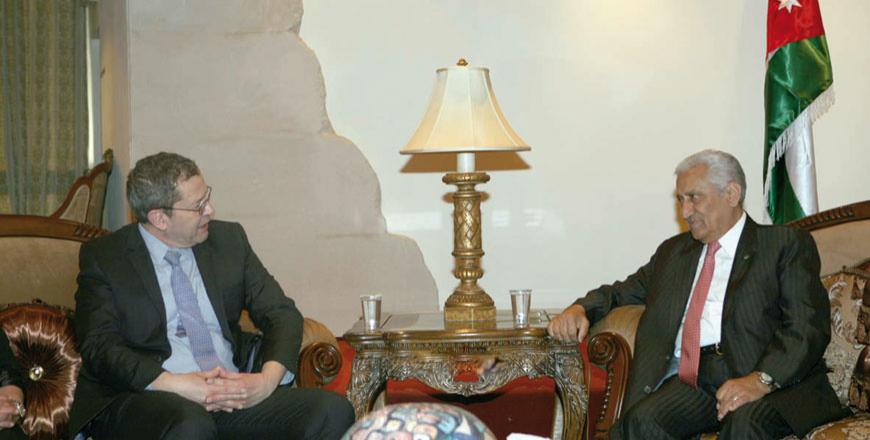 Prime Minister Abdullah Ensour meets with UNDP Global Centre for Public Service Excellence in Singapore Max Everest-Phillips in Amman, on Saturday (Petra photo)
AMMAN — "The quality of public institutions will be the key competitive edge of the 21st century. Think Singapore or Dubai," said Max Everest-Phillips, a public administration expert, at a forum on Saturday.
At the 11th Government Leadership Forum, attended by Prime Minister Abdullah Ensour, the expert raised issues related to public sector reform and competent public administration.
"Effective and efficient public service, that is imaginative, well-led and trusted, will be ever more important," he said.
Everest-Phillips, who is director of the UNDP Global Centre for Public Service Excellence in Singapore, drew on that country's development experience to support his suggestions.
Citing achievements realised in Jordan to improve the lives of ordinary people since its independence, he noted that "World Bank data show that Jordan's GDP [gross domestic product] per capita increased tenfold from 1965 to 2015, from $500 to over $5,000".
"But in 1965, Singapore's GDP per capita was exactly the same as here. Today it is eleven times higher — how did this happen?" Everest-Phillips asked, adding that Singapore's development success has been described in three words: "Dream; design; deliver".
He noted that the authors of a 2010 paper by the Organisation for Economic Cooperation and Development observed that Singapore "has a strong focus on integrated strategic planning and detailed execution".
By contrast, he said, failure in public service reform begins with over-ambitious "big bang" reform that ignores the complexity of the system, the conflicting interests of stakeholders, the political sensitivities involved and the ambiguous evidence on which reform is planned and then judged.
The expert added that failure in public administration also derives from a lack of consensus on civil service objectives; the failure to evaluate reform systematically and then disseminate the results; political posturing; and the absence of a theoretical model to guide reforms that, as result, can be ad hoc at best and misguided at worst.
Also speaking at the forum, Public Sector Development Minister Khleef Al Khawaldeh said the ministry first launched the conference in 2013 to exchange knowledge among leaders of the government executive apparatuses.
Khawaldeh stressed the government's understanding of the importance of reform and public sector development.
He cited an executive plan prepared by the ministry to improve the efficiency of government agencies, focusing on human resources, accountability, good governance and excellence, among other aspects.
On the sidelines of the forum, Ensour met with Everest-Phillips and stressed that Jordan looks forward to benefitting from the Singapore's experience in the field of public service.
At the meeting attended by Khawaldeh and UNDP Country Director Zena Ali-Ahmad, Ensour briefed Everest-Phillips on Jordan's plans and programmes in the field of developing human resources.
The premier said the size of the Kingdom's public sector is substantially large, especially compared with the population.
For his part, the expert expressed the UNDP's readiness to cooperate with Jordan in enhancing public service, commending the Kingdom's stability and security, the Jordan News Agency, Petra, reported.
Related Articles
Aug 23,2014
Public Sector Development Minister Khleef Al Khawaldeh on Saturday said the public sector leaders' forum, which the ministry organises every two months, will host the assistant executive director of Singapore's Civil Service College to talk about the Singaporean style of public administration.
Aug 30,2014
Directors and secretaries general of ministries and public institutions were briefed on Singapore's experience in public administration reform as part of the Ministry of Public Sector Development's fifth Government Leadership Forum on Saturday.
Aug 30,2014
Jordan seeks to boost cooperation with Singapore and to benefit from its expertise in public administration, Prime Minister Abdullah Ensour said on Saturday.
Newsletter
Get top stories and blog posts emailed to you each day.