You are here
Queen Alia airport passenger traffic hits record in August
QAIA receives over 5m passengers in eight months
By JT - Oct 03,2016 - Last updated at Oct 03,2016
A recent photo shows passengers at the Queen Alia International Airport (Photo courtesy of QAIA)
AMMAN — The Queen Alia International Airport (QAIA) in August welcomed the highest number of passengers in its 33-year history, the Airport International Group (AIG) announced on Monday.
QAIA's record-breaking figure of 830,259 passengers was attributed to increased leisure and expatriate travels during the summer holiday, said AIG, the Jordanian company responsible for the rehabilitation, expansion and operation of the QAIA.
Aircraft movement in August was down to 7,028, a 2 per cent drop from August 2015, while cargo volume rose 1.1 per cent in the same period.
The airport handled 8,542 tonnes of cargo in August, up from 8,445 tonnes in the same month last year.
In the first eight months of the year, the airport had welcomed 5,076,345 passengers, a 5.1 per cent increase on the same period in 2015, AIG said in a statement e-mailed to The Jordan Times.
"Once more, the month of August has seen QAIA achieve record-breaking figures in terms of passenger traffic. This year, QAIA reached its highest number of monthly passengers ever in August, marking a truly gratifying accomplishment," said Kjeld Binger, CEO of the AIG.
"These figures not only reaffirm the airport's position as Jordan's prime gateway to the world, but they also drive us to work towards setting new milestones and surpassing benchmarks, particularly following the inauguration of the second phase of QAIA's New Terminal Project [last] month," he added.
Related Articles
Jan 29,2017
AMMAN — In 2016, Queen Alia International Airport (QAIA) welcomed 7,410,274 passengers, "setting a new record for annual passenger traffic",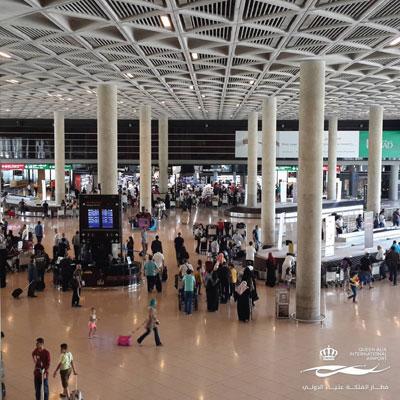 Feb 04,2019
AMMAN — Queen Alia International Airport (QAIA) welcomed 8,425,026 passengers in 2018, a 6.5 per cent increase from 2017, the Airport Intern
Feb 27,2019
AMMAN — A total of 6,063 flights passed through Queen Alia International Airport (QAIA) in January, marking a 6.9 per cent increase in aircr