You are here
Queen calls for urgent school renovations during Zarqa visit
By JT - Sep 11,2017 - Last updated at Sep 11,2017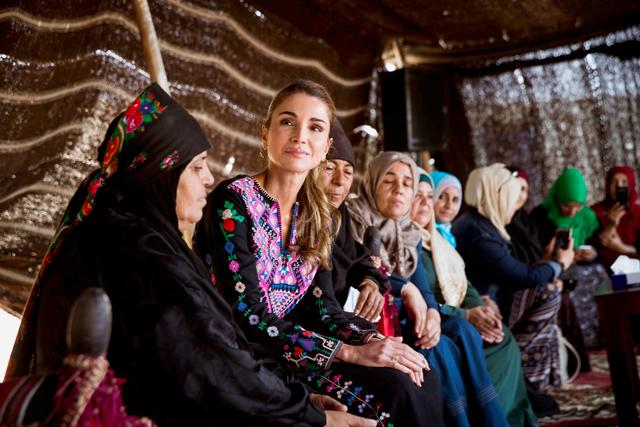 Her Majesty Queen Rania meets with families, educators, local representatives and small business owners on Monday in Zarqa Governorate (Photo courtesy of Royal Court)
AMMAN — Her Majesty Queen Rania on Monday visited Al Hallabat area of the Zarqa Governorate, where she met with families, educators, local representatives and small business owners, a statement from Her Majesty's office said.
After speaking with members of Al Hallabat community, Her Majesty stressed the importance of improving conditions at the nearby Zaid Bin Harithah School and Al Hallabat Al Sharqi School, which are both in need of significant renovation.
Queen Rania started her visit at the Balqees Co-educational Secondary School, touring classrooms and meeting teaching staff with the school's principal, Asma' Shammout. Established in the 1970s, the school serves approximately 600 students from preschool to grade 12.
The Queen then visited the Western Hallabat Charitable Society, where she was received by its president, Salem Al Nweiran, as well as Founder of the Community Centre Association (CCA) Sari Nasser, and its president Firyal Saleh.
Established in 1997, the Western Hallabat Charitable Society provides services to underprivileged families, students, women and youth, including computer lessons as well as a revolving fund, and saving schemes to help women launch income-generating projects. The charitable society also houses a water desalination project funded by the Ministry of Social Development.
The Queen was briefed on development projects that have been carried out in the area over the past six years, as well as the charitable society's plans for the future.
In collaboration with the CCA, the Western Hallabat Charitable Society has launched a total of 164 income-generating projects for families in need. With a 98 per cent success rate, the projects are implemented through funding from the Royal Hashemite Court and the Ministry of Planning and International Cooperation, according to the statement.
Following a presentation by Nasser, several of the charitable society's beneficiaries, including women from Al Hallabat and the nearby Ad-Dulayl area, spoke about the impact these projects have had on their families, and the changes they have witnessed in society's perceptions of women since launching their own small businesses.
In turn, Queen Rania expressed her pride in the sustainable, long-lasting business models employed, adding that, rather than categorising projects as large or small, projects should be measured by their impact.
Throughout the discussion, the president of the charitable society indicated that the nearby Zaid Bin Harithah School and Al Hallabat Al Sharqi School, established in 1968, were falling into disrepair.
Queen Rania responded by expressing her keen interest in resolving matter, stressing the importance of addressing this issue through the Ministry of Education, which has determined to build 10 new classrooms at Zaid bin Harithah School. The expansion of Balqees Co-educational Secondary School is also currently under way.
Before leaving the area, Her Majesty dropped by a thriving minimarket owned by Um Anwar, a beneficiary of the CCA, to hear about how the business has transformed her family's lives.
The enterprising woman explained how profits from the project have allowed her family not only to expand their home but to also purchase a car, which serves as an additional source of income for her husband.
Related Articles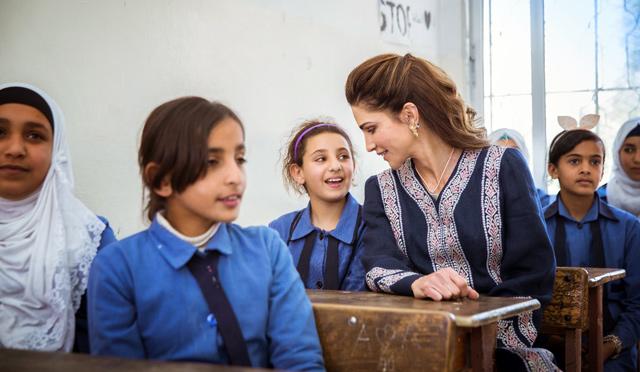 Apr 24,2018
AMMAN — Her Majesty Queen Rania on Tuesday visited the village of Hayyan Rwaybed in Mafraq Governorate where she met with members of the loc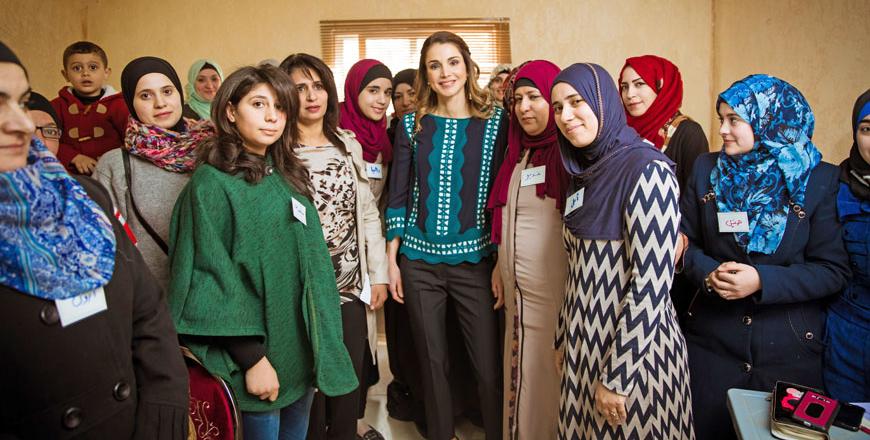 Jan 23,2017
AMMAN — Her Majesty Queen Rania visited Hashemiyat Al Zarqa district in Zarqa Governorate on Monday to check on the progress of a number of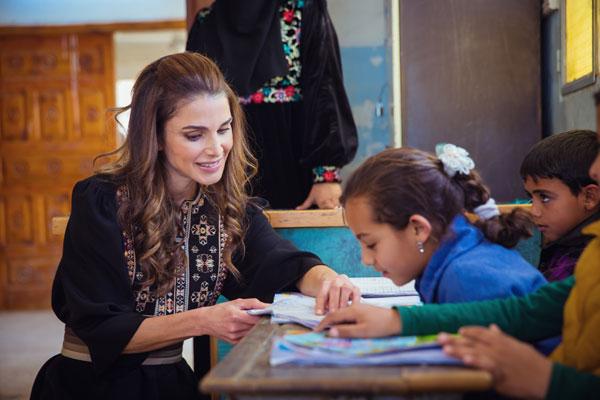 Apr 18,2016
AMMAN — Her Majesty Queen Rania visited Al Koum Al Ahmar village in Mafraq Governorate on Monday to check on its schools and meet with resid
Newsletter
Get top stories and blog posts emailed to you each day.