You are here
Queen presents awards to winners of MIT Solve Challenge Finals
By JT - Sep 18,2017 - Last updated at Sep 19,2017
Her Majesty Queen Rania poses for a group photo at the Massachusetts Institute of Technology Solve Challenge Finals in New York on Sunday (Photo courtesy of Royal Court)
AMMAN — Her Majesty Queen Rania on Sunday presented awards to the winners of the Massachusetts Institute of Technology (MIT) Solve Challenge Finals in New York, as part of a working visit to the US with His Majesty King Abdullah, according to a statement from Her Majesty's office.
Attended by some 300 people, the MIT Solve Challenge Finals called on innovators to develop lasting solutions to the world's most pressing challenges facing learning, health, sustainability and economic prosperity.
In her role as co-chair of the "Youth, Skills, and the Workforce of the Future" challenge, Queen Rania joined Australian Minister for Foreign Affairs Julie Bishop and Atlassian Head of Foundation Mark Reading in presenting a number of awards to the winners.
Before the ceremony, Queen Rania had a brief meeting with MIT President L. Rafael Reif who has headed the leading technological institute since 2012.
An initiative of MIT, Solve is a community that brings together technologists, social entrepreneurs, business leaders, policymakers, researchers and other change agents to unearth and implement solutions to specific, actionable challenges, according to the statement.
In the "Youth, Skills and the Workforce of the Future" challenge, participants focused on building upon the fourth United Nations Sustainable Development Goal (UN SDG), developing solutions to ensure inclusive and equitable quality education.
Under the challenge, problem-solvers put forward various solutions to equip disadvantaged young people under the age of 24 from low socio-economic backgrounds with the 21st-century-skills needed for them to join the workforce.
Related Articles
Jan 15,2017
AMMAN — Her Majesty Queen Rania chaired the Queen Rania Award for Excellence in Education (QRAEE) board of trustees' annual meeting on Sunda
Sep 08,2014
Her Majesty Queen Rania on Monday lent her support to a number of young entrepreneurs by attending the competition day of the fourth cycle of the I Know Business (IKB) awards.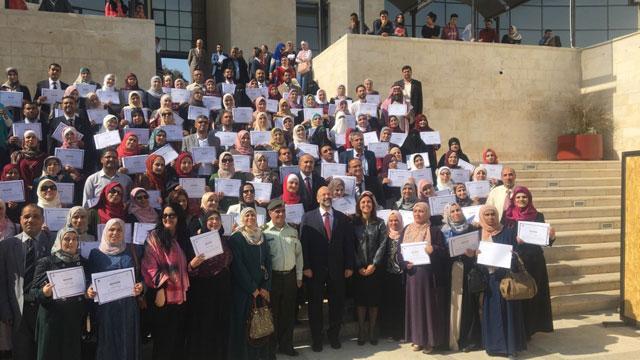 Oct 28,2017
AMMAN — The Ministry of Education will adopt the criteria of The Queen Rania Award for Excellence in Education (QRAEE) in the currently deve