You are here
'Refinery seeks $1.6b for expansion project'
By Mohammad Ghazal - May 16,2016 - Last updated at May 16,2016
AMMAN — The Jordan Petroleum Refinery Company (JPRC) said Monday it was in discussions with several equity and loan providers to secure financing and attract strategic partners to implement a project to expand the capacity of the country's sole refinery.
After securing the necessary funds for the $1.6 billion project, it will take four years to be completed, JPRC CEO Abdul Karim Alaween said at the Jordan International Energy Summit.
"This is a very important project as the last time the refinery was expanded was in 1982. We have conducted the feasibility study on the project already," Alaween said.
The expansion entails increasing the refinery's capacity from 70,000 barrels per day to 120,000 barrels per day, he elaborated.
"One of the main objectives of this project is to stop producing high sulfur fuel oil… It will also help meet rising demand on fuel that is witnessing a 3 per cent increase every year," said Alaween.
The project will meet international standards as well, he added.
The grace period given to the JPRC by the government for the expansion project ends in May 2019.
According to Alaween, the Social Security Corporation owns a 20.1 per cent stake in the refinery, while individuals own around 59 per cent.
Related Articles
Feb 16,2014
Refinery Manager at the Jordan Petroleum Refinery Company (JPRC) Hani Shousha said on Sunday that the company follows the "highest standards" of public safety while producing gas used for domestic purposes.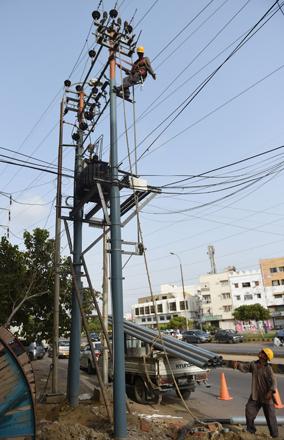 Aug 31,2016
KARACHI — Chinese multinational Shanghai Electric is set to buy the utility serving Pakistan's biggest city of Karachi, in a $1.6 billion de
Nov 26,2014
The Jordan Petroleum Refinery Company (JPRC) is expected to start expansion work to increase production in 2015, according to JPRC CEO Abdul Karim Alaween.
Newsletter
Get top stories and blog posts emailed to you each day.