You are here
Refugee crisis depleting resources available for children — UNICEF
By Ana V. Ibáñez Prieto - Nov 21,2017 - Last updated at Nov 21,2017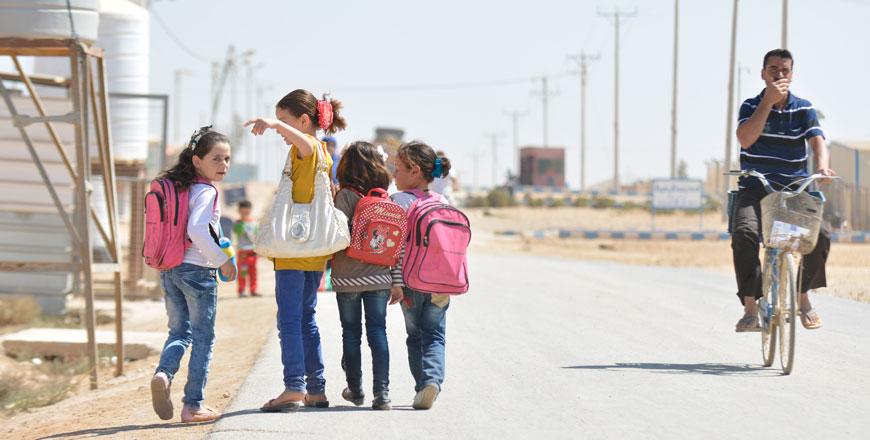 Syrian schoolchildren are seen at the Zaatari refugee camp in this recent photo (Photo by Amjad Ghsoun)
AMMAN — Jordan is among the 37 countries worldwide in which prospects for children are declining in at least one key respect, according to a UNICEF global analysis conducted on the occasion of the World Children's Day celebrated on Monday.
"It is very important to stress that children prospects in Jordan are not declining in general, but in very specific aspects," UNICEF representative in Jordan, Robert Jenkins, told The Jordan Times, pointing out an increase in child marriage among Syrian refugee girls residing in Jordan.
"Jordan has been successful in several other aspects, such as the percentage of schooled children in the Kingdom," Jenkins continued, noting that "now, it is time to focus on improving the lives of the most vulnerable children".
Juliette Touma, UNICEF Regional Chief of Communication in the Middle East and North Africa, said that "Jordan has made significant advances in the matter of children's rights, but the impact of the refugee crisis over the past years has left the country with a decline on the resources ready for children."
"Jordan has been accommodating a huge number of child refugees and that increased the pressure on the country," Touma continued, noting that "UNICEF commends Jordan's role in receiving so many refugees, and stands ready by the Jordanian government to support its efforts for all children to reach all services in the Kingdom."
In a recent interview with The Jordan Times, economist Isam Qadamani outlined the effect that the refugee crisis has had in the provision of basic services such as education or healthcare.
"More than half of the Syrian refugees in Jordan are under the age of 18, which places great pressure on educational capacity. Jordan has opened an additional 98 schools in two shifts to ease pressure on classroom size, and as a result, the proportion of students enrolled in double-shift schools increased from 7.6 per cent in 2009 to 13.4 per cent in 2014," the economist said, noting that "in Amman and Irbid, about half of the schools suffer from overcrowding, and their capacity is limited to absorbing additional numbers of students."
"The Jordanian healthcare system is under pressure in terms of financial resources and the ability to provide services," continued Qadamani, adding: "For some citizens, the influx of Syrian refugees has made access to
healthcare more difficult and expensive."
However, Jordan was only one of the 8 countries in the Arab region included on the list issued by UNICEF, which also featured Syria, Iraq, Yemen, Libya, Lebanon, Comoros and Djibouti.
A total of 180 million children worldwide live in countries where they are more likely to live in extreme poverty, be out of school or be killed by violent death than children living in the same countries 20 years ago, while 1 in 12 children worldwide has worse prospects than their parents, according to the report.
"While the last generation has seen vast, unprecedented gains in living standards for most of the world's children, the fact that a forgotten minority of children has been excluded from this — through no fault of their own or those of their families — is a travesty" said Laurence Chandy, UNICEF's director of data, Research and policy.
"At a time of rapid technological change leading to huge gains in living standards, it is perverse that hundreds of millions are seeing living standards actually decline, creating a sense of injustice among them and failure among those entrusted with their care," Chandy continued, adding that "it is no wonder they feel their voices are unheard and futures uncertain".
"It is the hope of every parent, everywhere, to provide greater opportunities for their children than they themselves enjoyed when they were young," he added, concluding that "this World Children's Day, we have to take stock of how many children are instead seeing opportunities narrow and their prospects diminish."
Related Articles
Oct 30,2017
AMMAN — As temperatures are lowering with the approach of winter, UNICEF has launched a call for funding to help support its winter assistan
Dec 14,2017
AMMAN — "Neither governments nor the private sector have been able to keep up with the pace of change, exposing children to new risks and ha
Apr 28,2018
AMMAN — The shift from a small programme focused on "policy and advocacy investments for children" to "a large-scale humanitarian programme"
Newsletter
Get top stories and blog posts emailed to you each day.