You are here
RJ to begin operating flights to Tabuk in mid-July
By JT - Jul 05,2015 - Last updated at Jul 05,2015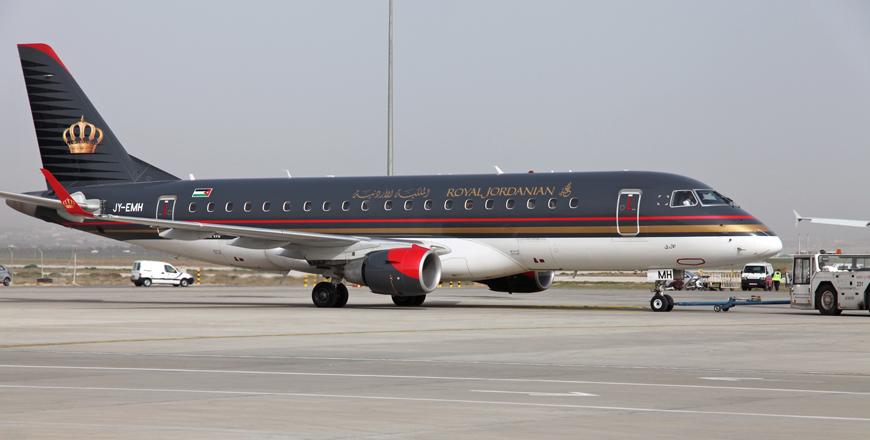 Royal Jordanian, which currently operates flights to four destinations in Saudi Arabia, is adding Tabuk to its network as of July 15 (Photo courtesy of RJ)
AMMAN — Royal Jordanian (RJ) on Sunday said it will start operating regular flights between Amman and Tabuk in northern Saudi Arabia on July 15.
The two weekly flights may increase in light of the demand for a larger capacity on this route, the airline said in a statement.
The new addition raises the number of RJ destinations in Saudi Arabia to five: Riyadh, Jeddah, Dammam and Medina, besides Tabuk.
The new route increases the frequency of flights between Jordan and Saudi Arabia to around 60 per week: 12 to Riyadh, 28 to Jeddah, 10 to Dammam and seven to Medina, in addition to the two weekly flights to Tabuk, RJ said.
RJ will operate its one-hour flight to Tabuk on Wednesdays and Saturdays. The aircraft will take off from Queen Alia International Airport, Amman, at 6:30pm and arrive in Tabuk at 7:30pm, from where it will depart at 8:15pm and land in Amman at 9:15pm.
RJ President/CEO Captain Haitham Misto said launching the new route in Saudi Arabia, which is a significant market for RJ, is part of the airline's new strategy, which focuses on boosting services and operations in the Middle East and Arab Gulf region at this stage; this includes flying to new destinations and/or increasing frequency to current destinations, according to the statement.
Operations to Tabuk are in response to the growing air transportation between the two countries, which serves Jordanians, Arabs and international citizens working in Tabuk, according to Misto.
Saudis living in the north of Saudi Arabia will also be able to visit Amman and travel beyond on the RJ route network or those of oneworld carriers.
Misto also noted that air access to Amman will spare passengers the trouble of travelling overland, especially during the Hajj and umra seasons (the greater and lesser Muslim pilgrimages to Mecca), when crossing the border may take a longer time due to the busy traffic.
Travellers from Saudi Arabia constitute the largest number of tourists to Jordan, with an estimated 1 million people entering the Kingdom by land, according to official figures.
Official figures estimate the number of Jordanian expatriates at around 750,000, the majority of whom live in the Gulf states. Over 300,000 Jordanian professionals are based in Saudi Arabia.
Related Articles
Jul 13,2015
AMMAN — Royal Jordanian (RJ) said Sunday it will operate its first flight to Najaf on Monday, launching a new regular service between Jordan
Aug 20,2017
RJ launches today a new sales promotion campaign in Jordan on its destinations in Saudi Arabia; Riyadh, Jeddah, Medina and Dammam, in additi
Jan 28,2017
AMMAN — Royal Jordanian (RJ) announced that it will be increasing the frequency of its flights to 14 Arab and international destinations on
Newsletter
Get top stories and blog posts emailed to you each day.