You are here
RJ to shut down flights to Delhi, Mumbai and Lagos
By JT - Jul 26,2014 - Last updated at Jul 26,2014
AMMAN — Royal Jordanian (RJ) said on Saturday it plans to stop its services to Delhi, Mumbai and Lagos, as part of restructuring procedures.
RJ will stop operating flights to Mumbai on September 10, to Lagos on October 10, and to Delhi on October 31, this year.
With the closure of the three destinations, the national carrier's destinations will decrease to 51, RJ said in a statement.
The statement quoted RJ Chairman/President and CEO Nasser Lozi as saying that the decision is part of a "synchronised plan" to turn around the airline's operations and financial structure.
"The move comes at a time [when] RJ is facing difficulties due to the instability in the region and high fuel prices," the airline said.
Lozi attributed halting these flights to the reduced demand on travel to/from these cities due to "the aggressive growth of regional competition and increased operating costs".
He added that shutting down the three destinations raises the number of destinations that RJ has stopped this year to eight.
RJ suspended its flights to Alexandria, Colombo, Milan and Accra last April and May.
Moreover, the RJ-owned Royal Wings Company has been running the scheduled RJ flights between Amman and Sharm El Sheikh since last April, the statement said.
The airline is studying "opportunities for new routes", and there are a number of regional markets that it is "watching closely", the statement quoted Lozi as saying.
He said RJ is awaiting the arrival of the Boeing 787s which will start joining its fleet in August this year. By year end, the airline will have received five Boeing 787s.
The airline has suspended operations to seven destinations in the Middle East and North Africa due to security reasons in the region; they are: Damascus, Aleppo, Tripoli, Benghazi, Misrata, Mosul and Tel Aviv.
RJ suffered "big losses in 2012 and 2013", as a result of suspending service to Damascus and Aleppo and also changing the route of its operations between Amman and Beirut, Lozi said.
The carrier has also incurred losses in 2014 because of the uncontrolled suspension of these destinations.
Related Articles
Sep 21,2014
The government and Royal Jordanian (RJ) board members are studying a number of options to help the company return to profitability, and secure a bright future, an RJ press statement sent to The Jordan Times quoted RJ Chairman Nasser Lozi as telling shareholders on Sunday.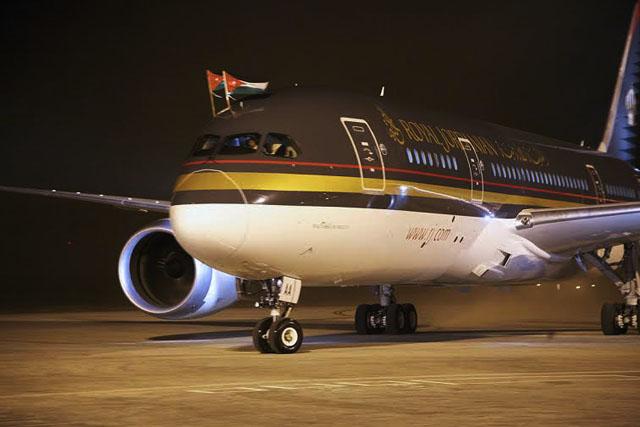 Sep 10,2014
Amman Stock Exchange (ASE) downgraded Royal Jordanian's (RJ) listing from the second market into the third as of Wednesday. 
Apr 11,2016
AMMAN — Royal Jordanian (RJ) said on Monday it has suspended its regular route between Amman and Ukraine's capital, Kiev, effective of March
Newsletter
Get top stories and blog posts emailed to you each day.