You are here
Romanians in Jordan celebrate Martisor
By Muath Freij - Mar 01,2014 - Last updated at Mar 01,2014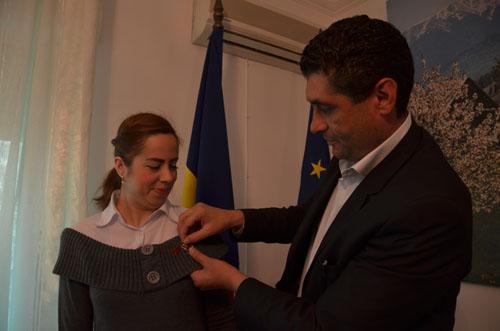 AMMAN — For Persu Doina Saturday's celebration of the ancient Romanian tradition of "Martisor", which marks the advent of spring, was not just an enjoyable event, but also a chance to remember her family back home.
Doina, who has been in Jordan for 11 months, said celebrating the occasion at the Romanian embassy in Amman reminded her of cherished moments in Romania and gave her an opportunity to make new friends.
She is one of several Romanians who marked Martisor — a diminutive of "Martie", the Romanian word for March — to celebrate rebirth and regeneration, embodied in an amulet offered to loved ones (also called a Martisor) that symbolises purity, innocence and love towards women, as well as the optimism of springtime.
Eduard Preda, deputy head of mission at the embassy, said the event symbolises life and love.
"It also symbolises the passage [from] winter to spring," he told The Jordan Times in an interview at the embassy, noting that Martisor helps people remember what spring means.
Preda said young people give amulets to their loved ones to show them that they care, adding that this event takes place in several venues in Romania.
People celebrate Martisor by offering amulets to their relatives or even to passers-by on the street, according to the Romanian diplomat.
The red and white thread that is attached to the amulet is the symbol of this festival, he noted.
"White symbolises the past and the soul while red symbolises life, man and passion," he added.
Men can offer any gift to the women they love, but these amulets are important to mark the occasion, Preda explained.
Doina said the simplicity of the gift makes it valuable for women.
"We receive precious gifts, but when I receive the amulet or a rose, it means a lot to me."
The embassy orders these amulets from Romania, but several employees prepare some as well, Preda noted.
Khaleel Kurdi, Doina's husband, said he was unaware of the significance of Martisor when he first witnessed it in Romania.
"After I realised its importance, I began offering amulets to my colleagues at the company," added Kurdi, who was celebrating this event with his wife at the embassy in Jordan for the first time.
Although Martisor is not a public holiday in Romania, many public institutions and private companies offer women a day off or reduce working hours to make them feel special, Preda said.
"Around 150 to 200 people attend the celebration at the embassy in Amman annually," Preda added.
At least 3,500 to 4000 Romanians reside in Jordan, according to the embassy's figures.
Related Articles
Mar 01,2016
AMMAN — At this time of the year, Romanian women residing in Jordan look back on their childhood, when they would wait for the first day of
Feb 27,2014
The embassy of Romania will host its Open Gates Day on Saturday on the occasion of "Martisor", a traditional celebration to mark the beginning of spring and its related symbols: respect for life, peace, human understanding and woman as a source of life and renewal.
Feb 25,2015
On the occasion of Martisor, the Romanian celebration marking the advent of spring, the embassy of Romania in Amman will be open on Sunday between 10am and 6pm.
Newsletter
Get top stories and blog posts emailed to you each day.