You are here
Scholar pores over Syrian archives for glimpses of heritage preservation
By Saeb Rawashdeh - Jan 18,2020 - Last updated at Jan 19,2020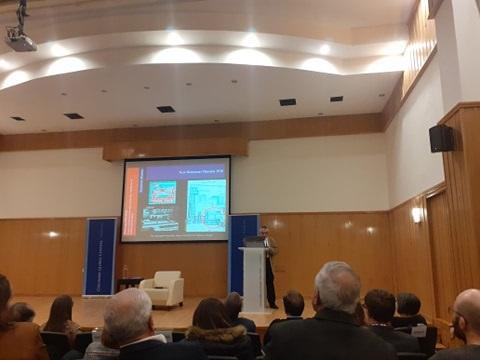 Michel Maqdissi from the Louvre Museum talks about the founding of museums and archaeological projects in Syria during the French Mandate ( 1918-1946) at the Columbia Global Centres on Friday (Photo courtesy of Saeb Rawashdeh)
AMMAN — The collapse of the Ottoman Empire in 1918 and the Great Arab Revolt created a "new reality", according to a Syrian archaeologist.
Speaking during a talk on Friday at the Columbia Global Centres in Amman, Syrian scholar Michel Al Maqdissi said that coalition forces captured Daraa with the aim to control Damascus and Aleppo.
"In 1919, France began to show interest in the archaeology of Syria and established archaeological administration whose aim was to preserve the Syrian heritage and create museums and libraries," Maqdissi said, stressing that one of objectives of French scholars was the establishment of specialised schools for Arab and Islamic sites.
Also periodical conferences related to Syrian issues were organised, and the first steps were preservation and protections of the Syrian monuments, the archaeologist said.
Maqdissi, who received his PhD from Sorbonne University in Oriental Archaeology, in early 2013 started researching French archives in Paris on the mandate period in Syria (1918-1946).
The documents, he said, shed light on the establishment of museums and cultural institutions in the Levant.
One of the projects was the restoration of the 12th century church in Tartus, which in 1956 became a museum and a tourist attraction, Maqdissi noted, adding that archaeological objects have been displayed at the National Museum of Tartus.
The French experts, too, participated in the establishment of the National Museum in Beirut in 1942.
In 1919, Mohammad Kurd Ali (1876-1953), who was the president of the Syrian Academy of Sciences and an eminent historian, laid the foundation for other museums in Damascus, he noted.
In 1925, Captain Gabriel Carbillet (1884-1940) and archaeologist Maurice Dunand (1898-1987) established a museum in the city of Souweida in southern Syria, and at the same time the French Antiquities Authority created the "Dépôt des Antiquiés" in Palmyra, Maqdissi elaborated.
Six years later two museums were founded in Antioch by architect Michel Écochard (1905-1985), and in Aleppo by a local archaeological society, with the assistance of Georges Ploix de Rotrou (1904-1994), he continued.
"With the outbreak of World War II in September 1939, archaeological activities in Syria stopped, and the outcome of the war affected the general situation in Syria," he said, adding that it is important to highlight that during the mandate the solid archaeological base was created.
Maqdissi's work also focuses on producing a scientific publication that summarises his research at the Phoenician site of Amrit in Syria.
"Today as archaeologists, with much passion and desire, we hope that the future period will witness the rise of our human values as an element of our archaeological and historical past," Maqdissi said.
Maqdissi's lecture was a part of a workshop titled "Middle Eastern Photographic Documentation Project", organised by the Metropolitan Museum of Art, Columbia University and Columbia Global Centres.
Newsletter
Get top stories and blog posts emailed to you each day.