You are here
Sector leader urges gov't to extend tax exemption for hybrid cars
By Fares Al Abed - Dec 13,2017 - Last updated at Dec 13,2017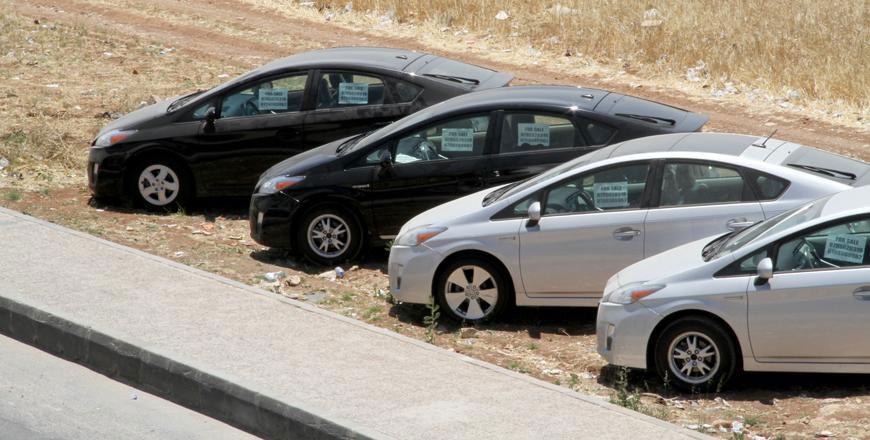 Hybrid cars pay a reduced special sales tax of 25 per cent of its price, instead of 55 per cent for regular fuel cars (File photo)
AMMAN — The lack of a government decision to extend or terminate a partial exemption from sales tax on hybrid cars has sent the local market into chaos, a sector leader has said.
Jordan Free Zone Investor Commission (JFZIC) President Nabeel Rumman said that dealers and ordinary customers are now at a standstill, reluctant to make any business decision, pending the government's final say, especially, as the exemption period ends by yearend.
Hybrid cars pay a reduced special sales tax of 25 per cent of its price, instead of 55 per cent for regular fuel cars. The decision came into effect in 2012 and has been renewed every year henceforth.
People are also given the choice to de-registrate old fully gasoline-operated cars (10 years or older), hand them to authorities and receive a partial exemption from the special sales tax to register a new hybrid car, on which the tax levied is 12.5 per cent, instead of 40 per cent for regular cars.
"We urge the government to extend it for next year and we have requested that in a memo we forwarded to Prime Minister Hani Mulki because we believe it is in the best interest of the people and the country."
Both kinds of exemption, JFZIC chief said, have encouraged middle-income people to buy this type of vehicle due to its low cost and fuel-effectiveness, while the country would see less fume emission from vehicles as hybrid cars are environment friendly.
"Hybrid cars are the better choice in the absence of a decent public transport system," he added.
Besides, he said, hybrid cars are not fully exempted from the tax, as every car costs from around JD6,000 to JD10,000 as a sales tax. "In the past 11 months, JD240 million was earned in Treasury revenues just from hybrid cars."
According to Rumman, "every year, the extension decision is made at the end of September, but this year is different", Rumman noted.
"Even if there was a hike in the fees, the government should inform us, so people, including dealers, would know what to do," Rumman said.
If the exemption is not extended, the difference in the value of the tax translates into additional cost on the buyer and this will make people stop importing or buying cars from the Duty Free Zone, which will harm the business, the sector leader said.
If the tax is 55 per cent again, the demand will decrease by 60 or 70 per cent, which will slash public revenues by JD40 or JD50 million, he added.
Related Articles
Jan 11,2018
AMMAN — The number of customs-cleared hybrid vehicles in Jordan increased by 19.3 per cent in 2017 compared to 2016, a sector leader said on
Dec 21,2017
AMMAN — Automobile agents on Thursday urged the government against increasing custom duties on small-engine hybrid vehicles, warning that su
Feb 08,2018
AMMAN — Not one hybrid car has been cleared by customs since the recent government decision to cancel a tax exemption on such vehicles, stak
Newsletter
Get top stories and blog posts emailed to you each day.