You are here
Social media activists urging weekend 'fuel boycott'
Motorists asked not to use cars to protest hikes in gas prices
By Hana Namrouqa - Feb 02,2017 - Last updated at Feb 02,2017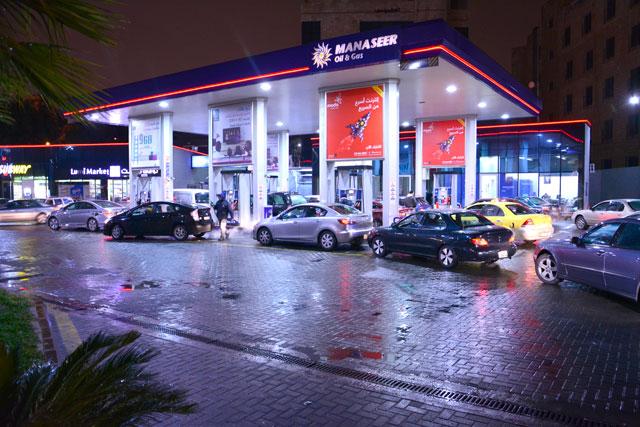 One litre of unleaded 90-octane gasoline has risen in price to JD0.665, while a litre of unleaded 95-octane gasoline is selling for JD0.88 (Photo by Amjad Ghsoun)
AMMAN — Following campaigns calling for a boycott of eggs, potatoes and telecom services, social media activists are now calling on motorists to park their cars for the weekend in rejection of the hike of fuel prices.
The activists are also urging motorists not to refuel their cars, saying that the boycott seeks to pressure the government to stop its continuous hiking of fuel prices.
The government on Tuesday decided to raise the prices of gasoline, kerosene and diesel by 3 to 8 per cent, and maintain the price of gas cylinders unchanged for February.
The cost of one litre of unleaded 90-octane gasoline is now JD0.665, up from JD0.62, while a litre of unleaded 95-octane gasoline is selling for JD0.88, up from JD0.81.
The hikes to gasoline prices include a 30 fils increase to support the Treasury under "economic correction measures" recently taken by the government.
Last June, the government also decided to impose a fixed Treasury allowance on fuel products amounting to 25 fils per litre, in line with Jordan's agreement with the International Monetary Fund.
"We need a day in Jordan without driving any cars… After the success in the mobile boycott campaign, I hope that people will boycott gasoline," Anwar (@AnwarAAKA) tweeted on Thursday.
"It is important to boycott gasoline on Friday and Saturday, especially after the success of the campaign to boycott mobile phones," jotechie (@jotechie) also tweeted.
Firas Al Abbadi agreed.
"In order that gasoline prices are lowered, we need to boycott using our cars," @firasalhur) tweeted.
In protest against a potential move to impose monthly fees for using apps like WhatsApp and Viber to make calls, social media activists called this week for a boycott of telecom services for 24 hours, from midnight on Tuesday to midnight on Wednesday.
In messages circulated on social media and messaging apps, activists called for removing SIM cards from phones for a whole day to push telecom operators into rejecting the potential fee, which media reports suggested could reach JD2 per month.
People reacting to the gasoline boycott calls showed willingness to join the campaign, but many others said that using their cars during the weekend is indispensable.
Farah Asaad, a 27-year-old administrative assistant at an NGO, said that she admires the move to boycott gasoline and the use of cars for the weekend.
"It is very important for people to stand together and unify their voices. I will join in," Asaad told The Jordan Times.
Raed Suleiman said he will also join the call and not use his car for the weekend.
"I hope this move will convey the public's frustration with the increase in fuel prices. I guess I'll be using my bike more this weekend," Suleiman, a computer engineer, said on Thursday.
Meanwhile, Mays Al Rashed, sales and marketing officer at a bank, said that she supports efforts seeking to control rising fuel prices, but noted that she cannot afford not to use the car during the weekend.
"I wish that the government would stop raising the prices of fuel, and I hope that the campaign succeeds, but I can't join in because I need my car during the weekend," Rashed, a mother of four and a public sector employee, said.
Prices of oil derivatives on the local market are calculated based on international prices, with the addition of other costs such as shipment, handling and taxes.
Related Articles
Feb 11,2017
AMMAN — While activists claim that the campaign to boycott fuel during the past three days has been "remarkably successful", representative
Feb 12,2017
AMMAN — Responding to the government's recent decision to raise the prices of commodities, fuel, gas and tax rates, a group of residents of
Feb 28,2017
AMMAN — The government on Tuesday decided that the prices of fuel products will remain unchanged in March.The decision, issued by the govern
Newsletter
Get top stories and blog posts emailed to you each day.