You are here
Sudanese refugees demonstrate to demand faster resettlement
By Khetam Malkawi - Nov 20,2015 - Last updated at Nov 20,2015
AMMAN — Although Sudanese refugees in the Kingdom feel that they are discriminated against by UN agencies in Jordan, the UNHCR said all refugees registered with the agency are treated equally.
"There is no discrimination based on nationality," Andrew Harper, the UNHCR representative to Jordan, told The Jordan Times as Sudanese refugees continued to demonstrate in front of the agency's offices in Amman.
More than 100 Sudanese refugees have been camped outside the UNHCR this week, calling on the agency to treat them as it treats refugees of other nationalities and to accelerate the process of relocating them.
However, the agency maintains that it is treating them equally and the process of resettlement takes time for all registered refugees, not only those from Sudan.
Harper noted that there are some 4,000 Sudanese registered with the UNHCR in Jordan and they account for 0.5 per cent of more than 700,000 registered refugees in the Kingdom.
Jordan hosts refugees from 40 countries, according to the UNHCR official. The majority are Syrians (more than 600,000), followed by Iraqis. There are also Sudanese and Somali refugees, in addition to refugees of other nationalities.
"Because of the situation in their country they came to Jordan seeking safety and security, but we can't provide so much for their resettlement and they are trying to push the case," Harper said, adding that there is a resettlement programme for Sudanese refugees, but they have to wait.
"They are frustrated with the situation… once you are a refugee you always feel frustrated, but it does not help anyone to disobey laws in Jordan. They should obey regulations. We will continue to work with them but we can't be put in a situation to prioritise them because they are demonstrating," he explained.
"We will continue to refer all people who are vulnerable, but some countries are still working on the numbers they committed to," Harper added, referring to the process of resettling refugees.
A report issued by Arab Renaissance for Democracy and Development (ARDD) — Legal Aid a few months ago said most Sudanese refugees live in east Amman, though some reside in Zarqa, Irbid and Mafraq.
"Somali and Sudanese refugees are consistently identified as the most vulnerable refugees in Jordan," the report said.
"Despite this, they continue to live in the shadows of other crises, benefiting relatively little from direct assistance as resources are consistently allocated elsewhere."
This is the case not only now, with the Syrian crisis, but also before, with the Iraqi crisis and other large-scale, regional issues, the report added.
Related Articles
Dec 03,2015
AMMAN — For the 17th consecutive day, more than 200 Sudanese refugees are still camping in front of the UNHCR building in Amman with calls f
Dec 17,2015
AMMAN — Jordanian authorities on Thursday morning postponed deporting 800 Sudanese minutes before they were to be sent back home after one m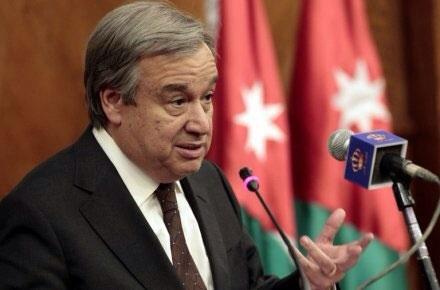 Jan 05,2015
UN High Commissioner for Refugees António Guterres is due to visit Jordan on Thursday to mobolise the international community to further help Jordan as it hosts Syrian and Iraqi refugees.
Newsletter
Get top stories and blog posts emailed to you each day.