You are here
Swedish activist embarks on year-long walk for Palestine
By Andrea Celeste - Oct 15,2017 - Last updated at Oct 15,2017
Benjamin Ladraa walks alone through Europe carrying a Palestinian flag to raise awareness about the suffering of the Palestinian people (Photo courtesy of Benjamin Ladraa)
AMMAN — To raise awareness about the Palestinian cause, a Swedish activist has embarked on a 4,800km walk from the Swedish city of Gothenburg to Jerusalem.
The journey that Benjamin Ladraa began on August 5 is expected to last for a year as he passes through Germany, Austria, Slovenia, Turkey and Cyprus and to Palestine.
"I wanted to raise awareness about Palestinians, spread some information about the occupation and the situation there. I did a lot of manifestations before; I've been on hunger strikes and many different things. I got the idea that if I walk there people might pay attention," Ladraa told The Jordan Times over the phone, on his way to Prague last week.
"I'm pretty stubborn and pretty determined. The difficult part is not the fiscal walking, but the solitude every day, it is very difficult of course, and I'm struggling. It's is not easy," he said.
The pain of the Palestinians, the injustices and the discrimination they face prompted Ladraa to start the journey, he said.
"The Palestinians are suffering a lot, and they deserve freedom because everybody deserves freedom."
Ladraa said he preferred to walk rather than choosing any other form of protest because "it would be a pretty good way to get attention, to do something unusual and a little bit strange, carrying the Palestinian flag is a way of promoting the cause", he said.
Ladraa says that the solution to the Palestinian-Israeli conflict comes from the people. "I believe that politicians and international organisations follow the direction where the wind is blowing; and we the people, are that wind. If we unite and demand the world we want, all the leaders and politicians will follow us," he added.
For the activist, it is not the first time to independently fight for a cause, he organised a hunger strike in Gothenburg to show solidarity when 1600 Palestinian political prisoners were on hunger strike in Israeli prisons.
"I do believe that we have to be creative and not do the same thing over and over when we engage in these struggles," he added.
The trip has planned to coincide with the 100th anniversary of the Balfour Declarations, and Ladraa hopes to meet with people to spread the message, according to his Facebook page. The trip is promoted on social media under the hashtag #WalkToPalestine.
Related Articles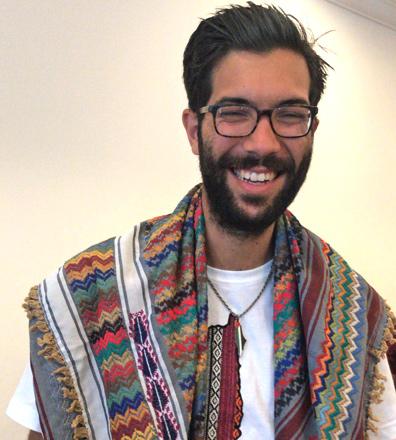 Jun 27,2018
AMMAN — Taking one step at a time, literally, Swedish human rights activist Benjamin Ladraa has been walking to Palestine since August of 20
Feb 21,2016
AMMAN — Members of the Jordanian campaign to defend Palestinian prisoner journalist Mohammad Al Qiq held in a protest near the UN office in
May 27,2014
Israel hospitalised 40 hunger-striking Palestinian detainees this week as their fast entered a second month, the spokeswoman of Israel's prison authority said Tuesday. In all, some 240 detainees are currently on a hunger strike.
Newsletter
Get top stories and blog posts emailed to you each day.