You are here
Syndicate says it was not behind calls for teachers' strike over curricula change
Debate continues as educators, intellectuals carry on with campaign to defend changes
By Laila Azzeh - Oct 02,2016 - Last updated at Oct 02,2016
AMMAN — Calls for a teachers' strike in late October to protest recent changes to school textbooks are "independent" and not orchestrated by the Jordan Teachers Association (JTA), the syndicate said on Sunday.
"We have heard about the planned strike the same as everyone else. Despite our rejection of the curricular changes, we are not planning any strikes," JTA Spokesperson Ahmad Hajaya told The Jordan Times.
Many parents have notified the association that they do not plan to send their children to school until the amendments are revisited.
"Some have even returned the textbooks to the schools," he noted.
Hajaya criticised the Education Ministry for "turning a deaf ear" to the views and demands of teachers and parents.
"The ministry does not hear anything but its own voice," he said.
Earlier this year, Deputy Prime Minister for Services and Education Minister Mohammad Thneibat formed a committee of former ministers and education experts to review textbooks and offer detailed recommendations.
Several amendments were introduced to textbooks, but the outcomes were met with a mixture of criticism and praise. Critics had a louder voice because they included the JTA.
The amendments are under attack because they are perceived by some parents and education experts as a way to "alienate students from their Islamic tradition".
Hundreds of teachers and parents held a sit-in outside the Education Ministry in Abdali last Thursday in protest against the curricular changes.
Protesters burnt copies of the textbooks and held banners that accused the ministry of scrapping the Islamic identity of the curriculum, chanting slogans that called for Thneibat's resignation.
Meanwhile, other experts who support the changes said that they are "necessary" and a "step forward", and launched a campaign to defend the amendments.
"Yes for Developing the Curricula" is the name of a group that took it upon itself to clarify the reasons and necessity behind the changes.
According to the group, a "fierce" smear campaign has been "targeting the curricular changes in an attempt to link them to secular or Zionist movements".
"We are a group of education experts, thinkers, teachers and artists who have examined a number of the new textbooks, including the Arabic language, civic education, Islamic studies and science, and believe that they are positive," said the group in a statement.
They underlined that the curricula are still full of religious texts.
"The changes improve the image of women, encourage cultural and religious pluralism and enhance the national and Arab identity," according to the group.
Related Articles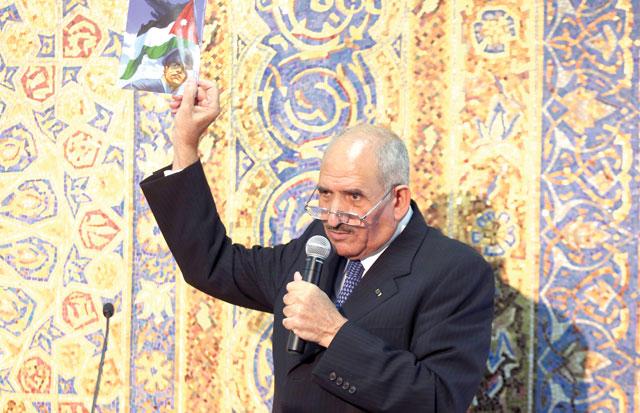 Oct 06,2016
AMMAN — Deputy Prime Minister for Services and Minister of Education Mohammad Thneibat on Wednesday denounced what he described as a "mislea
Oct 19,2016
AMMAN — Deputy Prime Minister for Services and Minister of Education Mohammad Thneibat on Monday said the ministry is looking into the Jorda
Sep 29,2016
AMMAN — Hundreds of teachers and parents held a sit-in outside the Education Ministry in Abdali on Thursday in protest against the recent ch