You are here
As Syrian crisis enters 5th year, more challenges loom for refugee hosts, aid agencies
By Khetam Malkawi - Mar 15,2015 - Last updated at Mar 15,2015
AMMAN — With the Syrian crisis entering its fifth year this week, hosting refugees in neighbouring countries, including Jordan, is becoming more challenging, UN officials have said.
A possibly deepening conflict that would prevent refugees from returning to their home any time soon and lack of funds supplied by the international community top the challenges facing efforts to continue providing services to the refugee community, according to the relief officials interviewed by The Jordan Times.
To address the funding challenge, Jordan will host a meeting on Monday with the UN agencies and donors to discuss Jordan Response Information System for the Syrian Crisis and Jordan Response Plan for the current year.
The government launched this year a plan worth $2.9 billion to respond to the needs of Syrian refugees and host communities in different sectors that include health, education and water.
The planned meeting is organised by the Ministry of Planning and International Cooperation to be headed by Prime Minister Abdullah Ensour, sources said.
Early this year, Ensour said international support at present only covers 19 per cent of the cost of hosting Syrian refugees, with the Kingdom covering the remaining 81 per cent.
According to the UNHCR figures, there are 3.9 million Syrian refugees in host countries.
Figures released by UNHCR this week shows that Turkey tops countries that host Syrian refugees with 1,698,472 people, followed by Lebanon with 1,183,109, while Jordan's Syrian refugee population stands at 625,178.
The rest are in Iraq and Egypt, according to the UN agency.
However, the government said number of Syrians in the Kingdom exceeds 1.4 million, but only less than 50 per cent of them are registered as refugees.
Although the government announced last month that it will re-register Syrian refugees in Jordan to issue them identification cards, the turnover is lower than expected, as described by an official source.
The challenge is difficult to address as there are no signs that the crisis will be over any time soon, according to UNHCR Representative to Jordan Andrew Harper.
He said "deepening conflict, less likelihood of return in the short or medium term and donor fatigue" top the challenges inherent in the crisis.
In addition, he noted that there are difficulties for refugees to survive with the majority not able to work legally, and there is a generation of children not going to school.
Security considerations are also becoming increasingly dominant over humanitarian concerns, according to Harper.
As for funding, the UN official noted that across the region "we have received 6 per cent with another 3 per cent commitments".
"We are really looking for a massive commitment to assist countries like Jordan get through this crisis," Harper told The Jordan Times.
The UNHCR says it needs nearly $404.4 million to deal with the Syrian crisis and provide humanitarian assistance for refugees in Jordan in 2015.
The World Food Programme (WFP) that provides the main life-saving assistance, food, to Syrian refugees is also in a critical funding situation.
"The Syria crisis is one of the worst humanitarian crises in the world," said Shaza Moghraby, WFP spokesperson.
She added that while donors' generosity has "allowed us to provide a lifeline to hundreds of thousands of Syrian families in Jordan since the onset of the crisis, WFP's funding situation remains critical".
Due to shortage in funds, the agency is no longer able to provide same services to Syrian refugees in Jordan.
As a result, "Syrian refugees living outside camps in Jordan have been receiving 70 per cent of their previous monthly entitlement, while those living in camps continued to receive the same value of assistance", Moghraby told The Jordan Times.
The agency requires around $98 million to continue to provide the required basic food assistance to refugees over the next six months, according to Moghraby, who added that to date, WFP has injected $341 million (JD242 million) into the local economy since the launch of its food voucher programme in September 2013.
In Jordan, some 530,000 Syrian refugees benefit from monthly food assistance through the innovative e-voucher programme. In addition to the vouchers, refugees inside the camps receive fresh bread (four pieces per person) on a daily basis. WFP also has a school-feeding programme in the camps consisting of fortified date bars enriched with 11 essential vitamins and two minerals. Around 16,000 students benefit from this programme each month. This energy-boosting treat provides all the essential nutrients schoolchildren need to concentrate during classes, according to the agency.
As for UNICEF, the UN agency that works to ensure children's right to education among other humanitarian assistance, greater emphasis is being placed on promoting cost efficiency and sustainability of programme interventions.
"UNICEF continues providing humanitarian assistance to the most vulnerable children in the country, with increasing utilisation of innovative solutions to further strengthen resilience of host communities in the country," the agency said in response to The Jordan Times questions.
According to the agency, there are some 322,000 children among the registered Syrian refugees in Jordan. Of these, only 129,058 are enrolled in schools.
However, the agency, in cooperation with partners, has to deal also with other social issues affecting Syrian refugees as there are more than 30,000 Syrian children involved in labour across Jordan, in addition to 3,200 children who are engaged in labour in Zaatari.
Moreover, the agency is now providing support to unaccompanied children. In 2014, around 2,506 unaccompanied children were identified and supported by UNICEF.
Meanwhile, the United Nations Population Fund (UNFPA) said since June 2013, when the agency took over on handling the normal deliveries in the Zaatari Refugee Camp in Mafraq Governorate, it has registered 3,120 deliveries among Syrian refugees.
The agency did not comment on financial challenges it faces, but said there is a need to manage more complicated pregnancy cases and cesarean sections inside the camp and to integrate services with the Health Ministry system.
Related Articles
Dec 04,2014
After being forced to suspend food assistance to nearly 1.7 million Syrian refugees earlier this week, the United Nations World Food Programme (WFP) on Wednesday launched an "ambitious" 72-hour campaign to raise $64 million which will reinstate refugee food vouchers in December.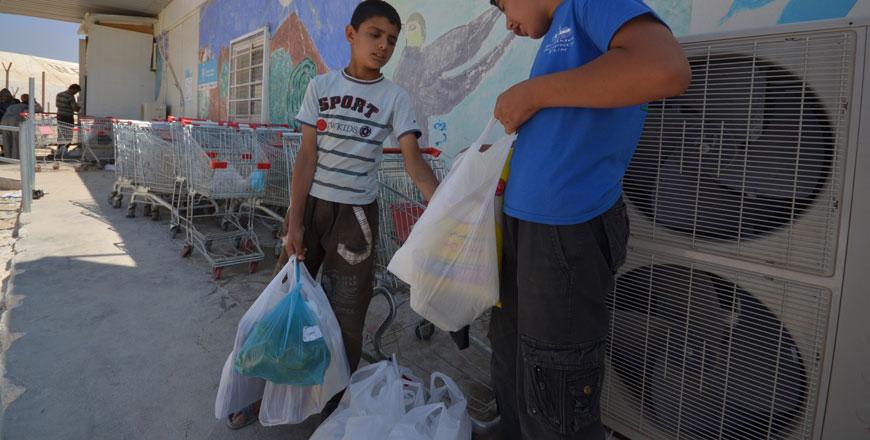 Jul 15,2015
AMMAN — UN agencies expressed concern over the lack of funds they urgently need to continue to provide "basic" services for the Syrian refug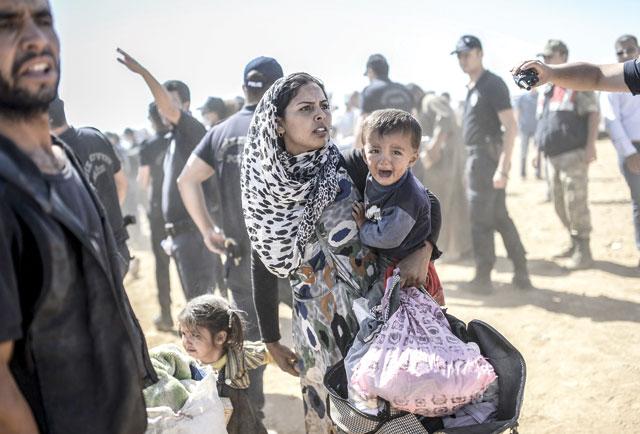 Dec 01,2014
The United Nations World Food Programme (WFP) on Monday announced that it has been forced to suspend a critical programme providing vouchers to more than 1.7 million Syrian refugees in neighbouring countries including Jordan.
Newsletter
Get top stories and blog posts emailed to you each day.