You are here
Taxi drivers bemoan 'unfair situation'
By Mohammad Ghazal - Sep 26,2017 - Last updated at Sep 26,2017
AMMAN — Drivers of yellow taxis on Tuesday held protests across Amman, demanding an increase in fares and to reserve the use of ride-hailing apps only for licensed yellow cabs.
"Tens of drivers took part in today's protest that was held in several places in Amman… They want an increase in fares in light of the rising costs of fuel and maintenance," Mohammad Al Zeir, president of the Independent Taxi Drivers Association, told The Jordan Times on Tuesday.
Yellow taxis face a "very aggressive" competition from ride-hailing apps including Careem and Uber, he added.
"We demanded an increase in the charge for 1 hour waiting as it currently stands at JD1.25, which is very low and the traffic in Amman is atrocious," Zeir added.
"Drivers using these apps are still transporting passengers [despite their illegal status].Winter will start soon and, usually, business is slow in winter, which means more competition…There needs to be a solution for this problem," he added.
In August, the Transport Regulatory Commission issued an initial approval for the licensing request of the ride-hailing app "Careem".
The approval grants the service company a six-month grace period to rectify its status, including complying with local regulations, registering the company, creating a bank account and establishing an office with a specific address
According to the 2010 Public Transport Law, it is mandatory to obtain a special licence to operate a public transport vehicle.
In Jordan, it is not allowed for private cars to provide transportation services, including Uber and Careem. Many drivers have been detained and their cars impounded as authorities cracked down on the service.
"Drivers using these apps are doing this job as a part time job whenever they are available and they use their private cars, which is unfair to us as we have special licences and pay fees and, for many of us, it is our only job," Mohammad Haj Abed, a taxi driver, told The Jordan Times on Tuesday.
"Many taxi drivers do not own the taxis and they have to pay a daily charge of about JD25 to JD30 to rent them from the owners… This is unfair and these apps should only be limited to licensed yellow taxis," he added.
On the other hand, Hamzeh Mousa, who works as a sales officer at a private company in Shmeisani, said: "I do not think yellow taxi drivers deserve any increase. Their service is bad and they refuse to transport passengers to certain destinations. They are picky."
"When using Careem, I pay more but, at least, I get a decent service," Mousa said over the phone on Tuesday.
There are around 12,000 yellow cabs in Amman that serve more than 3.5 million residents.
Related Articles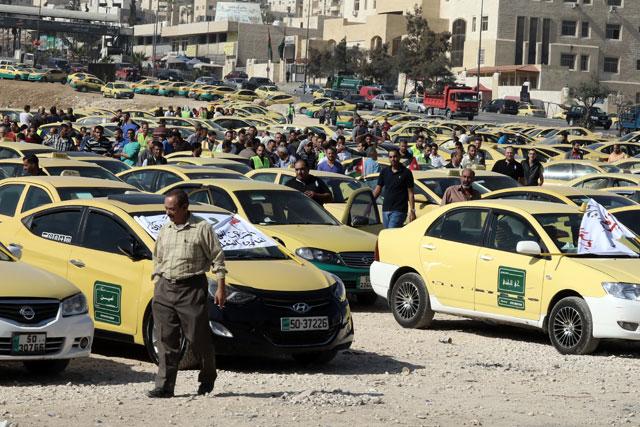 Nov 15,2016
AMMAN — Taxi drivers in Jordan protested on Tuesday against what they called "unfair" competition from ride hailing apps such as Uber and Ca
Mar 07,2017
Amman — Ride-hailing app Careem on Tuesday announced the start of bringing yellow taxis under its wings, helping put an end to a month-long
Dec 26,2017
AMMAN — Taxi drivers on Tuesday rejected the government's decision approving a regulation that allows the licensing of ride-hailing apps.Tax